| Date: April 30, 2000
| Venue: MCI Center | City: Washington DC
| Attendance: 19, 101 | Buyrate: 675, 000
This PPV has the 6th biggest buyrate of all time up to now. That means a lot of eyes were on this PPV, the first since Wrestlemania. The reset button has been hit since Wrestlemania and there are plenty of new feuds. In the main event, Triple H defends his WWF title against The Rock. Since Wrestlemania, Triple H actually dropped the title to Chris Jericho but the decision was reversed later in the night and erased from history. But instead of Jericho getting a title shot tonight, the opportunity goes to The Rock. Since Wrestlemania, both Vince and Shane McMahon have joined Triple H's side and the main event tonight will feature Shane McMahon as the special guest referee as well as both Vince and Stephanie in Triple H's corner. Linda McMahon then decreed that Steve Austin will be in The Rocks corner which will be a huge return for the ratlesnake.
Chris Jericho is the man on the poster and he will be in action tonight, receiving an Intercontinental title shot against the man that pinned him for the belt at Wrestlemania, Chris Benoit. There hasn't been much of a rivalry between Benoit and Jericho since Mania but Benoit did attack him last week on Raw. The first Raw after Wrestlemania, Jericho lost his newly won European title to Eddie Guerrero after Chyna turned on Jericho and sided with Guerrero. Since then, Guerrero has had his issues with Essa Rios. The two hispanic gentleman teamed on a number of occasions but there were miscommunications that led to losses. The two meet tonight in a European title match. The man Essa Rios lost his Light-Heavyweight title to, Dean Malenko, defends the title against Scotty Too Hotty who he actually lost the title to and won back from over the past few weeks.
The tag team titles will be on the line as Edge and Christian defend against DX members X Pac and Road Dogg. X Pac and Road Dogg actually beat Edge and Christian the night after Wrestlemania but the decision was reversed after they cheated. Since then the two teams have had a nunber of run-ins. They're a funny team to get a title shot as they lost in a few minutes to Kane and Rikishi at Wrestlemania. There will be a sixth title match at Backlash with Crash Holly defending his Hardcore Championship. It was due to be a fatal four way match against his cousin, Hardcore Holly, as well as rivals Tazz and Perry Saturn. However, that changed when Matt Hardy beat Crash for the Hardcore title last week on Raw. Crash would win the belt back but both Matt and Jeff Hardy were added to the match tonight at Backlash.
Also tonight, The Big Show, who has been showing his more fun side recently, will take on Kurt Angle. The two have had their problems as of late, mainly with run-ins. Teaming didn't go well either. There will also be two tag team matches as The Dudley Boyz take on T & A and The Acolytes take on The Big Boss Man and Bull Buchanan. Bubba Ray has been besotted with Trish Stratus as of late but every time he's tried to attack her, she's kissed him and he has become obsessed by her. The Acolytes, Boss Man and Bull Buchanan have had their problems, mainly just in a good old fashioned brawl. So let's get to it.
A black and white video package kicks us off with some dramatic music. It's all about the main event, Triple H vs. The Rock with the McMahons in Triple H's corner and "Stone Cold" Steve Austin in The Rocks corner. Can The Rock trust Austin?
Jim Ross welcomes us to the event, he's joined by Jerry Lawler who gets very excited when Debras music hits and she returns to the WWF as special guest ring announcer for the night! Jim Ross says it's great to see Debra back, Lawler says it's great to see her front!
Edge & Christian (c) vs. X Pac & Road Dogg – Tag Team Title Match
Debra introduces the teams and well, it's not good. Anyway, X Pac and Road Dogg have got themselves a tag team title shot despite losing in quick time at Wrestlemania. This is X Pacs 17th PPV in a row, more than anyone else right now. 21 is the current record, held by The Rock. X Pac and Edge kick things off. Edge has new tights tonight. Edge applies a headlock but X Pac gets out of it and Edge ends up hitting a spinning heel kick. The New Age Outlaws beat Edge and Christian at Unforgiven last year. X Pac tags Road Dogg who hits some big right hands. Edge tags Christian who hits a cross body. This is the first time the tag titles have been defended at a Backlash PPV. Christian gets the first near fall of the night on Road Dogg. Road Dogg tags X Pac who hits some right hands on Christian. Christian hits a powerslam and then lays into X Pac with right hands in the corner. Road Dogg drops Christian on the ropes though. Classic heel tactics and X Pac throws Christian out of the ring and distracts the referee allowing Road Dogg to throws Christian into the ring steps.
Road Dogg is tagged in as Tori looks on. She gets involved before long and they triple team Christian in the corner before X Pac hits the Bronco Buster! He doesn't pin Christian though, instead tagging in Road Dogg who gets a near fall. Road Dogg locks on a sleeper as the crowd ger behind Christian. Edge and Christian were showing signs of a heel turn not so long ago. Christian gets out of the sleeper but finds himself on the end of Road Doggs trademark jabs and shaky legs knee drop. Edge breaks up the cover. This PPV last year, Road Dogg and Billy Gunn beat Jeff Jarrett and Owen Hart to win number one contendership to the tag team titles. Both Road Dogg and Christian hit each other with cross bodies. X Pac gets involved, distracting the referee, allowing Edge to come off the top with a headbutt on Road Dogg. Road Dogg tags X Pac and Christian hits them both with a reverse DDT. Christian finally tags Edge who hits both men with clotheslines. He hits X Pac with a powerbomb but Road Dogg breaks up the cover. Christian comes in but gets caught with a kick. Tori holds Edge but X Pac accidentally nails Tori! X Pac then hits the X Factor on Edge but the referee is distracted by what's going on outside the ring. Christian then nails X Pac with the bell and covers him for the win! Edge and Christian win the match! X Pac is busted wide open and Debra (badly) announces the win. Good way to start the night.
Rating: 6.25/10
We see The Rock arriving at the arena. Cue the big pop.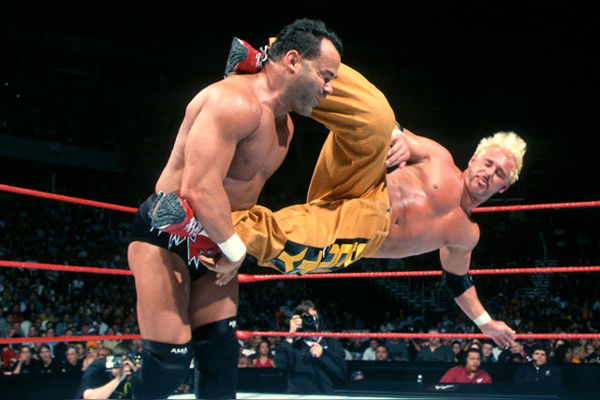 Dean Malenko (c) vs. Scotty Too Hotty – Light-Heavyweight Title Match
Dean Malenko is a two time Light-Heavyweight champion having lost and regained the title to Scotty in the space of 10 days. Scotty starts well with an elbow and a back body drop. Malenko is looking for his first PPV victory following losses in 6 man tag action at back to back PPVs. Scotty hits a belly to back suplex and then nips up and moonwalks across the ring. It's fairly back and forth so far in this match. Scotty goes for a bulldog, which is usually the setup for the Worm, but Malenko catches him with a clothesline. All four members of the Radicalz are in singles action tonight. Only Benoit has won a PPV match so far. There's a bloodstain in the ring already from when Christian hit X Pac with the bell. I don't think blood was necessary. Malenko hits a dropkick to Scotty's knee. Dean then twists the ankle of Scotty before dropping elbows. This is Scotty Too Hotty's first ever one on one singles match on a PPV.
Malenko wraps Scotty's knee around the ring post. Dean then gets back to working the knee. There's a slower pace to this match now as the crowd ger behind the member of Too Cool. Scotty was in the tournament to crown the first ever Light-Heavyweight championship and lost to Brian Christopher in the semi-finals. That was 2 and a half years ago. Interestingly the other man that lost in the semi-finals will be in action tonight, Essa Rios, who was Aguila back then. Malenko hits a hard Irish whip on Scotty. Scotty tries a comeback and gets a near fall but Malenko drops him with a clothesline. There's a few boo's due to the slow pace of the match. Malenko and Scotty fall to the outside but are quick to get back in. Scotty goes to the top but Malenko meets him up there and hits a superplex. Scotty gets a couple of near falls and then Malenko hits a suplex. Dean then goes for a powerbomb but Scotty slips down and hits a bulldog. The crowd then go nuts as Scotty hits The Worm!
Malenko shoves Scotty into the turnbuckle and rolls him up with his feet on the ropes but the referee sees it. Malenko hits a double underhook powerbomb for a near fall. Scotty dumps Dean out of the ring but hangs himself on the top rope. Malenko comes back in off the top rope but Scotty meets him up there and goes for a superplex but Malenko reverses it into a DDT! Great finish to what was a very slow match.
Rating: 4.5/10
Vince McMahon is backstage with Triple H, Stephanie, Shane, Briscoe and Patterson. Briscoe and Patterson are back with McMahon who tells them that tonight it's all hands on deck.
The Big Boss Man & Bull Buchanan vs. The Acolytes (Bradshaw & Faarooq)
This match gets right into it before the bell. Bradshaw lays into Bull Buchanan who is looking to continue his undefeated PPV streak. Bradshaw goes to the top and hits a shoulder block for a near fall. Buchanan flips over Bradshaw, showing great athleticism but Bradshaw nails him with a spear. Bradshaw tags Faarooq who Irish whips Bull but Bull bounces off the top rope and hits a clothesline on Faarooq. Bull tags The Boss Man. Bradshaw and Faarooq are looking to be the first men to have won at both last years and this years Backlash. Faarooq tags Bradshaw who hits Boss Man with a big right hand. Bradshaw throws him out of the ring allowing Faarooq to lay into him. He rolls Boss Man into the ring where Bradshaw gets a near fall. Boss man tags Bull who hits a powerslam and drops an elbow. Quick tags between Boss Man and Bull Buchanan now. Faarooq takes beatings off both men and a pin from Buchanan is broken up by Bradshaw. Bull then applies a chinlock
Faarooq gets out on the chinlock and hits a spinebuster before making the hot tag to Bradshaw! Bradshaw goes buts on Buchanan, hitting some big shoulder blocks. He then nails a DDT as Boss Man and Faarooq fight around the outside of the ring. Bradshaw goes to the top but Boss Man grabs his foot. Bull then hits a suplex off the top on the big Texan for a two count. Bull misses a splash in the corner allowing Bradshaw to bounce off the ropes and hit a Clothesline From Hell! Boss Man breaks up the cover and then nails Faarooq with the nightstick! He then hits Bradshaw with it! Bull Buchanan then leaps off the top with a big legdrop on Bradshaw which is enough for the win! Bull Buchanan and Big Boss Man get a really big win tonight.
Rating: 6/10
Matt and Jeff Hardy are backstage discussing tactics for tonight. Hardcore and Crash have the opposite tactics as Hardcore looks forward to kicking Crash's ass tonight.
Crash Holly (c) vs. Hardcore Holly vs. Tazz vs. Jeff Hardy vs. Matt Hardy vs. Perry Saturn – Hardcore Title Match
This is a one fall match in which Crash has to be involved in the finish. Saturn attacks Crash in the entrance way and it's not long before all hell breaks loose. Plenty of early covers by Saturn and Hardcore. The Hardyz break up all the pinfalls. Saturn lays into Matt Hardy whilst Tazz lays into Crash. Crash makes a dash for it up the aisle and is chased by the Hardyz. Crash then climbs up the structure in the entrance way! Matt chases him up it and kicks Crash who climbs back down. Matt then jumps down on all 5 men! He wasn't caught at all. Saturn suplexes Crash onto the structure, breaking the end off. Jeff swings off it and hits a hurricanrana. Matt Hardy takes Crash back to the ring and Jeff follows. They hit a double team move on Crash before Tazz nails both men with a tray. The Hardyz then double team Tazz! Tazz hits a big clothesline on Jeff and Saturn hits Tazz with a 2×4. Saturn then locks on a submission hold on Crash. Tazz breaks it up as Matt nails Hardcore with a trash can lid.
Saturn hits a belly to back suplex on Crash. Tazz then hits Crash with a stiff clothesline. Hardcore gets in the ring and hits Crash with a street sign, his cover is broken up by Saturn. Hardcore hits a suplex on Crash on the outside and his cover gets broken up. Tazz and Saturn double team Crash. Everyone takes it in turns to pin Crash who is getting an absolute battering. But he manages to hit Tazz with a dropkick. Jeff Hardy chokes Crash with some cable. Tazz nails Jeff and Matt with the road sign but nobody can cover Crash for long before it's interrupted. Saturn hits a big belly to back suplex on Hardcore and covers Crash before Tazz breaks it up. Tazz then stomps away at Crash and a suplex. Jeff hits a legdrop on Crash which gets broken up by Matt. Tazz chokes Matt with the cable. Jeff hits a springboard moonsault on Crash which gets broken up. Hardcore hits a suplex off the top on Crash but Tazz breaks up the cover. Saturn hits a brainbuster on Crash and Tazz breaks up the pin. Hardcore hits a Falcon Arrow on Crash and MAtt breaks up the cover.
Jeff brings a ladder into the match which gets a huge pop. The Hardyz hit everyone they see with the ladder. Jeff then climbs the ladder and Matt hits Twist Of Fate on Crash. Jeff then comes off the top with a Swanton Bomb. The Hardyz fight over who covers Crash though! Tazz takedown both men with a clothesline. Tazz then locks Tazmission on Crash but Saturn breaks it up! The Hardyz dive out on Tazz and Hardcore Holly! Crash then rolls over and pins Tazz for the 3! Crash wins the match and retains his Hardcore title after getting absolute battered!
Rating: 6/10
Jonathan Coachman is backstage with Shane McMahon and you don't hear the start of what he says but there's a question about conflict of interests. Shane is the special guest referee tonight.
Video package next for The Big Show and Kurt Angle. Big Show has tried to be more comical recently and Kurt has taken exception to it.
Kurt Angle vs. The Big Show
A first PPV meeting between these two men. Angle is on the mic before the bell and calls Big Show and giant waste of talent. Hulk Hogans music hits and The Big Show comes out dressed as Hogan with a "Showster" t shirt and belt! He gives us the whole Hulk Hogan entrance and the crowd love it. Big Show cuts a Hulk Hoganesque promo and Kurt attacks him! Angle lays in with right hands but Big Show "Hulks up" and hits some right hands of his own. He then hits Kurt with a big boot and a leg drop! Kurt just kicks out. Kurt runs off the ropes and chop blocks Big Show, taking him off his feet. Angle then works the left knee of Big Show as a "Hogan" chant breaks out. Show gets up and hits some big chops to the chest of Angle and a clothesline. Show then signals for the chokeslam before hitting it in the middle of the ring. Show covers him and gets the three! Big Show wins the match! Or The Showster does. Slightly surprised by this result, I thought Angle would win. Entertaining enough but short. Short and sweet applies to this match.
Rating: 5.75/10
We get a video package for T & A and The Dudley Boyz followed by an interview with Trish. She makes some innuendos and says Bubba will find out soon just how she feels. Bubba Ray is watching on a monitor and D-Von tells him to snap out of this trance and do things the way the Dudley Boyz do.
Billy Corgan of the Smashing Pumpkins is in the front row. Ironic.
The Dudley Boyz (Bubba Ray & D-Von) vs. T& A (Test & Albert)
The Dudleyz attack T & A as they get into the ring. Bubba then chases Trish around the ring but gets caught by Test. T & A won their previous tag team match on PPV together, against Steve Blackman and Al Snow at Wrestlemania a few weeks ago. D-Von and Albert start the match and D-Von takes the big man off his feet with a clothesline for a near fall. D-Von tags Bubba Ray who hits a couple of right hands. Bubba then hits him with a clothesline before shouting at Trish and calling her a bitch. He then drops a couple elbows on Bubba for a near fall. Jim Ross makes the point that the Dudley Boyz haven't had their rematch for the tag team titles yet. I wouldn't be surprised if that happens at the next PPV. The Dudleyz hit a double suplex on Albert. They then hit their headbutt to the groin on Albert. D-Von is the legal man now, Test is yet to get involved. I think both of these teams are supposed to be heels. Albert hits a pump kick on D-Von and tags in Test. Test throws Albert into D-Von then follows it up with a big boot for a two count.
D-Von hits a shoulder block on Test but gets caught with a gut-wrench powerbomb from Test. Test is a former Hardcore champion and chokes D-Von with his boot. Test tags Albert and they hit a double team for a two count. There are plenty of tag teams in the WWF right now. Test tags himself in and Albert lifts him and drops him on top of D-Von. Bubba breaks up the pin. The crowd break out in a "tables" chant. D-Von hits a DDT on Test and then tag Bubba Ray but the referee doesn't see it because Albert distracted him. Albert knocks D-Von down and then hits Bubba Ray with a right. The Dudleyz have had matches on PPV against the likes of The Acolytes, The Hardy Boyz and The New Age Outlaws bur this is their first against T & A. D-Von gets a boot up and hits a sunset flip for a two. Albert then hits a sit-out powerbomb for a two count. Albert goes to the middle rope but D-Von meets him up there and hits a suplex. D-Von finally tags Bubba Ray and Albert tags Test. Bubba takes down both Test and Albert. Hr and D-Von hit a double neckbreaker on Test but the big man kicks out. Albert then hits his sit-out powerbomb on Bubba Ray and Test goes for his elbow but D-Von pulls Buba Ray out of the way.
Bubba calls for the 3D on Test but as they go for it, Bubba Ray is distracted by Trish! Test then hits a running boot on Bubba Ray and that's enough for the three! T & A win the match! After the bell, the Dudleyz take out Test and hit the 3D on Albert. Bubba then grabs Trish and calls for the tables! D-Von obliges but Trish kisses Bubba Ray! That doesn't work though and Bubba Ray powerbombs Trish off the top through a table! Probably the most dangerous looking one I've seen, he seemed to lose her. Good aftermath but it's a big win for T & A tonight. The Dudleyz have only won 1 of their 4 PPV matches so far this year. T & A go 2 for 2.
Rating: 5.75/10
Trish gets carted off in an ambulance and as she leaves, Eddie Guerrero and Chyna arrive. They're not dressed for action but their match is up next so they drive right out to the ring!
Eddie Guerrero (c) vs. Essa Rios – European Title Match
As Eddie Guerrero gets ready for his match, we get a video package for this match. Guerrero is still looking for his first PPV victory. Essa Rios is sort of making his PPV debut. He previously wrestled as Aguila at Wrestlemania 15 in a losing effort to Taka Michinoku. Eddie hits a dropkick in the early going, he's wrestling in trousers and a bowtie. Eddie hits a side suplex and taunts the crowd. Chyna and Lita are in their respective mens corners. Guerrero applies a armbar but Essa hits a hiptoss. Essa armdrags Eddie to the outside but then misses with a suicide dive. Eddie then throws Rios into the steps before chucking him back into the ring. Eddie hits his senton bomb over the ropes. Chyna gets involved, hitting Rios with a forearm. Back in the ring and Essa hits a dropkick and then goes to the top and hits a missile dropkick for a two. Rios then goes to the sleeper. I expected this match to be a real showstealer with a fast pace. Not so far though.
The pace quickens as Essa Rios sends Eddie into the ropes with a monkey flip. Chyna once again gets involved on the outside. Guerrero then flies to the outside with a plancha. Guerrero looks to hit a powerbomb on Essa but Lita goes to the top. Chyna pushes her off the top and Lita goes flying into the announce table. Essa hits a back body drop and then a springboard moonault to the outside. Back in the ring and Rios hits a dropkick off the top. Eddie falls to the outside again and Rio flies to the outside over the ringpost! Back in the ring and Rios goes to the top but as Eddie distracts the referee, Chyna pulls Essa down. Guerrero then hits a superplex and both men are down. Eddie hits a brainbuster and then goes to the top but Rios arm drags him off the top! Essa Rios then heads to the top and goes for his moonsault but Guerrero gets his knees up. Eddie then hits an airplane spin into a neckbreaker which is enough for the win! A disappointing match to be honest. I would have liked to see more pace and chemistry between these two. Chyna gets stripped by Lita after the bell.
Rating: 4/10
The Coach is backstage with the McMahons. Stephanie alludes to Vince having a surprise tonight. Vince then suggests that Austin has got into some transport difficulties and might not make it tonight.
Michael Cole is with Chris Benoit who says he isn't a robot as he has emotions. Benoit says he is happy on the inside because he knows what he's going to do to Chris Jericho tonight and he's going to enjoy doing it.
Chris Benoit (c) vs. Chris Jericho – Intercontinental Title Match
This is the 5th title match so far tonight and there hasn't been a title change yet. Lilian is ring announcing again by the way. Thank god. It's a first meeting between these two men on PPV. Unless you count last months triple threat with Kurt Angle. Both men roll around to the outside and then exchange slaps. Back in the ring and they exchange pinfalls and chops. Lots of chain wrestling and back and forth action in the early going. Benoit hits a german suplex and keeps the hands locked to hit 2 more! Benoit then sends Jericho over the top rope with a suplex. Benoit goes for a suicide dive but Jericho sidesteps it and Benoit lands on his head. Benoit then dropkicks the steps into the legs of Jericho. Back in the ring and Benoit hits a knee to the middle section. He follows it up with a gutbuster and some stomps to the head. Jericho misses with a dropkick and Benoit capitalises by catapulting Y2J into the top rope. It's a Backlash debut for both of these men. Benoit hits a snap suplex for a two count.
Chris Benoit locks on an abdominal stretch. Jericho gets out of it and hits a running elbow and the Lionsault! Jericho can't roll over to cover Benoit though. He has won matches with this move before. Jericho gets a near fall and manages a spinning heel kick but can't take advantage. Benoit hits some chops and an Irish whip but the challenger hits a bulldog for a near fall. Jericho hits a suplex onto the top rope and then goes for his springboard dropkick but Benoit swats it away. He then goes to the top but Jericho crotches him on the top rope and follows it up with a side suplex. Benoit looks like he may have countered but it wasn't clean. Benoit gets a 2 count. Both men go for a backslide and fail but Jericho does hit his double powerbomb. Which always seems a strange move for Jericho as he's a smaller guy. He rolls up Benoit for a two but Benoit reverses it into the Crippler Crossface! Jericho won't tap out, he finally gets his foot to the ropes!
Benoit drags Jericho to the middle of the ring and goes for the Crossface again but Jericho gets out of it and locks on the Walls Of Jericho! Benoit gets to the ropes and we're back to square one. Jericho bounces off the ropes but Benoit moves and Jericho hits the referee with a flying forearm! Benoit then grabs the Intercontinental belt from the outside and smashes Jericho with it! He wakes up the referee but Jericho kicks out! Benoit suplexes Jericho on the title belt and then he goes to the top and attempts his headbutt but Jericho moves and Benoit hits the Intercontinental title belt! The referee sees it and calls for the bell! Benoit wins the match by disqualification! He retains his title! Jericho isn't happy, he locks the Walls Of Jericho on Tim White, the referee!
Rating: 7/10
Video package now for the main event. All the history going back to Wrestlemania.
Michael Cole is backstage with The Rock and says that Stone Cold is nowhere to be found. The Rock doesn't know where he is but he's made a promise to the people that he's winning the WWF title tonight.
Triple H (c) vs. The Rock – WWF Title Match
This is the 7th singles match between these two men on PPV. In the previous 6, Triple H has won 3, The Rock has won 2 and they've drawn 1. A win for Triple H would mean that he is the only man to have won at last years Backlash PPV and this years. Shane McMahon is the special guest referee and Triple H has both Stephanie and Vince McMahon with him. Vince gets on the mic before the match and says that Austin will not be here tonight. The Rock and Triple H stand in the ring a sa big "We Want Stone Cold" chant breaks out. Triple H hits some big right hands and The Rock comes back with some of his own. Triple H goes for the Pedigree early but Rock back body drops him. Shane stops Rock from stomping away at Triple H which is enough to distract him and allow Triple H to hit a neckbreaker. Triple H sends The Rock to the outside and throws him into the ring steps. Triple H hasn't lost on PPV since Survivor Series last year. Vince McMahon then gets involved, throwing The Rock into the ring post.
Triple H and Shane hug in the ring before Triple H pins Rocky for a two count. Helmsley hits a high knee for another near fall. These two men last men at Rebellion last year where Helmsley beat The Rock in a cage match, retaining his WWF title. Triple H locks on a sleeper and uses the ropes for extra leverage. Rocky gets out of the sleeper and both men take each other down with a clothesline. The Rock is the first man to get up but Vince McMahon knocks him back down with the WWF title belt! Triple H covers The Rock but despite the fast count, he kicks out. A "boring" chant breaks out but stops as The Rock lays into Triple H. He hits right hands and a clothesline before throwing Helmsley out of the ring. Back in the ring and The Rock hits a DDT but Shane refuses to make the count. Rocky then slaps Shane out of the ring. Triple H knocks The Rock out of the ring and attempts a Pedigree on the Spanish announce table but The Rock hits a low blow and sets up for a Rock Bottom! Shane jumps on the table to stop it and The Rock nails both men with the Rock Bottom through the table!
Rock eventually gets up and drags Triple H into the ring. Vince McMahon then attacks The Rock from behind which angers the challenger. Triple H hits The Rock with a low blow and then hits him with the Pedigree! But Shane is still down. Vince calls for another referee and Briscoe and Patterson run out in referee shirts. Patterson counts but The Rock kicks out! Patterson and Briscoe then attack The Rock and hold him for Triple H. An "Austin" chant breaks out, they know where this is going. A "bullshit" chant breaks out now. Vince grabs a steel chair and Triple H holds The Rock for him. Vince smashes the chair into The Rock and Triple H gets him up but right on cue Austins music hits! Stone Cold emerges from the back with a chair! He nails Triple H, Patterson, Briscoe, Shane and Vince with the chair! Triple H gets back in the ring and Austin leathers him with the chair again before leaving! Linda McMahon then comes out with Earl Hebner! Linda pushes down Stephanie and The Rock hits a spinebuster on Triple H and then the People's Elbow! He pins Triple H and Linda sends in Earl who counts the 3! The Rock wins the WWF title!
Rating: 7.25/10
Austin comes out after the match in his truck, towing the DX Express. He and The Rock toast the WWF title with a beer.
And that was Backlash 2000. Overall a pretty decent pay per view. It is arguably the most talented roster WWF has ever seen, with endless potential for feuds going forward. The tag division has a lot of depth, the light-heavyweight division is starting to flourish again which have been two of the biggest faults in the past few years. There were 6 title matches tonight which was a treat and it was the tag team titles that kicked things off. A good way to kick off the pay per view with 2 veterans and one of, if not the best team in the company. The faces cheated to win which was unexpected, especially against a heel team. If Edge and Christian are going to turn hel, they can't really turn heel against a heel team. I don't mind the result though with Edge and Christian getting back to back to back PPV wins whilst X Pac and Road Dogg look to be on a downhill slide. I don't like that Kane wasn't on the card. He hasn't been up to much recently but he's always a force on the card. Edge and Christian can complete their heel turn and go on to feud with face teams such as The Hardy Boyz and Acolytes.
Next was the Malenko/Scotty Too Hotty Light-Heavyweight title match which was a slow, methodical contest. Malenko brings a slow pace to the match and a big technical aspect. He retained his title tonight which was the right result but I do wonder why he lost and won the title back over the last few weeks. They definitely need to expand this division and they do still have the semi finalists of the original tournament for the title, on the roster in Scotty, Grand Master Sexay, Taka Michinoku and Essa Rios. It was about time Malenko won a PPV match. Boss Man and Bull Buchanan then defeated The Acolytes in a bit of a surprising result but it's not a bad one. The company is clearly getting behind Bull and Boss Man and although they cheated tonight, it does mean back to back PPV victories. The Acolytes are hot right now and the loss won't affect them too much. I wouldn't be surprised to see Boss Man and Buchanan get involved in the tag title picture before long. Buchanan continues to show a lot of athleticism.
The Hardcore title was an mental as you would expect. The Hardy Boyz bought a different aspect to the match with their highflying, risk taking. I like the rivalry between Tazz and Saturn but at the end of the day the Hardcore title is about one man at the moment, Crash Holly. Then was the very quick match up between "The Showster" Big Show and Kurt Anlge. I was disappointed not to see Angle win this as he has been on such a big role for so long. He was made to look a bit daft here, as Big Show beat him clean in quick fashion. It makes me think that the company have bigger ideas for Show than they do Angle. Still, a good match for the time they were given. Entertaining but I would have liked to have seen it go longer. Test and Albert beat The Dudley Boyz in another result I was surprised about but surprised is good. The ending fit in with the feud so far and Bubba Rays obsession with Trish Stratus. This match was all about the aftermath though and Trish Stratus finally going through the table. It seems as though the crowd are turning the Dudley Boyz face so it'll be interesting to see if it continues in that direction.
Guerrero beat Essa Rios in a match that didn't deliver as I thought it would. It was a clean win for Guerrero that looked to end this feud until Lita stripped Chyna after the bell. I wouldn't be surprised to see this one continue. I like Eddie as European champion, he's arguably bought more to the belt than anyone since D-lo's run back in 1998. He shows a lot of charisma. Rios is a good talent and I can see him as a staple in the Light-Heavyweight division. Chyna and Lita are defiitely due a match down the road. Benoit beating Jericho keeps their feud alive. I can definitely see it continuing into Judgement Day. Unless Jericho gets elevated back to the WWF title picture. The reaction he got when he appeared to win the title on Raw a few weeks ago was incredible. Then The Rock defeated Triple H for the WWF title. He got a little help from Stone Cold Steve Austin and I am begging for a triple threat between the three, something we've never had before, although were expecting at Survivor Series 99. We still don't know who ran over Austin but I'm sure we'll find out. Rock and Triple H had a good match and are actually level at 3 all in their PPV bouts, with 1 draw. I can see this feud continuing into Judgement Day, maybe as a triple threat if Austin is back.
Overall Rating: 58.3/100 (ranked 37th out of 108) 
Match Of The Night: Triple H vs. The Rock
Worst Match Of The Night: Eddie Guerrero vs. Essa Rios
Surprise Of The Night: Big Show beats Kurt Angle
Worst Booking Of The Night: Kurt Angle losing in quick time
Superstar Of The Night: The Rock
Backlash 2000 Will Be Remembered For: The Rock winning the WWF Title & Trish getting powerbombed through a table