| Date: September 21, 2003
| Venue: Giant Centre | City: Hershey, Pennsylvania
| Attendance: 10, 347 | Buys: 365, 000
| tweet me: @BastionBlogger
Face Your Fear. It's a Raw only pay per view and Kane is the man on the Unforgiven 2003 poster. Tonight Shane McMahon will be facing his fear in the Big Red Machine. After months of Kane tormenting not just the Raw roster but also Shane McMahon's family, Shane finally gets his hands on the former WWE Champion. Kane has Tombstone'd Shane's mother Linda putting her out of action but Shane would get his revenge as he kicked Kane into a burning dumpster that Kane had lit. Eric Bischoff announced that the two men would meet in a Last Man Standing match and after signing their contract, Shane hit a diving elbow drop onto Kane through a table.
The main event tonight will be for the World Heavyweight Championship and it pits Triple H who has held the title for the majority of the last year, going one on one with Goldberg. Triple H beat Goldberg to win the Elimination Chamber at Summerslam with a lot of help from a sledgehammer and so Goldberg challenged Triple H to a match for the World Heavyweight Championship at Unforgiven. Triple H accepted so long as Goldbergs career was on the line and so the match was made. The Intercontinental Championship will also be on the line tonight as Christian defends the belt in a triple threat match against Rob Van Dam and Chris Jericho. Van Dam and Jericho fought in a number one contenders match but Christian got involved and knocked both men out resulting in the triple threat match being made.
The World Tag Team Championships are set to be defended as La Resistance and Rob Conway take on Bubba Ray and D-Von Dudley in a handicap tables match. This was originally supposed to be a non-title 6 man match also involving Spike Dudley but La Resistance injured Spike when they powerbombed him through a table on Raw a few weeks ago. On Heat prior to Unforgiven, Eric Bischoff made it a 3 on 2 handicap match but co-general manager Stone Cold Steve Austin added to the match by putting the titles on the line. Another tag team match set for tonight pits Jim Ross and Jerry Lawler teaming up against Jonathan Coachman and Al Snow and the stakes couldn't be higher as the winning team will become the official Raw announce team.
The Divas will also be in tag team action tonight as Gail Kim and her new partner in crime Gail Kim take on Trish Stratus and the returning Lita. Gail Kim and Molly Holly have both had it in for Trish as of late and beat her in a handicap match on Raw. Lita made the save for her old friend, returning to Raw and getting right in the Women's title picture. The legend killer Randy Orton will also be taking on the legend Shawn Michaels. Orton has already attacked legends like Mick Foley and The Fabulous Moolah and now he has Shawn Michaels in his cross-hairs. Michaels slapped Orton hard on Raw and told him that he won't be a stepping stone to Orton. Also tonight the rivalry continues between Scott Steiner and Test and the two will meet one on one tonight with a win for Scott Steiner meaning that he takes on Stacy Keibler as his manager whilst a win for Test meaning that he gets both Stacy and Scott Steiner as his "assistants".
On Heat before the show, Maven defeated Steven Richards.
A video package kicks us off, first with images of various wrestlers that are wrestling tonight but then the package becomes more focused on Triple H and Goldberg. Jim Ross welcomes us to the Hershey, PA, he's joined by Jerry Lawler. They'll be in action later.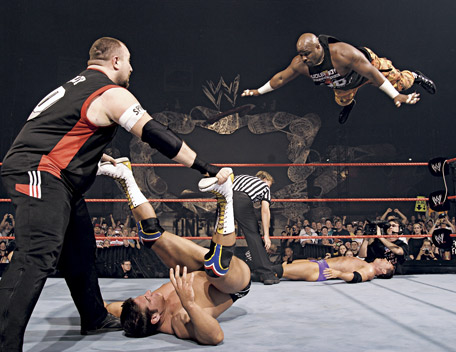 La Resistance (Sylvain Grenier & Rene Dupree) (c) & Rob Conway vs. The Dudley Boyz (Bubba Ray & D-Von) – Tables Match for World Tag Team Championships
This was originally supposed to be a 6 man tag match but Spike Dudley was injured by La Resistance so it's a handicap match. Rob Conway sort of makes his PPV debut tonight (he did wrestle as one of Los Conquistadors at Vengeance). The Dudley Boyz have a 1-1 record at Unforgiven pay per views. D-Von kicks things off with Rene Dupree and it's all D-Von in th early going. Dupree tags in Rob Conway who lays in right hands but gets caught with a shoulder block. D-Von hits a legdrop and then the Dudleyz hit a double clothesline. D-Von tags in Bubba Ray  who hits a big clothesline and then lays out the rest of his opponents. The Dudleyz then clear the ring of La Resistance and hit a double flapjack on Conway before he rolls out of the ring too.
Rob Conway hits a cheap shot on Bubba Ray allowing Rene Dupree to take the advantage. Dupree hits some right hands and then tags in Rob Conway. Conway lays into Bubba Ray and then tags in Sylvain Grenier. Lots of quick tags between La Resistance and Conway now as they use the numbers to take the advantage. Rob Conway tags in and applies a sleeper but Bubba Ray quickly gets out of it with a jawbreaker. D-Von tags in and so does Rene Dupree. D-Von takes both Conway and Dupree down with big clotheslines. Bubba Ray tags in and he and D-Von hit a double side suplex/neckbreaker. They then hit the Wassup drop on Dupree. Bubba Ray then calls for the tables! D-Von gets the tables but La Resistance lay into them before they can do anything. Weird how they had to make tags earlier  but now the referee doesn't care. La Resistance hit a hard Irish whip on D-Von eliminating D-Von from the match.
Sylvain Grenier then attempts to suplex Bubba Ray through a table but Bubba Ray reverses it and suplexes Sylvain through the table eliminating Grenier from the match. 
It's two on one now and Rene and Conway attempt to back body drop Bubba Ray through the table but D-Von moves the table out of the way. Bubba hits a Bubba Bomb on Dupree and then the Dudley Boyz throw Rob Conway through a table outside the ring much like La Resistance did to Spike a few weeks ago and that eliminates Rob Conway from the match. 
It's just Bubba Ray Dudley and Rene Dupree left. Bubba Ray and D-Von hit the 3D on Rene Dupree through the table and that's all she wrote! The Dudley Boyz win the match and the World Tag Team Championships! I am very surprised by that result! Decent way to kick off the show, lots of action.
Rating: 6/10
There's a video package for Scott Steiner and Test next. It's all to music, like a three way tragic music video.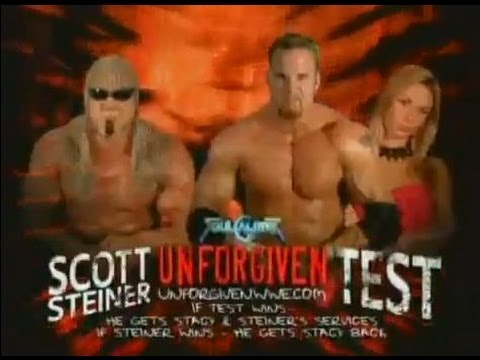 Scott Steiner vs. Test
If Scott Steiner wins this match then he gets Stacy back as his manager. But if Test wins then he gets not only Stacy but also Scott Steiner as his manager! This is the third pay per view singles match between these two men and Steiner has won the previous 2. They were at Insurrextion and Bad Blood. Test has a 0-2 record at Unforgiven PPVs whilst Steiner makes his Unforgiven debut tonight. Stacy Keibler gives Scott a big hug before the bell but that only serves as a distraction as Test lays into Steiner. Steiner gets back into it with a slam for the first near fall of the night. Steiner hits a clothesline and then drop an elbow for a one count. Steiner stops the pinfall himself and then drops and does a few press-ups. The two battle to the outside of the ring where Test throws Steiner into the ring steps.
Back in the ring and Steiner hits some big chops but Test hits him with a full nelson slam for a two count. Test hits a big clothesline in the corner and then drops some press-ups of his own. Test applies a sleeper but then breaks the hold and heads to the top. Test launches himself off but Steiner catches him with a northern lights suplex. Steiner hits a belly to belly suplex for a two count. Test hits a thumb to the eye and then attempts his pump handle slam but Steiner gets out of it and hits a tiger bomb for a two count. Test hits a low blow and pins Steiner with his feet on the ropes but Stacy pushes his feet off. Test then goes after Stacy but Stacy drops him on the top rope allowing Steiner to hit a reverse DDT but only for a two count. Test shoves Steiner into the corner and then hits the pump handle slam but Stacy distracts him and Steiner rolls up Test for another near fall.
Test chases Keibler around the ring and then into the ring but Stacy runs into Steiner! Test hits Steiner with a running boot and that gets him a near fall. Test takes off the top turnbuckle but the referee takes it off him and tries to put it back on. Test then grabs a chair but Stacy grabs it off him and swings it at Test who ducks and Keibler nails Steiner! Test then hits Steiner with a big boot to the face and pins him for the three! Test wins the match and has both Stacy Keibler and Scott Steiner as his "property"! Big win for Test tonight.
Rating: 6.5/10
There's an advert for Trish Stratus's new DVD. Expect Trish to be a part of the Women's Championship picture for a while.
Video package for Randy Orton and Shawn Michaels next.
Shawn Michaels vs. Randy Orton
It's a first time PPV singles match between these two men, a first Unforgiven appearance for either men and Randy Orton is looking for his first PPV victory tonight. He's joined by Ric Flair. Shawn Michaels takes down Randy Orton in the early going and then mocks Ric Flair. Lots of chain wrestling between the two men as Randy starts to look frustrated. Randy applies a headlock which Michaels gets out of. Michaels sends Orton over the top rope but Orton skins the cat, much like Michaels would. Orton hits a big dropkick for a near fall. Randy hits a powerslam and then heads to the top but Michaels catches him on the way down with an atomic drop. Michaels then clotheslines Orton out of the ring and skins the cat to get back in the ring himself. Shawn then goes to the top and crossbodies Orton on the outside!
Jim Ross says Michaels is in his mid-30's but he is 38 at this point. Michaels attempts to suplex Orton back in but Orton nips down and attempts a German suplex but Michaels reverses it and hits a German of his own for a two count. Michaels slams Orton into the top turnbuckle and then hits an Irish whip but Orton gets his boot up and HBK runs right into it. The two men exchange rights and chops until Michaels attempts a shoulder charge in the corner and Orton gets out of the way. Flair then takes advantage of the situation and rams Michaels into the ringpost. Flair continues to lay into Michaels as Randy Orton distracts the referee. Randy then heads outside and rams Michaels into the ringpost. Back in the ring and Orton continues to lay into the shoulder of Shawn Michaels. Orton applies a hammerlock which Michaels fights his way out of. It's worth noting that Ric Flair has a very good record as a manager, only once has one of his clients lost on PPV.
Randy Orton goes back to work on Michaels shoulder, applying an old school armbar. Michaels eventually gets out of it and rolls Orton up for a two count. Randy is up first but misses with a dropkick and so Michaels pounces of him and lays in some right hands and then chops. Shawn takes Randy down with a flying forearm and then nips back up to his feet. Michaels hits an inverted atomic drop and then right hands and a back body drop. Ric Flair gets up on the apron but Michaels hits him with a big right hand. Michaels tosses Orton out of the ring and then dives out on him. Shawn throws Randy into the barricade and then back into the ring. Michaels goes up to the top and hits a double axe handle on Orton for a two count. Michaels shoves Orton into the middle turnbuckle and then goes for sweet chin music but Orton grabs his leg, spins him round and hits Michaels with the RKO! Orton hook the leg but Michaels kicks out.
Orton heads to the top but Michaels gets out of the way of the cross body. Michaels then heads to the top, fights off Ric Flair and then dives off the top with an elbow drop. Michaels has hurt his shoulder but he rolls on top of Orton for a two count. Michaels nips back up to his feet and motions for sweet chin music and he hits it! Michaels pins Orton but after the three count Ric Flair puts Ortons foot on the rope! Michaels music hits but the referee decides that Ortons foot was on the bottom rope. Ric Flair gets in the ring and Michaels takes him out. Orton then nails Michaels in the face with what looks like brass knucks. Orton pins Michaels and this one's over! Randy Orton wins the match! It looked like Flair botched the ending, putting Ortons foot on the rope a second too late but none the less, Orton won the match thanks to some brass knucks that Flair handed him.
Rating: 7.5/10
La Resistance and Rob Conway are backstage in the medical room. Chris Jericho then walks in and uses this as an opportunity to slag off Stone Cold Steve Austin. Jericho says he will stop Austin and his reign of tyranny.
Trish Stratus & Lita vs. Molly Holly & Gail Kim
This is a return to PPV for Lita who hasn't wrestled on PPV since Wrestlemania 18 which was over 18 months ago. It's a PPV debut for Gail Kim. Trish actually beat Molly Holly at last years Unforgiven event for the Women's Championship. Molly and Gail attack Lita and Trish before the bell but Lita manages to take both girls down. Lita hits a big clothesline on Gail and Molly off the back of Trish. No woman has fought as many PPV matches to this point than Trish Stratus. Lita hits a couple of arm drags on Gail as the match officially gets underway. Lita hits a suplex and then tags in Trish who comes in off the top. Trish hits a big clothesline for a two count. Trish then ducks a clothesline with her matrix move (ironically on Gail who has a matrix like entrance) and then hits a chick kick for a two count. Gail sends Trish to the outside where Gail and Molly double team Trish.
Molly tags in and applies a chokehold on Stratus. Molly tags in Gail and goes back to work with a dragon sleeper on Trish. Trish gets out of it by climbing up to the top and diving backwards. Trish tries to make a tag but Molly Holly pulls Lita off the apron. Gail tags Molly who applies a front facelock. Lita tags herself in but the referee doesn't see it because he's dealing with Gail Kim. Lita is bleeding from the mouth after Molly pulled her off the apron. Molly tags in Gail Kim and the two girls attempts a double suplex but Trish counters it and takes both girls down. Trish gets hit with a clothesline and Gail hits a powerslam. Gail Kim then goes up to the middle rope but Trish rolls out of the way of a legdrop.
Gail tags in Molly and Trish tags Lita who hits some big clothesline, dropkicks and monkey flips. Lita hits a flying head scissors on Molly and then a powerbomb on Gail Kim. Molly attacks Lita from behind and then goes to the top but Trish comes in and hits her with her trademark hurricanrana. Lita hits a neckbreaker on Molly and then goes to the top and nails Molly with a moonsault! Lita hooks the leg and it's all over. Lita and Trish defeat Molly Holly and Gail Kim tonight. That'll put Lita right in the picture for the Women's Championship.
Rating: 6/10
Video package next for Shane McMahon and Kane.
Shane McMahon vs. Kane – Last Man Standing Match
It's a first pay per view meeting between these two men. Kane is the only man to have fought on all six Unforgiven pay per views and so far he has a record of 2-3. Shane McMahon has fought at Unforgiven once before and has a 0-1 record. Shane attacks Kane with a chair as he makes his entrance. Shane takes Kane out with a chair in the middle of the ring and we get our first count of the match but Kane is back up. Shane just keeps attacking Kane with the chair whether it to be Kanes face, middle section or knees. Shane then wraps Kanes knee into the ring post before chop blocking Kanes knees. Shane smashes Kane into the ring steps. Kane is third of all time behind The Undertaker and Triple H in terms of number of pay per views wrestled on. But only The Undertaker has lost more PPV matches than Kane. Kane slams Shane to the floor outside the ring.
Kane launches Shane into the ring steps before picking up the steps and driving them into the face of McMahon. Shane gets back up to his feet on the count of 8 and Kane throws him back into the ring and hits him with some boots. Kane motions for a chokeslam before hitting Shane with it and telling the referee to count. Shane gets back to his feet and Kane attempts to boot Shane back down to the mat but accidentally takes down the referee. Kane sets Shane up for a Tombstone but instead drops Shane to the mat. Kane then asks Shane if he wants to go and see his mom. He grabs the steel steps and puts them in the middle of the ring before setting up for a Tombstone but Shane nips down and hits Kane with a bulldog onto the steps! Shane then dropkicks the steps into Kane's face. Shane picks up the steps and drops them on Kanes leg.
Shane sets Kane up in the corner with the steel steps in front of him. The boy wonder then heads to the other side of the ring and hits coast to coast (the Van Terminator) but the referee is out. Shane goes over to Kane and grabs his leg but Kane pushes the steps into McMahon. The referee then starts his count but Kane is up at 7 and Shane isn't far behind. Kane throws Shane out of the ring and follows him out. Kane hits Shane with some big right hands until Shane manages to get out of the way of one. Shane hits some body shots and knocks Kane down. Both men get up and Kane throws Shane into the Unforgiven sign. Kane throws Shane into the set another three times. Kane then smashes Shane into the announce table which is at the top of the ramp before pushing the announce table on top of Shane! Shane got out of the way though and he attacks Kane and smashes him in the face with a sign.
Shane lays into Kane with the sign and then the jib of a camera! The referee counts but Kane gets up. The lens of the jib camera has been smashed. Shane chokes Kane with some cable and then hits him with some jabs and a low blow. Shane hits a DDT on the stage and both men are down. Shane grabs a monitor and smashes Kane with it. Kane looks up at the set and there's a big pop from the crowd. Shane climbs up the side of the set, all the way to the top! He looks down and then drops down but Kane gets out of the way and Shane goes right through the stage! The referee counts and Kane is up but Shane is not! Kane wins the match after Shane nearly killed himself! A great match between these two.
Rating: 8.25/10
Chris Jericho approaches Stone Cold Steve Austin and tells him that he's created a monster in Kane. Jericho says that he is creating chaos on Raw and La Resistance aren't happy with him either. Jericho says he's going to make Austin crack.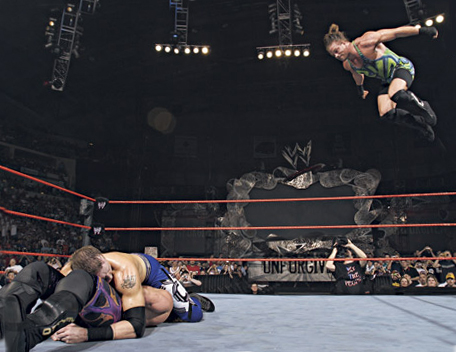 Christian vs. Chris Jericho vs. Rob Van Dam – Intercontinental Championship Match
Just to quickly go through the Unforgiven record of these three men, Christian has a 1-3 record, Chris Jericho has a 2-2 record and Rob Van Dam has a 1-1 record. Van Dam actually beat Jericho at Unforgiven 2001. Three good contenders for the Intercontinental Championship in this one. Jericho was IC champion at this event last year and retained against Ric Flair. Jericho and Christian double team Rob Van Dam in the early going but RVD takes both men down with a dropkick. Van Dam back body drops Christian out of the ring before suplexing Jericho out of the ring. RVD goes up to the top and moonsaults out at both men. Christian and Jericho were tag team champions together earlier this year. Van Dam puts Christian back in the ring and covers him for the first near fall of the match.
Van Dam hits Christian with a monkey flip for a near fall and then a kick but gets caught with a cross body from Jericho. Jericho hits some chops on Van Dam and then misses with a cross body so Van Dam hits Jericho with a standing monsault. Van Dam hits a springboard kick but Christian pulls him out of the ring and smashes him into the ringsteps. Back in the ring and Christian and Jericho fight over who lays into Van Dam. They decide to double team him and hit Van Dam with a double reverse elbow. Christian holds Van Dam for Jericho who hits him with some jabs and then a clothesline. Van Dam manages to fight back and takes down both Jericho and Christian with kicks. Jericho hits Van Dam with an enzeguri for a two count. RVD then reverses a double back body drop into a double DDT, spiking both men into the mat.
Van Dam hits a big plancha out of the ring to Christian. Jericho hits Van Dam with a springboard dropkick and then rolls Van Dam back in the ring for a two count. Van Dam is the only man in action tonight that WWE acquired during the Invasion. Jericho applies a chinlock to Van Dam. RVD gets out of it and rolls Jericho up for a two count. Van Dam ducks a clothesline and attempts a standing hurricanrana but Jericho puts the brakes on and counters into a Walls of Jericho! Christian breaks up the hold and pins Van Dam but Jericho pulls him off. Jericho then lays into Christian and the two men lay into each other with right hands. Jericho Irish whips Christian into the ring steps and then throws him back into the ring. Jericho goes up to the top and hits a reverse elbow on Christian for a two count.
Christian hits the Unprettier on Jericho and then pins him with his feet on the ropes but the referee sees it. Christian goes to the top but Van Dam gets on the apron and as Jericho knocks him off it unbalances Christian who crotches himself on the top. Jericho hits Christian with a superplex and both men are down. The referee starts to count both men down and RVD breaks that up by pinning Christian but Christian kicks out. Jericho hits Van Dam with a bulldog but Van Dam takes him down with a kick and then a standing moonsault. Van Dam pins Jericho but Christian comes in off the top and Van Dam moves out of the way so Christian nails Jericho. Van Dam drop toe holds Christian into Jericho and the two find themselves in a 69 position. Van Dam then comes off the top and hits both men with the 5 star frog splash!
Van Dam throws Christian out of the ring and then looks to hit Jericho with an electric chair from the top but Christian comes in and powerbomb Van Dam who in turn hits the electric chair on Jericho! Christian pins Van Dam who kicks out! Christian pins Jericho who gets his foot on the bottom rope! Van Dam hits Christian with a spinning hee kick before clotheslining Jericho out of the ring. Christian comes in with the IC title belt but Van Dam slingshots Christian into Jericho. Van Dam then goes to the top, fights off Jericho and then hits the 5 star frog splash on Christian who got the title up! Christian rolls RVD up and gets the 3! Christian retains his Intercontinental Championship tonight! This match was good had some decent spots but it was a bit dis-jointed.
Rating: 6.75/10
Mark whatshisface is back interviewing Triple H backstage about his match with Goldberg. Triple H tells a story in which Goldberg gets his ass kicked. Triple H believes in himself.
There's a video package up next showing Coach turning heel and his rivalry with King and JR before Al Snows involvement.
Jim Ross & Jerry Lawler vs. Al Snow & Jonathan Coachman – Winner become permanent announcers for Raw
This match marks pay per view debuts for Coach and Jim Ross. Al Snow and Jerry Lawler have both fought at an Unforgiven PPV before and both men lost their previous match, King to Tazz and Al Snow in a hardcore title match. Jerry Lawler attacks Al Snow before the bell rings, rolling him up for a couple of near falls. Lawler takes Snow down with a shoulder block. There is no commentary for this match which is a bit odd. Snow hits Lawler with a big right hand but Lawler fights back with a few of his own. King gets a near fall but Snow fights back. Snow knocks Lawler down with a clothesline for a near fall and then rolls Lawler up for another near fall. These two have quite the history with each other going all the way back to when Snow debuted in the WWE.
Al takes Lawler down with another clothesline for another two count. Snow then applies an abdominal stretch and then a chinlock. Lawler gets out of it but Snow hits a big back body drop. Coach tells Snow to do it again but this time Lawler puts on the brakes and hits Snow with a piledriver. Lawler pins Snow who just about gets his foot on the ropes. Lawler tries to tag in JR and Al Snow should let him really but instead he pulls him back. Coach tags himself in and lays into The King before pinning him for a couple of near falls. Coach attempts a bronco buster on King who moves out of the way! King takes Snow down and pulls down the strap before laying into Coach with big right hands. King hits a slam and a right hand off the middle rope as a "we want JR" chant breaks out. Lawler covers Coach but Snow breaks up the cover.
Lawler tags in JR who hits Al Snow with a low blow before clotheslining him out of the ring. JR then clothesline Coach and stomps away at him. JR hits some right hands on Coach but from nowhere comes Chris Jericho! Jericho hits a dropkick to the back of JR's head and Coach pins him for the three! Al Snow and Coach win the match and become the new commentators of Raw! Mark whatshisface interviews Jericho asking him why he did that and Jericho says he did it to piss off Stone Cold Steve Austin!
Rating: 3.5/10
There's a video package next showing the elimination chamber at Summerslam 2003 with Goldberg eliminating everyone except Triple H who left him a bloody mess.
Triple H (c) vs. Goldberg – World Heavyweight Championship Match
Triple H has wrestled at 4 Unforgiven PPV's and he's won at every single one of them. Goldberg makes his Unforgiven debut tonight and it's the first one on one pay per view match between Triple H and Goldberg. If Triple H is disqualified or counted out then he will lose his title but if Goldberg loses then he must retire. Jim Ross and Jerry Lawler are back on commentary for the last time. This has a big match feel. Triple H takes the early advantage but Goldberg lifts him high above his head before dropping him to the mat. Goldberg has won all of his PPV singles matches in the WWE, beating Chris Jericho and The Rock. Triple H heads to the outside but knows he'll lose his title if he gets counted out. Triple H gets back in the ring but Goldberg hits him with a neckbreaker.
The two men exchange right hands but Triple H hits a thumb to the eye. Goldberg hits a back body drop but Triple H takes the advantage, dropping him on the top rope and throwing him out of the ring. Goldberg gets back in the ring and hits a couple of clotheslines and a double underhook suplex. Goldberg looks to hit a spear but Triple H hits him with a high knee. Helmsley then clotheslines Goldberg out of the ring and then throws him into the ringpost. Back in the ring and Triple H gets a near fall. Triple H then hits some big right hands and an elbow to the back of the head. Goldberg fights back with some right hands but Triple H goes for Goldberg knee, kicking it and then wrapping it around the ring post. The World Heavyweight Champion then applies a figure four. If Triple H wins this match then he'll have the record for most pay per view defences in a title reign.
Goldberg gets out of the figure four and fights back with kicks, clotheslines and a big powerslam for a two count. Goldberg then throws Triple H out of the ring and smashes him into the barricade and the ring steps. Goldberg hiptosses Triple H back into the ring. The Game is bleeding from the face now. Triple H shoves Goldberg right into the referee, sending Earl Hebner out of the ring. Triple H then low blows Goldberg and DDTs him to the mat. Triple H then attempts a Pedigree but Goldberg back body drops him out of the ring. Triple H reaches under the ring and pulls out his sledgehammer before nailing Goldberg in the face with it! Triple H comes at Goldberg with his sledgehammer again but this time Triple H hits him with a spear! Goldberg sets up for the Jackhammer and he hits it! The referee gets back in the ring and counts the 3! Goldberg wins the match and the World Heavyweight Championship! It wasn't the best match ever but it did have a big fight feel.
Rating: 5.5/10
And that was Unforgiven 2003. A pay per view that kicked off with new World Tag Team Champions. The Dudley Boyz have once again become champions which isn't a decision I think I would have made. Bubba Ray and D-Von aren't anything new and it feels like the same old with them as champions. La Resistance have some decent heat and it would've made more sense for them to keep the belts unless they're to head off in a different direction. A decent enough match to kick off the show and a match that really put over Bubba Ray.
Scott Steiner and Test then put on a surprisingly good match. The right person won and it continues the storyline which has been going on for months and keeps it interesting. Stacy cost Steiner the match which could be focused on but there should be some fun segments with Test, Steiner and Keibler. Randy Orton then beat Shawn Michaels which was a bit of a surprise. The ending was a bit over-booked, with Michaels winning and then the match continuing. Ric Flairs timing wasn't great either. This really puts Orton over though and he could be a real key player going forward. The second best match of the night for me. Whatever happened to Batista?
Trish Stratus and Lita beat Molly Holly and Gail Kim in a tag team match that suggest they're easing Lita back into in-ring action. She did of course get the win which makes me think we're heading into a Molly Holly vs. Lita feud whilst Gail Kim and Trish Stratus can start a programme over why Gail Kim has got it in Trish. Kane beat Shane after a classic Shane McMahon bump. He never disappoints and his spot in this show was one of his most painful looking spots yet. Kane gets the win though and continues to look like a monster heel. This may just be the end of this feud, maybe we'll get a Goldberg/Kane feud going forward. Christian then beat both Chris Jericho and Rob Van Dam in a triple threat match to retain his Intercontinental Championship. That result is fine with me, Christian has been very entertaining as champion so far and neither Jericho or Van Dam need the title at the moment. It wouldn't surprise me if Christian split off with one of his challengers in this match and continued to feud over his belt.
Al Snow and Jonathan Coachman beat Jim Ross and Jerry Lawler to become the new announce team on Raw. This match was as bad as you'd expect but surprisingly it was Chris Jericho that cost Jim Ross the match. This was a pretty bad decision as Al Snow in particular is terrible on commentary. I'm sure it'll go back to JR and The King at some point. Then in the main event Goldberg beat Triple H to become the new World Heavyweight Champion. This was an average match, not one I'd re-watch in a hurry. Nice to have a new champion though, Triple H has practically been champion for a year. Goldberg can feud with the likes of Triple H, Kane, Chris Jericho or even Randy Orton going forward. Overall a pretty decent show which went a little downhill in the last hour. I will say the Smackdown weekly shows tend to be better than Raws but the Raw PPVs are better than the Smackdown PPVs.
Overall Rating: 62.5/100 (ranked joint 39th out of 156)
Match Of The Night: Shane McMahon vs. Kane
Worst Match Of The Night: Jim Ross & Jerry Lawler vs. Al Snow & Coach
Surprise Of The Night: Jim Ross and Jerry Lawler lose to Coach and Al Snow
Worst Booking Of The Night: The Dudley Boyz become tag team champions again
Superstar Of The Night: Goldberg
Unforgiven 2003 Will Be Remembered For: Goldberg becoming World Heavyweight Champion and Shane McMahon nearly killing himself