Badd Blood. That is what we have between Shawn Michaels and The Undertaker. At Summerslam, Shawn Michaels cost The Undertaker the WWF title when he accidentally hit him with a steel chair. Then at Ground Zero the two would meet in a match that barely got off the ground and would end in a double disqualification. Tonight, the two meet in a Hell In A Cell match which should keep the likes of Hunter Hearst Helmsley, Chyna and Rick Rude out. It's a match designed for The Undertaker in a contest that the winner will become number one contender for the WWF title.
There is no WWF title match tonight as national pride is on the line when champion Bret Hart teams with his brother-in-law The British Bulldog against The Patriot and Vader in a flag match. These four men have been involved in a feud over flags for a couple of months now which led to the unlikely alliance of The Patriot and Vader. Fellow Hart Foundation member Owen Hart will be in a title match tonight when he takes on Faarooq in the tournament finals to crown a new Intercontinental champion. Owen got two disqualification wins to get to the final whilst Faarooq was initially eliminated by Ken Shamrock but was put back in the tournament when Shamrock got injured. Brian Pillman will also be in action tonight when he takes on Dude Love.
We'll have ourselves a tag team title match when The Headbangers defend their belts against The Godwinns. There isn't much of a recent history between these teams but The Godwinns have been around those belts for nearly two years now and would like a lengthy reign. The other big team on the roster, The Legion Of Doom are scheduled to team with Ken Shamrock against Nation Of Domination members Kama Mustafa, Rocky Maivia and D-lo Brown. Let's get to it.
A video package kicks us of, first showing us Shawn Michaels, the cocky, brash, controversial superstar and his allies Hunter Hearst Helmsley, Chyna and Rick Rude who have attacked The Undertaker like a pack of dogs. Not much about The Undertaker in this one but he'll be fighting Shawn Michaels in Hell In A Cell tonight. I'm pretty sure the music we hear off the back of this would become Steve Blackmans entrance theme. Vince McMahon welcomes everybody to Badd Blood, he's joined by Jerry Lawler and Jim Ross. The Nation Of Dominations music hits and we're getting underway!
The Nation Of Domination (Rocky Maivia, Kama Mustafa & D-lo Brown) vs. The Legion Of Doom (Animal & Hawk)
Ken Shamrock was supposed to be the third man with LOD but he got injured at the hands of Faarooq initially and then Vader more recently. Hawk and Animal have history wit hthe Nation having fought them in a six man tag match at Wrestlemania. Why their partner from then, Ahmed Johnson isn't teaming with them tonight, I don't know. Hawk kicks things off with D-lo who is making his PPV debut tonight. Hawk takes it to D-lo who tags out to Rocky Maivia. Hawk tags out to Animal. Rocky Maivia and Kama Mustafa make their debut as Nation members tonight having previous fought under similar gimmicks. Kama is actually short for Kick Any Mans Ass. Animal hits a shoulderblock and a dropkick on Rocky who heads out of the ring. Animal tags Hawk who comes in with a double axe handle. Rocky tags Kama Mustafa in who previously wrestled as Kama and Papa Shango. Kama hits some big shots on Hawk but both men clothesline each other and get right back up.
Hawk locks a sleeper on Kama then Animal tags himself in. Animal hits his trademark powerslam but in comes Rocky Maivia who hits Animal with a DDT. I don't think Kama has ever won a PPV match under any gimmick. His last PPV match was the 1996 Royal Rumble match. The Nation triple team Animal then Kama tags D-lo. D-lo takes Animal down and pins him for a two before tagging out to Rocky Maivia. Rocky has a decent PPV record having won 3 of his 5 previous matches. He locks a sleeper on Animal now. Animal gets out of it but Rocky knocks him back down with a clothesline. Plenty of double teaming as one man distracts Hawk and the other two go to work on Animal. Maivia tags Kama who misses with a splash in the corner! Animal then manages to tag Hawk but Rocky has the referee distracted! The referee didn't see the tag and tells Hawk to leave the ring which allows D-lo to come off the top with a frog splash! But it just gets a two count.
Back in the ring and both Rocky and Animal hit the desk courtesy of each others clotheslines. Finally Animal tags Hawk who hits a big powerslam for a two! In comes D-lo and he gets a neckbreaker. LOD clear the ring then hit weak clotheslines on Rocky in the corner. They set up for the Doomsday Device but Faarooq comes out and gets up on the apron. This distracts LOD long enough for Rocky Maivia to hit his finisher on Hawk as Animal is distracted by Faarooq! Rocky pins Hawk and gets the three! The Nation get a big win and the numbers proved too much for The Legion Of Doom. This one won't be over between these teams. Decent way to start the show off.
Rating: 6.25/10
Some shocking news now that Brian Pillman has been found dead in his hotel room. Vince McMahon is a somber figure but says that they have scrambled together and have a match to replace what was to be between Brian Pillman and Dude Love.
Mosaic & Tarantula vs. Max Mini & Nova
Midgets match. This is the replacement for Brian Pillman vs. Dude Love. Tarantula is the biggest man in there and he and Nova go back and forth in the start. Tarantula misses with a splash in the corner and his partner Mosaic keeps accidentally hitting him. Max Mini has done nothing as the two heels double team Nova. Max Mini and Mosaic come in now and it's Mosaic with the advantage. Max Mini hits a hiptoss and an arm drag but misses with the dropkick. He hits a back body drop and all four men are in the ring! Tarantula and Mosaic hit a double big boot on Max Mini. Max Mini is the face of the midgets division. Nova is tagged in and Tarantula comes off the top with a big splash on him for a two count. More double teaming from the heels. Nova tags Max Mini and Tarantula attacks him from behind.
Outside the ring and Tarantula drops Max Mini on the commentators desk. Nova hits an arm drag on Mosaic and then a springboard dropkick, sending Mosaic out of the ring. Nova tags Max Mini and in comes Tarantula. Tarantula hits a clothesline but Max Mini comes off the top with a high cross body. Then we get about three botches in a row and Max Mini pins Tarantula and it looks like it's broken up but it's over. Thank God.
Rating: 2/10
Vince McMahon gives us the official attendance, 21 thousand odd and then Sunny comes out.
The Headbangers (Mosh & Thrasher) (c) vs. The Godwinns (Henry & Phineas) – Tag Team Title Match
The Godwinns are now managed by Uncle Cletus. I think he used to be TL Hopper. The Headbangers won the tag team titles in a four way match at Ground Zero and successfully defended the belts against Los Boricuas at One Night Only. The Godwinns are still looking for their first ever PPV victory. The Headbangers send The Godwinns to the outside in the early going. Phineas has one of the worst ever PPV records ever. He's never won. Mosh and Phineas officially start the match and Mosh hurricanranas Phineas to the outside of the ring! We've kicked off this show with three tag team matches! Mosh tags Thrasher and they hit a flapjack dropping Phineas on his head! Phineas tags Henry who receives a drop toe hold from Thrasher. It's definitely a case of speed vs. power in this one and the crowd are right behind The Headbangers. Thrasher hits a dropkick and sends Henry to the outside of the ring.
Henry tags Phineas and Thrasher tags Mosh. Nice double team move from The Headbangers. Mosh with a big slam on Phineas then Thrasher suplexes Mosh on Phineas from the top for a two count. Mosh goes to the arm bar then tags Thrasher who comes in with a big clothesline off the second rope. Behind the referees back Henry comes in and mows down Thrasher before getting officially tagged in. Henry suplexes Thrasher onto the top rope before Phineas knocks him to the outside Henry tags Phineas who has a very sweaty crack. He throws Thrasher to the outside where both Henry and Uncle Cletus take a shot at him. Phineas hits Thrasher with a few knee drops and pins him for a two. Thrasher hits a sunset flip but Henry has the referee distracted! Lots of boos to that. Phineas tags Henry who slams Thrasher then hits a facebuster for a two. Mosh broke that one up. Thrasher comes off the ropes and bumps head with Henry and both men are down.
Henry tags Phineas but Thrasher can't reach Mosh. Phineas misses with a splash in the corner and Thrasher hits a belly to back suplex. Finally Thrasher tags Mosh who goes to town on all three Godwinns! Mosh slams Phineas then Thrasher powerbombs Mosh onto Phineas" Henry breaks up the cover then Mosh comes off the top but Phineas reverses it into a powerbomb! Phineas pins Mosh and Uncle Cletus grabs Thrasher so he can't break up the pin and it's over! The Godwinns win the tag team titles for a second time! Not a popular decision. The Godwinns take it to The Headbangers after the match and an "LOD" chant breaks out. An announcement is then made that if The Godwinns don't leave the ring then they will be stripped of the titles! Lots of heat for The Godwinns who are now two time tag team champions.
Rating: 6.5/10
A package now about Stone Cold Steve Austin. He's Stone Cold Stunnered Jim Ross, Commissioner Slaughter, Jerry Lawler and Vince McMahon.
Michaels Cole is backstage now and says that Steve Austin will forfeit the Intercontinental title tonight. Owen Hart then walks in and says Austin will be giving him the title tonight. He says Steve Austin needs to be kept away from him tonight or there'll be a lawsuit.
Jim Ross is in the ring now and introduces Gene Kiniski who is a former NWA champion. Then we get a video package about Kiniski. He gets honoured with a plaque. Ross then introduces the next man, Jack Brisco, cue the package. Jack is identical to Gerald. Next man is Dory Funk Jr. And then Harley Race. Next is Terry Funk. There was a problem with the tape his VT was played from. Final nominees are Sam Muchnick and Lou Thesz. Interesting how they're honouring all of these NWA legends.
Dok Hendrix is backstage with Faarooq and The Nation now. Hendrix says that Faarooq has the advantage because of Steve Austin. Faarooq says Steve Austins name doesn't mean a thing and he's going to kick Owen Hart ass all over the ring.
Vince McMahon then tells us that Brian Pillman may have suffered an overdose. And quickly says that drug overdoses happen in all sports…
Faarooq vs. Owen Hart – Intercontinental Title Match
Faarooq goes into this one looking for his first PPV victory since being part of a gauntlet match in May. Owen Hart hasn't won on PPV since Canadian Stampede in July. Owen has new music too. He's the former champion. Hart would make most sense as the winner I guess as he's ready for Austin when he returns. This is the second time in a year that Faarooq has reached the finals of an Intercontinental title tournament. Neither the Nation Of Domination or The Hart Foundation are present for this one. Owen will be hurt by the loss of Pillman. Before the bell Steve Austins music hits and The Fink introduces Austin as the man who will present the title to the winner. Commissioner Slaughter is also present. Austin rings the bell then puts on Vince McMahons headset. A big "Owen sucks" chant breaks out. This is a first time meeting between Owen and Faarooq. Faarooq shoves Hart in the early going, he's the bigger of the two men. They exchange headlocks then Faarooq throws Owen Hart across the ring. Only four men have wrestled on more PPVs than Owen Hart and they will all be in action later.
Owen hits a spinning heel kick on Faarooq then goes after the knee. Faarooq made it through the finals of this tournament first after being knocked out of the tournament by Ken Shamrock he was let back in because Shamrock got injured. Then he beat Ahmed Johnson. Owen Hart beat both Goldust and Brian Pillman by disqualification. Faarooq kicks Owen Hart into the ring post and clubs away at Harts back. Faarooq pulls down the straps and hits a backbreaker for a two count. He then goes for a slam but falls back maybe because of the previous damage to his knee. He gains the advantage with a clothesline then hits another slam before going to the middle rope but Owen gets out of the way of a legdrop. Hart then goes for the Sharpshooter but Faarooq kicks him away. Big powerslam by Faarooq then a spinebuster. But here comes Jim "The Anvil" Neidhart. Jim Neidhart distracts the referee and Steve Austin smacks Faarooq with the Intercontinental title! Hart pins Faarooq and it's over! Owen Hart wins the match and the Intercontinental title. Something did not click here. Austin distracting everyone on the outside didn't help either.
Rating: 4/10
We see some footage from Raw now with The Hart Foundation attacking Vader and The Patriot.
Los Boricuas (Savio Vega, Miguel Perez, Jose Estrada & Jesus Castillo) vs. The Disciples Of Apocalypse (Crush, Chainz, Skull & 8 Ball)
This is a rematch from Summerslam, a match that Los Boricuas won. Jose and Skull kick things off and Skull hits a big clothesline. Skull tags 8 Ball and they hit a double big boot. Jose tags Miguel and this has been pacey so far. 8 Ball hits a slam and tags Crush, the leader of this group. Miguel tags Savio Vega who has won more PPV matches than most. Crush hits a big boot on Savio then a belly to belly suplex for a two. Crush tags Chainz who hits a big boot. He's looking for his first ever PPV victory. Savio hits some rights and tags Jesus. All 8 men have been in the ring now. Chainz hits a gorilla press slam but gets thrown to the outside where all the Boricuas stomp away at Chainz. Back in the ring and Jesus hits a knee to the face to Chainz then tags Miguel Perez. Mguel tag Jose and all four Boricuas come in and hit clotheslines on Chainz before Savio hits a spinning heel kick. That gets Jose a two count. Jose locks a sleeper on now using the ropes for leverage.
Savio Vega tags in and applies a chinlock Chainz gets out of it but receives a roundhouse kick. Savio tags Jesus and slams Chainz. Jesus comes in off the top and hits a dropkick which 8 Ball breaks up. In comes Miguel who didn't seem to tag in but the referee allows it anyway. He applies a chinlock now . Chainz has been in there sometime now. Chainz breaks the hold but gets a knee. Miguel tags Savio Vega who hits a hard knifedge chop. I think Savio has put weight on. Savio misses with a splash in the cotner and tags Jesus and Chainz tags Crush! Suddenly all 8 men are in and then battling all over the ring. Crush hits a big boot on Jesus in the ring and pins him but the referee is nowhere! Chainz then attacks Jesus from behind and Crush hits a tilt-a-whirl backbreaker which gets the three! Disciples Of Apocalypse win the match! This was ok, nothing spectacular. I'd imagine this kind of match is hard to work.
Rating: 4/10
Michael Cole is backstage with Bret Hart and The British Bulldog. Bret says that he and Bulldog are better than any two American wrestlers. Bulldog then cuts an awful promo and seems high one drugs, saying something like "right here we're going to win right here". Hmmm. Flag match up next!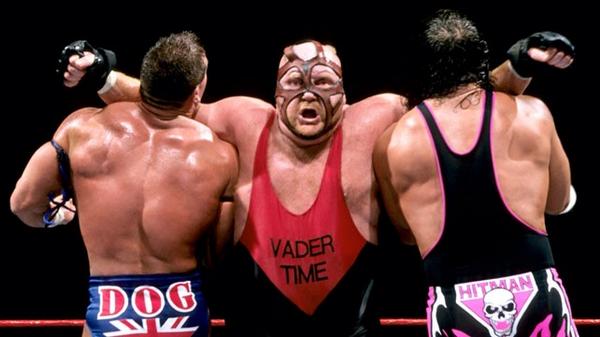 Bret Hart & The British Bulldog vs. Vader & The Patriot – Flag Match
Vader uses the word "Bullshit" in an interview pre-match, brilliant. There is no WWF title match because we get this tag match instead. Vader, The Patriot and Bret Hart all picked up big wins at the last PPV, One Night Only. The four men get into this one before the bell. Patriot throws Bulldog into the ring steps whilst Bret and Vader fight around the other side of the ring. Bulldog and Bret both uses flag poles to take down Vader and The Patriot. The bell still hasn't rung in this one yet. The Patriot chokes Bulldog with the American flag. He and Vader then get in the ring and pose to a good reaction from the crowd. The bell then finally rings. To win this match you either have to grab your flag or pin/submit your opponents. The Patriot and Bulldog start the match and it's Patriot with the shoulder block and suplex. All four men suddenly get involved and Bret hammers The Patriot away from his flag.
The Patriot keeps the advantage though with back body drops then tags Vader. Vader clothesline Bulldog to the mat and the former European champion tags Bret Hart. Vader hits Bret with some big right hands then a clothesline. Some double teaming from Bulldog and Hart knocks Vader to the mat. Bret then hits a side Russian leg sweep and attempts to get his flag but Vader stops him with a low blow. Vader tags Patriot and Bret tags Bulldog. Patriot misses a dropkick but we'll gloss over that, he gets a two count. Bulldog definitely looks like he's lost weight. The Patriot hits a slam then goes to get his flag which is really quite high up. Bret Hart stops him whilst the other side, Vader stops Bulldog from getting the Maple Leaf. Bret then locks in the figure four around the ring post as Vader accidentally distracts the referee. He releases the hold and Bulldog tags him in. Bret hits a headbutt to Patriots chest then locks on The Sharpshooter! But The Patriot reverses it before getting a clothesline from Bulldog.
All four men are in the ring now and Bulldog stops Patriot from getting his flag by throwing him across the ring. Bret then tags Bulldog who comes in off the middle rope with an elbow for a two count. The Patriot tries to make the tag and does! Vader takes Bulldog down for two count. Vader then hits a side suplex then squashes him. He then tries to get the flag and as Bulldog tries to stop him, The Patriot fights him off. Bret then does stop him. Bulldog locks a sleeper on Vader now then tags Bret. Bret hits a side suplex on Vader then locks on a Sharpshooter but Vader quickly gets to the ropes. Vader then tries for a Sharpshooter but Bulldog clothesline him before he can lock it on. The Patriot comes in now, no tag made but he's in. He locks a figure four on Bret who refuses to submit. Bret manages to tag Bulldog who comes in and breaks the hold then takes a shot at Vader. Bulldog then hits his big stalling suplex for a two count. Patriot hits a powerslam for a two then goes to his flag but Bulldog stops him.
Bulldog tags the WWF champion now who stomps away at The Patriot. He then hits a nice suplex, an elbow to the jaw and a legdrop. Bret then goes for the flag but Vader stops him. Bulldog clotheslines The Patriot who then tags Vader. Bulldog is also tagged in and Vader slams him then heads for the top rope. Vader goes for the moonsault but Bulldog gets out of the way and Vader almost lands on his feet! Vader hits Bulldog with some lefts and rights then goes for his flag but Bret stops him. Patriot chokes Bulldog then exits the ring. Vader clotheslines Bulldog outside of the ring Vader follows and Bret smashes Vader in the face with the ring bell! Where's Commissioner Slaughter? Vader is up though and Bulldog rolls him into the ring then tags Bret. Bret hits a slam then an elbow before going to the middle rope and hitting his trademark elbow. Hart then smashes The Patriot off the apron and hits a DDT on Vader for a two count. Bret tags Bulldog and Vader clotheslines both men down and tags The Patriot which I think was supposed to be a hot tag but got no reaction. Patriot takes both men down then hits The Uncle Slam on Bret. Bulldog breaks up the cover.
Suddenly a fan gets in the ring but Bulldog helps stomp him out. Vader then hits the Vader Bomb on Bret! He's not the legal man though so can't follow it up. Bulldog goes after Vader and The Patriot rolls Bret up but Bret reverses it with a pull of the tights and Bret gets the three! Bret and Bulldog win the match! The crowd seemed a bit dead for this one. Patriot and Vader go after them after the match but the Brother-in-laws get away. This match was ok but maybe went on a bit too long.
Rating: 6.5/10
We then get a cool promo for Survivor Series.
We then get an interview with Shawn Michaels who says the good news is that his title isn't on the line tonight. The bad news is that he's stuck in a cell with the Undertaker without Rick Rude, Hunter Hearst Helmsley and Chyna. Michaels is till confident that he'll win.
Then to a video package about Shawn Michaels who is quite open about being a jerk. Image is everything, perception is reality. We see clips of him winning titles. Then interviews of him turning heel essentially. He doesn't give a damn of what people think of him.
Then to Sgt Slaughter who is checking under the ring that nobody is hiding there. Then down comes the cell.
Shawn Michaels vs. The Undertaker – Hell In A Cell match for number one contendership to the WWF title
Michaels comes out with Hunter Hearst Helmsley, Chyna and Rick Rude. This is the second PPV match between Michaels and Undertaker, the last one was a draw. This is the first ever Hell in a Cell match and we start with Undertaker slowly chasing Michaels around the ring. Undertaker hits a big boot then repeatedly throws Shawn into the turnbuckles. Michaels gets back into it with some right hands but not for long as Undertaker hits a big right hand. The dead man then gets a two count. He then twists the arm and hits his trademark move off the top rope, dropping Michaels to the mat. Commission Slaughter sends Helmsley, Chyna and Rick Rude to the back, not that they could get into the cell anyway. Undertaker hits a slam and a legdrop for a two. He follows it up with a back body drop and a series of right hands. Undertaker then sends Michaels out of the ring where the European champion lands on a single rose. Where did that come from?
Michaels gets up and tries to climb the cage to get away from The Undertaker but the man from the dark side pulls him down. Undertaker then throws Michaels into the cage and follows it up with a clothesline. And then does it again. Undertaker then goes for a powerbomb but Michaels grabs into the cell to block it only for the dead man to ram Michaels into the cage repeatedly. Undertaker has definitely had the best of this match so far. He hits some big body shots then rams Michaels into the ring post and the cell. The crowd are a lot more into this match than the last. It continues to be all Undertaker as he smashes Shawns head off the ring steps then chokes him with his boot. Undertaker then throws Michaels into the cell but misses with the follow up splash giving Shawn the advantage. It doesn't last long though as Undertaker drops Shawn on the top rope but only to get smashed off the apron into the cell! Michaels then makes a suicide dive to the outside and into the cell. Shawn follows this up by climbing up the cell and jumping off with an elbow.
Michaels dives off the apron with a big clothesline then smashes the steel steps into Undertakers back. Michaels then hits a brutal piledriver on the ring steps before bad mouthing the cameraman. Michaels has yet to lose a PPV match in 1997, he's drawn with Steve Austin and The Undertaker and beaten Sycho Sid and The British Bulldog. Michaels reaches under the ring now and pulls out a steel chair before smashing into Undertakers back, twice. Michaels covers Undertaker for a two. Undertaker tries for a comeback with right hands but Michaels ties him up in the ropes momentarily. Michaels runs at Undertaker but Undertaker back body drops him over the ropes and on top of a cameraman! Michaels isn't happy with the cameraman and stomps on his head! Back in the ring and Michaels hits his flying forearm then nip back up. He then heads to the top as Commissioner Slaughter comes out Michaels dives off and hits his flying elbow which Jim Ross says is the best flying elbow of all time. No offence Randy. Michaels motions for Sweet Chin Music as Slaughter gets in the cage and helps the cameraman out. Michaels then hits Sweet Chin Music! But Undertaker sits right up! Michaels leaves the ring and leaves the cage which is open because of the cameraman being helped out!
Undertaker follows Michaels out and catapults him into the cell. Shawn is a bloody mess now as Undertaker once again rams Michaels into the cell not once, but twice. Michaels tops Undertaker with a low blow then climbs up the cage! Undertaker follows and both men are on top of the cell! Michaels goes for a piledriver but Undertaker back body drops him! The crowd sure are into this one now. Undertaker then lifts Michaels up above his head before dropping him on the steel. Michaels nearly rolls off the cage. He hangs off and Undertaker grabs him then stomps on his hand leaving Michaels to go flying down and through the Spanish announce table! Undertaker drops down and throws Michaels across the French announce table. Undertaker gets Michaels back into the cell and Slaughter locks the door shut again. In the ring and Undertaker puts Michaels on the top turnbuckle then chokeslams him off the top! Undertaker paces then looks under the ring where he grabs a chair! He smashes Michaels head with the chair HARD and the crowd love it. Surely Tombstone time?
But the lights go out! Paul Bearer then emerges from the back with a masked giant! That's gotta be Kane, Vince McMahon barks! Kane rips the door of the cell off its hinges then gets in the ring. Kane stands toe to toe with The Undertaker. Undertaker looks shocked as Kane lifts his arms then pulls them back down and fire comes out of the corners. Kane then scoops Undertaker up and Tombstones him in the middle of the ring. Paul Bearer and Kane leave as the crowd boo. Shawn Michaels then crawls over to Undertaker and puts an arm over him. The referee counts the three and this one is over! Thanks to Kane, Shawn Michaels wins the first ever Hell In A Cell match. And what a match it was. Shawn Michaels also becomes number one contender to Bret Harts title, a shot he'll get at Survivor Series.
Match Rating: 8.5/10
And that was Badd Blood. It was an average pay per view until the spectacular ending. The handicap match that kicked us off was a decent way to start. I'm starting to grow more of an admiration for the three Nation Of Domination guys as individuals. I'd like to see more of all three, all of which bring very different things to the plate. The Legion Of Doom are still over as hell. I can see those guys going after the tag team titles again which would mean hooking up with their old rivals in The Godwinns. They won the belts from The Headbangers in a decent match between two proper tag teams. I don't mind The Godwinns winning the belts, I'd like to think The Headbangers will stick around, I can't see them splitting up yet. With them and LOD around it makes sense to have heel champions right now. Hell, even The Patriot and Vader could be viable contenders.
Speaking of Vader and The Patriot, they lose their match to Bret Hart and The British Bulldog. This definitely made sense as Bret Hart is the WWF champion. I do wonder whether they added the pinfall/submission stipulation because the flags were actually too high for the competitors to reach. Bret and Bulldogs Hart Foundation brethren Owen Hart had a great night when he won the Intercontinental title by defeating Faarooq. Now I reckon Ken Shamrock was supposed to be in this final but he got injured and dropped to the six man but then got injured again so couldn't wrestle tonight. It was Owen that won the belt though with a lot of help from Steve Austin. I'm sure Owen will hang onto that belt until Austin is fit and ready to return and we get the much anticipated rematch.
We also saw a rematch between Los Boricuas and The Disciples Of Apocalypse. It was nice to see Crush and co win this one. Los Boricuas have been the more dominant out of the three groups after wins at Summerslam and Ground Zero. With Survivor Series around the corner it will be interesting to see what factions are in matches. I'd love to see a similar series to 1990 where the winners go on. Or even a tournament between the factions, where the survivors progress, how good would that be? There was a minis match tonight which was awful. Why are they continuing with this circus act? It's tried, tested and failed. Then in the main event Shawn Michaels beat The Undertaker with a lot of help from the debuting Kane. Kane and Undertaker are in for a long feud now and one that will probably stretch until Wrestlemania. Michaels goes on to fight Bret Hart for the title at Survivor Series in their first match together since Wrestlemania 12. The Hell In A Cell match was great by the way. Two top competitors putting on a stellar match and really making the most of the cell.
Overall this was a pretty average pay per view with the main event being the real showstealer.
Overall Rating: 54 out of 100 (Ranked joint 39th out of 74)
Match Of The Night: Shawn Michaels vs. The Undertaker
Worst Match Of The Night: Max Mini/Nova vs. Tarantula/Mosaic
Surprise Of The Night: Kane debuts
Worst Booking Of The Night: None
Superstar Of The Night: Shawn Michaels
Badd Blood Will Be Remembered For: Kanes debut