| Date: October 17th, 1999
| Venue: Gund Arena | City: Cleveland, Ohio
| Attendance: 18, 742 | Buyrate: 327, 835
No Mercy is exactly what tonight's main eventers WWF Champion Triple H and number one contender "Stone Cold" Steve Austin will have for one another. At Unforgiven last month Triple H became a two time WWF Champion after winning the 6 pack challenge. Austin knew he would be facing the winner. The two have had a heated rivalry which culminated in Austin locking Helmsley in a room with a rattlesnake. Triple H would then feign a facial injury, claiming the snake bit him but it was a ruse in order to attack Austin when his guard was down. Austin has beaten Triple H at In Your House: Buried Alive and Mayhem In Manchester, can he make it three from three and raise the WWF title tonight?
The Intercontinental title will also be on the line when Jeff Jarrett defends against Chyna in a Good Housekeeping match. What's that you ask? Well Jarrett has been attacking Chyna with household items recently from vacuum cleaners to irons in a sexism based feud. Tonight these household items will be littered around the ring and are free to use for both competitors. The Women's title will be on the line when Ivory defends her championship against none other than The Fabulous Moolah. Ivory has taken exception to Moolah as of late and Moolah will not back down. She even beat Ivory in an Evening Gown match on Raw a few weeks ago!
There are two big matches involving the tag team champions, The Rock and Sock Connection tonight. The first is between The Rock and The British Bulldog. It was Bulldog that cost The Rock the WWF title at Unforgiven and since then, The Rock has cost the Bulldog the WWF title when he was special guest referee in Bulldogs match against Triple H. Since then, The Rock has gone as far as to Rock Bottom the Bulldog in a tray of dog crap which angered the former Intercontinental, European, Tag Team and Hardcore champion. They meet in a first time PPV meeting between the two. Mankind will also be in action tonight against Val Venis. Mankind presented The Rock with his own sock in Mr Rocko but The Rock didn't really appreciate the gift and threw it in the garbage. Venis picked the sock out, rolled it up and put it down his pants, somewhere Mr Rocko now lives. Mankind wants Rocko back and that has been the basis for this feud!
Although the tag team titles aren't on the line tonight there will be three matches involving the tag team division. The match with most on the line is The Hardy Boyz vs. Edge and Christian. They will be fighting in the 5th match of their best of 5 series. The winner of this match will not only win $100,000 but also the managerial presence of Terri Runnels. It'll be contested in the first ever tag team ladder match. The New Age Outlaws were scheduled to defend their tag team titles against The Holly Cousins after the dysfunctional family had attacked them with their weighing scales on numerous occasions but now the Outlaws have lost their titles, I can only assume that it'll be just pride on the line. Also tonight will be a fatal four way match between Kane, X Pac, Faarooq and Bradshaw as X Pac wanted an opportunity to prove that he can make it in the land of the giants. So let's get to it.
We kick off with a dramatic video package about Triple H causing mayhem in the WWF and comparing it to nuclear bombs going off. Jim Ross welcomes us to the Gund Arena, he's joined by Jerry Lawler. The Godfathers music then hits and it looks like we've got an opener involved the Pimp Daddy. Earlier he was seen leaving Mr McMahons office. What deal has he struck with the owner?
The Godfather vs. Mideon
These two men had a match on Smackdown last week and Viscera got involved. So now it looks like we've got a rematch. I'm not expecting too much from this opener. Mideon is a former European champion but he's never really got going as a singles competitor. The Godfather gets on the stick before the bell and gives us his usual intro. Last time The Godfather offered Mideon hoes, Mideon said that he would prefer farmyard animals. There'll be no offer tonight. Mideon did have more jazzy, neon ring gear last time he was on PPV but it's back to his old gear tonight. The Godfather starts well with a powerslam and a crescent kick to the chops. This one doesn't exactly feel like a PPV match. The Godfather warms up for a Hoe Train but is distracted by Viscera on the outside who is over by the hoes. That gives Mideon the advantage and he drops Godfather on the barricade. He then distracts the referee allowing Viscera to ram Godfather into the ring apron.
Back in the ring and Mideon hits an elbow for the first near fall of the match. The former Godwinn then applies a sleeper. Godfather gets out of that one and hits a sunset flip but the referee is delayed making the count due to a distraction from Viscera. Viscera gets involved again and it's almost turned into a handicap match. A "we want puppies" chant breaks out and The Godfather goes for the Hoe Train again but Mideon gets his boot up and follows it up with a clothesline for a two count. These are two of the more experienced members of the roster. Viscera too, as he lays into The Godfather behind the referees back again. Mideon slams Godfather and goes to the middle rope but Godfather gets out of the way of an elbow drop. It's all Godfather now as he hits clotheslines, powerslams and a legdrop for a two count. He's derailed as Mideon gets his knees up as Godfather comes off the second rope.
Viscera goes for a splash into the ringpost but Godfather gets out of the way. He puts Mideon back into the ring and hits the Hoe Train! Godfather rolls up Mideon and gets the three! He overcame the odds in this one and beats Mideon and essentially Viscera! Exactly what you'd expect in this one although I thought Mideon would get the win! Godfather is on a little PPV run having beaten Gangrel at Rebellion and now Mideon at No Mercy.
Rating: 4.5/10
We get an interview from Heat with Triple H gloating about pulling the wool over the eyes of Vince McMahon and Steve Austin.
Michael Cole is backstage with Ivory who doesn't care about The Fabulous Moolah's history. She makes a statement that she is the one and only Women's champion.
Ivory (c) vs. The Fabulous Moolah – Women's Title Match
The Fabulous Moolah is in her 70's and her last PPV match was at Survivor Series 1987, 12 years ago. Ivory hits her with a dropkick before the bell for a two count. She gets a near fall and hits a legdrop for another near fall. Ivory makes lots of quick covers to try and finish the match early. Moolah gets back into the match with some classic snapmares by the hair for a near fall. Fabulous Moolah hits a knee to Ivorys chest that is way over-sold. Moolah then misses with a splash off the bottom rope. Ivory tries to pin Moolah using the ropes for extra leverage but Mae Young throws her feet off the ropes. Ivory then dropkicks Mae Young off the apron and throws Moolah out of the ring before hitting her with a suicide dive. Jerry Lawler is loving every minute of this. Ivory lays into both Moolah and Mae Young out of the ring. She then grabs the title belt but Mae Young stops her from using it. Ivory hammers Young with the belt and then Moolah rolls Ivory up from behind for the three! The Fabulous Moolah wins the Women's title! What have I just watched? At last it was entertaining in a weird way!
Rating: 3/10
We get another clip from Heat with Vince McMahon smugly telling Triple H that he won't be able to retain his belt by disqualification tonight as the main event is No Holds Barred!
The New Age Outlaws (Road Dogg & Billy Gunn) vs. The Holly Cousins (Hardcore & Crash)
This match was originally supposed to be a tag team title match but The Outlaws lost their belts to Mankind and The Rock on Smackdown. Hardcore actually cost Billy Gunn the match, smashing him with the tag title belt so really it backfired. They have beaten most teams on PPV, teams such as The Legion Of Doom, The Headbangers, Owen Hart & Jeff Jarrett as well as many more but they've never met The Holly Cousins. The two teams get into it during the Holly's entrance. Road Dogg and Crash pair off in the ring and the bell rings whilst Hardcore and Billy Gunn go at it on the outside. It all settles down and Road Dogg tags Billy Gunn who hits a powerslam and drops an elbow on Crash for a two. Road Dogg gets tagged back in and hits his trademark jabs on Crash and follows it up with his shaky legs knee drop for a near fall. Road Dogg hits a hip toss for a two count. Crash sends Road Dogg to the outside where Hardcore lays into him.Crash tags Hardcore.
Hardcore and Road Dogg have gone at it before over the Hardcore title. Holly hits a stalling suplex on Road Dogg for a two count and then applies a sleeper. Hardcore tags Crash and they hit a double elbow for a near fall before Crash locks on a sleeper. Crash uses the ropes for additional leverage but doesn't get caught. He tags out to Hardcore who has met Billy Gunn in tag team action on PPV with the 123 Kid, Bart Gunn and now cousin Crash. Hardcore goes to the top but Road Dogg gets his foot up as he leaps off the top. Hardcore tags Crash who makes sure Road Dogg doesn't tag out. Crash quickly tags back out to Hardcore which doesn't make sense. But Hardcore hits a bit clothesline for a two count before locking on a sleeper. Road Dogg gets out of it and starts a comeback but gets caught with a perfect dropkick from Hardcore. Billy Gunn breaks up the cover. Hardcore tags out to Crash. The Holly Cousins have similar blonde buzzcuts to former tag team champions Skip and Zip.
Crash tags Hardcore who takes a shot at Billy Gunn. He then goes to the top again but once again Road Dogg sees it coming and this time shakes the ropes and then hits a superplex. Both men then make tags. Billy Gunn comes in and takes down both Hardcore and Crash. He gorilla press slams both Holly's and then hits both with splashes in the corner. All four men are then in as Gunn hits Crash with a jackhammer. Hardcore then throws a chair in for Crash as the referee is distracted with Road Dogg. But Gunn hits a Fame-asser on Crash on the chair! The referee calls for the bell and the announcement is then made that The Holly Cousins with by disqualification! Controversial decision and a massive win for Hardcore and Crash! Not a bad match but a bit slow in parts.
Rating: 5/10
We see some highlights from Jeff Jarretts match with Chyna at Unforgiven. Chyna thought she had won that night but the decision was reversed. We then see how the Good Housekeeping match was made. Basically by Jarrett.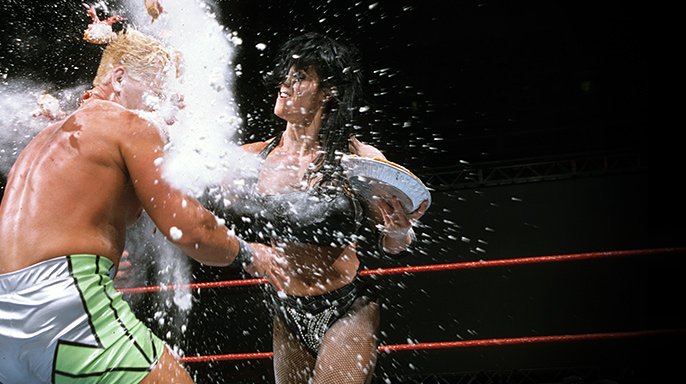 Jeff Jarrett (c) vs. Chyna – Good Housekeeping Match for the Intercontinental Title
Jeff Jarrett walks out with the kitchen sink, another weapon to add to those scattered around the ring. Chyna walks out with a broom and trash can. Chyna pulls Jarrett out of the ring before the match and hits him with forearms and kicks. They get into the ring where Chyna hits a clothesline. This is the third time they have met on PPVs, the third time in a row. Jarrett won the first when the decision was reversed and Chyna won the match at Rebellion by disqualification. She hits a suplex on Jeff and hits him with the trash can a couple of times. Chyna then hits Jarrett with a salami and a broom. She then leather him with a frying pan and a toilet seat. It's all weapons in this one and even food as Chyna shoves a banana down Jarretts throat. Chyna uses the trash can lid in what has been a very one sided match so far.
Chyna pulls Jarrett on a table on the outside of the ring and then leaps off the apron with an elbow but Jarrett gets out of the way. Jeff quickly pins her but only for a two count. It's advantage Jarrett now as he smashes Chyna with a trash can and a fish. The two get into the ring where Jarrett smashes Chynas face into an ironing board. Jeff then throws Chyna out of the ring and he and Miss Kitty throws some ingredients into a pan. He gets a handful of flour but Chyna shoves it into his own face before pouring the mixture over Miss Kitty. Jarrett then locks on the figure four on Chyna in the middle of the ring. Chyna reaches for the ropes but surely it won't count? Well, it does. But then it is Teddy Long officiating and he is the worst referee. Jarrett goes to the middle rope but as he leaps off Chyna nails him with a low blow and then squeezes his privates with some tongs. She then hits him with a trash can, a pot and some custard pies. She then picks up the kitchen sinks and smashes it over his head for a two count.
Chyna puts a cake down in the middle of the ring and then goes for a Pedigree on it but Jarrett grabs her legs and slingshots her into the turnbuckle and into the referee! Miss Kitty hands him the Intercontinental belt and he nails Chyna with it for the three count! Jarrett retains his title in one of the strangest matches I've ever seen. Teddy Long then runs after Jarrett and says the match isn't over because the IC title isn't a household item. An angry Jarrett then tries to put the figure four on Teddy Long but Chyna smashes Jeff with the guitar! She pins him and gets the three! Chyna wins the Intercontinental title! She becomes the first woman ever not only to have been in a Royal Rumble and King Of The Ring but also to win a mens singles title. What a unique match. It took no disqualifications to the next level.
Rating: 6/10
Video package now showing the history between The Rock and The British Bulldog. This one goes back to The Bulldog costing The Rock a match on Smackdown before Unforgiven as well as the match at Unforgiven itself. The Rock then cost Bulldog his WWF title match against Triple H on Smackdown.
The Rock vs. The British Bulldog
This is a first PPV meeting between these two men. They briefly crossed paths back in 1997 when a young Rocky Maivia lost the Intercontinental title to Bulldogs tag team partner, Owen Hart. The Rock doesn't come out with his tag team title. Both men start with right hands and The Rock clotheslines Bulldog out of the ring. Bulldog throws a chair at The Rock which isn't a DQ. He then throws Rocky into the ring steps and tries for a second time but The Rock reverses it. Bulldog drops The Rock on the announce table ane neither men can keep an advantage. They get in the ring where the Bulldog applies a chinlock but The Rock is straight out of it but gets a knee to the gut for a two count. The Rock Irish whips Bulldog and Bulldog completely mis-times his flip and lands on his neck. Rocky hits a neckbreaker for a two count but Bulldog gets back into it with a suplex and a sleeper. The Rock gets out of it and hits a back body drop although I think The Rock was looking for a Samoan Drop.
The Rock lays into Bulldog in the corner and the referee gets shoved allowing The Bulldog to hit a low blow. Bulldog can't keep the advantage though as The Rock hits him with a DDT. Bulldog goes for his Running Powerslam and hits him but The Rock gets his foot on the rope. This match has not clicked. Bulldog goes for the powerslam again but The Rock slips down the back, pushes Bulldog into the corner and hits The Rock Bottom! He follows it up with the People's Elbow which brings a close to this disappointing match.
Rating: 4/10
We get  clip from Heat with Jerry Lawler looking up Terri Runnels skirt.
Edge & Christian vs. The Hardy Boyz (Matt & Jeff) – Ladder Match for $100, 000 & Terri Runnels managerial service. 
Matt and Jeff comes out to the ring with Gangrel. They're actually the New Brood. The idea of this one is to climb the ladder and grab a bag of cash. The Hardy Boyz beat Edge and Christian back at King Of The Ring in their only previous tag team match on PPV. The two teams slug it out and it's Edge and Christian with the early advantage. The Hardy Boyz won't let them get the ladders though. Plenty of teamwork from both teams in the early going. Gangrel on the outside grabs a ladder but referee Tim White ejects him from ringside! Matt Hardy hits a clothesline on Edge from the apron and then Christian jumps on Matt from the top. Christian is the first man to grab a ladder and set it up. He climbs up it but Jeff Hardy pulls him down. Jeff climbs and Edge pulls him down but Matt Hardy pushes the ladder over. Christian runs up a ladder to dropkick Jeff. Christian and Edge then attempt a double team on Matt but Matt moves and Edge hits the ladder. Jeff climbs up a ladder and Christian hits a reverse DDT on him to the canvas.
Christian climbs up the ladder but Matt Hardy catches him with a belly to back side suplex. Matt Hardy then climbs but Edge gets up and powerbombs him off the ladder. Edge climbs the ladder but Jeff leaps off the top rope with a dropkick. Matt powerslams Edge on a ladder and Jeff hits a big senton bomb on Edge! The Hardyz pick up a ladder and smash it into Christians face. Matt then sets up a ladder in the corner and Jeff goes to the top, leapfrogs it and hits a huge legdrop on Christian. Jeff places a ladder on top of Christian and Matt jumps off the top with a moonsault! Jeff sets up the ladder and climbs it as Edge brings in another ladder and throws it at Jeff, knocking him off the ladder! Edge takes his turn to climb up the ladder but Matt Hardy throws the ladder at him, knocking him off! Christian cross bodies a ladder that Matt and Jeff are holding which knocks them down. Edge and Christian then double dropkick a ladder into Matt Hardys crotch before smashing a ladder into Jeff repeatedly on the canvas.
Edge and Christian flapjack Matt into a ladder to take him out of the ring. Jeff then hits his trademark neckbreaker on Christian. Two ladders are set up in the ring and Edge and Jeff climb up them next to each other. Edge then hits his Downward Spiral on Jeff off the ladder! Matt Hardy then hits a neckbreaker on Edge off a ladder. Matt Hardy and Christian slug it out over a ladder and Jeff Hardy dives off the top onto a ladder, catapulting it into both mens faces! All four men then climb two ladders that are set up in the ring but both ladders end up falling to the ground and the crowd can do nothing but applause. All four men slowly get to their feet and once again all four climb up two ladders. Edge shoves Matt off the ladder and he bounces off the ropes and hits the other ladder which topples over but Jeff manages to jump onto Edge's ladder and shove Edge off before reaching up and grabbing the cash! The Hardy Boyz win the match and another new manager! A great ladder match between two teams who were willing to give everything.
Rating: 7.5/10
We get a clip from Heat earlier with Val Venis attacking Mankind in the bathroom. Great segment with The Holly's.
The Rock comes out to the ring in one of his expensive shirts. He makes a challenge to the winner of tonights main event. Another round of Triple H vs. The Rock? Or another round of Steve Austin vs. The Rock? As The Rock heads to the back, Triple H comes out and nails him with a sledgehammer half a dozen times. I guess that's where we're heading for Survivor Series!
Val Venis vs. Mankind
This feels like a huge match for Val Venis. It's really an opportunity to try and get into the main event scene. He's never had a singles match against a former WWF champion on PPV like this before. Although the storyline leading up to it was a little bit ridiculous, it got him to the dance. Mankind doesn't come out and we see him backstage with The Rock. Mankind then says that he's going to win the next match for him! Venis goes for a baseball slide as Mankind gets to the ring but Mankind sidesteps it. The match starts on the outside where Venis lays into Mankind but can't get him up for a slam. Instead, Mankind slams Val into the barricade. Finally they get into the ring where Mankind hits a knee to Vals face. He follows that up with a knee to Vals face in the corner and then a legdrop aimed at Vals crotch. He then tries to get Mr Rocko out of Vals tights! And he does! Val hits him with a low blow and puts the sock back down his tights before stomping away at Mankind.
Val kicks Mankinds to the outside and throws him into the barricade. Mankind knocks Val down with a clothesline and then smashes his head into a chair. Val gets back into it by belly to back suplexing Mankind onto the chair! That doesn't phase Mankind too much though as he locks on a Mandible Claw on the outside of the ring. Venis pushes Mankind into the ringpost to get out of it and then throws the former WWF Champion into the ring. Val grabs a chair but Teddy Long takes it off him! The chair falls on the canvas where Val hits a side Russian leg sweep on it for a two count. Mankind looks for the double armed DDT but Val pulls his legs and lays into him with right hands before slamming the back of his head into the canvas for another near fall. Venis hits a powerslam and a knee to the back of Mankinds head and then rolls Mankind onto his back and goes up top but Mankinds gets up and stops him.
It's advantage Venis as he hits Mankind with a splash in the corner, a bulldog and an elbow from the second rope. He then motions for the Money Shot and goes up top but Mankind rolls out of the way of it! The former WWF Champion then hits the double armed DDT for a two count. MAnkind then reaches for Mr Socko and Val reaches for Mr Rocko! Mankind rams Mr Socko down Vals throat and at the same time Val locks on the testicular claw! Both men go down but Val is on top of Mankind and the referee counts the three! Val Venis gets a huge win over Mankind in a relatively clean manor! After the match Mankind takes Rocko back!
Rating: 5.75/10
We see a shot of The Rock backstage being seen to by the EMT's.
Kane vs. X Pac vs. Bradshaw vs. Faarooq – Four corner elimination match
X Pac has now fought on 12 PPVs in a row and is the only man to have fought on every PPV so far in 1999. If Kane, Faarooq or Bradshaw win this match then they will become the only man to have won on the No Mercy PPV earlier in 1999 as well as this one. Kane is in his old wrestling gear. The Acolytes comes out together, Kane and X Pac do not. It starts out with all four men slugging it out in the ring. Bradshaw rams X Pac into the ring post whilst Kane lays into Faarooq. The Acolytes double team Kane to take him down and we're officially underway with Bradshaw and Kane. Kane hits a clothesline and Bradshaw tags Faarooq. Kane hits an enzeguri on Faarooq and X Pac tags himself in. Kane and X Pac square off in the ring and X Pac is fired up. He hits some kicks on Kane in the corner but Kane fires out with a big clothesline. Kane chokes X Pac and Bradshaw tags himself in. X Pac tags Faarooq and the Acolytes lay into one another!
Faarooq hits a big shoulder block on Bradshaw then tags X Pac back in. Faarooq pushes X Pac into Bradshaw and the big Texan hits a big clothesline! Kane breaks up the cover then Bradshaw tags Faarooq back in. These two teams have been going at it all summer, mostly over the tag team titles. Faarooq tags Bradshaw who hits a hard Irish whip on X Pac. Bradshaw then throws X Pac out of the ring where Faarooq lays into him. Back in the ring and Bradshaw catches X Pac but Kane boots him in the face. Bradshaw tags Faarooq who hits a backbreaker for a near fall. Faarooq then locks on a sleeper. X Pac gets out of it but gets hit with a powerslam. Faarooq tags Bradshaw who applies a bear hug to X Pac. X Pac fights his way out but gets hit with a big boot. Bradshaw pops X Pac on the top rope but X Pac knocks Bradshaw down and hits a tornado DDT. Kane tags himself in after X Pac hesitates and he comes in off the top with a big clothesline. Kane then disposes of Faarooq before hitting a chokeslam on Bradshaw to eliminate him from the match.X Pac comes in off the top with a spinning heel kick which is enough to eliminate Kane!
X Pac and Faarooq and the two men left. Faarooq throws X Pac into the bell table and then goes for a Dominator into the announce table but X Pac slips down and hits a DDT. X Pac puts Faarooq into the ring and sets him up in the corner but as he goes for the Bronco Buster, Faarooq sees him coming and hits him with a spinebuster. Faarooq puts X Pac on his back and goes to the middle rope but X Pac slips down. Faarooq chooses to jump off the middle rope but X Pac adjusts his body and hits an X Factor! It was a bit of a bodge but he covers Faarooq and gets the three! X Pac wins the match! He beats Kane, Faarooq and Bradshaw in this big fatal four way match.
Rating: 6.5/10
We now get the history for Austin and Helmsley dating back to Triple H taking Austin out of action back at Summerslam.
Triple H (c) vs. "Stone Cold" Steve Austin – No Holds Barred Match for WWF Title
Triple H walks out with his trusty sledgehammer but Vince McMahon takes it off him. Helmsley hammers McMahon and Austin runs down to take on Triple H. Austin throws Triple H into anything he can find including a camera and then hits a clothesline off the barricade. This is the third PPV meeting between these two men in singles action. Austin won at In Your House: Buried Alive and Mayhem In Manchester. He throws Triple H hard into the barricade before picking up the barricade and smashing it into Hunters face. The two then battle into the crowd where Austin uses somebodies crutch to beat Helmsley with. Austin then swings the jib into Triple Hs face, something I have never seen before. Austin then suplexes Helmsley in the entrance way. It's been all Austin in this one so far. He drops Triple H on the barricade before clotheslining him back into the crowd. Triple H hasn't even made it to the ring yet. Austin goes for a piledriver in the crowd but Triple H backdrops him then lays into him with right hands. Triple H goes for a Pedigree in the crowd but Austin slingshots him into the referee and back over the railing.
Triple H throws Austin into the ring and finally enters it himself. Helmsley chokes Austin in the ring but from nowhere Austin hits the Stunner! He hooks the leg but the referee is still knocked out on the outside. The challenger goes outside and grabs the referee and he goes for the Stunner again but Triple H pushes Austin off him and back into the referee. Triple H then hits the Pedigree but the referee is knocked out on the outside. Another referee comes out but Austin kicks out. Triple H gets into a shoving match with Earl Hebner which allows Austin to get up. He hits a Lou Thesz press and an elbow for a two count. Austin throws Triple H to the outside and we see the first referee Mike Chioda get taken away by Tony Garea. Austin throws Triple H into the announce table where Jim Ross loses his headset. Triple H is now bleeding from the head and what won't help that is Steve Austin hitting him with big right hands. Austin throws Triple H back into the ring and goes back to hitting him with right hands as the crowd count along. Stone Cold hooks the leg for a two count.
Once again Austin throws Helmsley out of the ring and then throws him into the ring steps before choking the champion with some cable. Triple H gets Austin off him by nailing him with the ring bell. Triple H then suplexes Austin onto the Spanish announce table. The two men get back into the ring where they slug it out but Helmsley takes the advantage with an elbow. He misses with a knee drop though but Austin can't keep the advantage. Triple H wraps Stone Colds knee around the ring post. Helmsley continues to work Austins knee, stretching it and kicking away at it. Austin won't give up though. Triple H hits a facebuster but he can't get a three count. He goes out and gets a steel chair but Austin sees him coming and kicks the chair out of his hands. Austin grabs the chair but Helmsley kicks it out of his hands and knocks him down with a clothesline. Uncharacteristically Triple H goes to the top but Austin goes up with him and hits a suplex for a two count. Both men grabs the steel chair but it's Austin who uses it, smashing it into Triple H's head and legs. He hits him multiple time until Triple H stops him with a low blow.
The Rock comes out from the back bandaged up with a sledgehammer. He goes to swing it at Triple H but hits Austin! Triple H then hits a Pedigree on The Rock and covers Austin for the three! Triple H wins the match after The Rock hits Austin by accident! An unexpected finish to the match but Triple H goes home with the gold. This was a decent match but I'm starting to get a bit fed up of seeing the same matches all the time and every match being no disqualification. After the bell Austin attacks Triple H backstage and lays into him until Chyna helps Triple H into a limo.
Rating: 6.5/10
And that was the second No Mercy PPV of 1999. It started in an odd manor with The Godfather and Mideon. This match wouldn't have been out of place on Raw, Heat or even Superstars. Neither men have been in any major storyline for a long time so I hope this storyline is going somewhere rather than ending here. The Godfather winning was a surprise as it looked set up for a Mideon win because of Viscera being out there. That would have let the storyline develop but it seems like that's not the direction they wanted to take. Up next was the Women's title match where The Fabulous Moolah beat Ivory. This match was a joke. It's a fun moment to see Moolah win the Women's title but the ending was a big fat bodge and it makes Ivory look a bit daft. This feud continues I guess. I cringe every time Mae Young gets knocked off the apron. I don't want those girls to get hurt out there!
The Holly's defeated The New Age Outlaws by disqualification which is a pretty big win for those guys. It was a bit of a tame decision as we've seen the same thing happen plenty of times before and the referee hasn't thrown the match. To me, this result either means that The Holly's are on for a push and the Outlaws didn't want to lay down clean or this feud continues into Survivor Series. It won't take us long to find out. Chyan then defeated Jeff Jarrett for the Intercontinental title in a surprising result. The IC title had settled a bit after swapping around between half of the roster but as Jarrett was off on his way to wCw, they had to take the belt off him. And the rumour is that this match was actually out of Jeffs contract and it cost Vince McMahon a lot of money to get Jarrett to wrestle. So Chyna is the new champion. She's practically a face so will they continue down that route? Who knows where they go with her next but she has really broken down barriers.
The Rock then beat The Bulldog in a match that didn't really click. Bulldog didn't really seem to bring his "a game" and the match suffered because of it. His timing just seemed a bit off. On paper it is a bit of a dream match but it didn't turn out that way. As we found out later The Rock has challenged the champion and it looks as though we're heading for another Rock vs. Triple H PPV match at Survivor Series. Bulldog will probably go to a feud with Test after he rattled his girlfriend Stephanie McMahon with a bin. The ladder match that followed between Edge & Christian and The Hardy Boyz was fantastic. These two teams have a lot of chemistry and this match did not disappoint. The Hardy Boyz now have their third manager in a matter of months and I really can't see Terri as a good fit as manager. In the biggest shock of the night, Val Venis then defeated Mankind. I think Venis could be in for a big push as beating the man that was WWF Champion two months is a real statement. He seems to be getting away from the porn star gimmick. Maybe Mankind is winding down now?
X Pac then won a fatal four way in a match where he pinned his own tag team partner. This seemed like the most sensible route to go in this match to prove that X Pac can make it in the land of the giants. I wondered why Faarooq ade it further than Bradshaw but maybe that was because it made more sense for Bradshaw to be beaten by Kane. It'll be interesting to see if X Pac and Kane stay together going forward. Triple H then defeated Steve Austin, retaining his WWF title with a lot of accidental help from The Rock.I like this because it questions The Rocks relationship with Austin and maybe Survivor Series will be made a triple threat? Austin definitely won't be happy. This wasn't the best main event in the world but it was solid enough.
Overall Rating: 54.16/100 (ranked 60th out of 102)
Match Of The Night: The Hardy Boyz vs. Edge & Christian
Worst Match Of The Night: Ivory vs. The Fabulous Moolah
Surprise Of The Night: Val Venis defeats Mankind
Worst Booking Of The Night: Fabulous Moolah wins the Women's title
Superstar Of The Night: Triple H
No Mercy 99 Will Be Remembered For: The first ever tag team ladder match