| Date: February 25th, 2001
| Venue: Thomas & Mack Center | City: Las Vegas, Nevada
| Attendance: 15, 223 | Buyrate: 590, 000
There'll be No Way Out tonight as the biggest ever viewing figure for a No Way Out PPV watch on. In the main event tonight will be Kurt Angles final hurdle before the biggest show of the year, Wrestlemania. Kurt defends his WWF Championship against the man that he beat for the belt, The Rock. The Rock earned his way to a title shot by defeating The Big Show in a number one contenders match on Smackdown a couple of weeks ago with a little unexpected help from Angle.
In the other main event tonight "Stone Cold" Steve Austin goes one on one with the man that cost him a WWF title match on Raw a couple of months ago, Triple H. These two have had such a rivalry that Vince McMahon banned them from any physical contact leading up to this show. A match was then made in which Rikishi would respresent Austin and The Rock would represent Triple H in which the winner would call the stips for their match at No Way Out. The Rock won and the stipulation made was a 2 out of 3 falls match dubbed "3 stages of hell". The first fall is a straight up wrestling match, the second fall is no holds barred and the third fall, should it come to it, is a cage match. Austin went as far as to Stunner Triple H's wife Stephanie last week on Raw, this is sure to be a huge match.
The tag team titles will be defended in a triple threat tables match between three sets of "brothers" tonight. Edge and Christian battled The Undertaker and Kane in a number one contenders match that ended in a draw. And so Vince McMahon made the match at No Way Out a triple threat. There's a one on one match tonight between Steven Richards and Jerry Lawler. Lawler came to the rescue of his real life girlfriend The Kat as Right To Censor tried to ban her from taking her clothes off. As a result we've got Lawler vs. Richards where if Lawler wins then The Kat can take her clothes off as she wishes but if Richards wins then The Kat will be forced to join the Right To Censor.
In a rivalry that comes to ahead tonight, Stephanie McMahon will take on Trish Stratus. Stephanie isn't happy with the relationship between Trish and her father Vince and as much as he denies it, Stephanie knows he's not telling the truth. William Regal made the match between the two women and it's all going down between these two tonight. Also tonight, Raven defends his Hardcore title against The Big Show and Chris Jericho defends his Intercontinental title against three of his biggest rivals in X Pac, Chris Benoit and Eddie Guerrero. Let's get to it.
A video package kicks us off as usual, first showing the feud between Kurt Angle and The Rock and then the rivalry between Triple H and "Stone Cold" Steve Austin.
The grpahics and staging seem a lot more fancy than usual. Jim Ross then welcomes us to Las Vegasand we also get a shot of WWF New York. JR is joined as always by Jerry "The King" Lawler.
Raven (c) vs. The Big Show – Hardcore Championship Match
This show marks two years since Big Show made his debut in the WWF. It's a first PPV meeting between these two men and Ravens acomplice, somewhat of a female ninja attacks Big Show as he makes his entrance. Raven then runs down to take advantage but he can't and Big Show throws Raven down to the ringside area. Big Show misses with a splash into the ring post giving Raven the advantage. Raven sprays Big Show with a fire extinguisher and follows it up with a baseball slide. A popcorn vendor then enters the ring and hits a bulldog on Raven! That looks like Crash Holly and Big Show disposes of him. Steve Blackman and Hardcore Holly then come out and get involved! Blackman nails Big Show with a kendo stick from the top and from nowhere comes Billy Gunn! Gunn hits a Fame-asser on Raven and pins him for the win! Billy Gunn is the new Hardcore Champion!
But this one isn't over! Hardcore Holly and Steve Blackman double team Gunn and then Big Show is back up. Big Show throws Hardcore and Blackman out of the ring and Ra ven pins Billy Gunn and gets the three! Raven is the new champion! The ninja then returns but Molly Holly nails her with a trash can lid! Big Show then chokeslams Raven into the garbage can! He gets the pin and Big Show is now the Hardcore champion! Billy Gunn gets back in the ring but Big Show gets rid of him. Big Show is the new Hardcore champion, he wins the match and leaves with the gold! An entertaining way to kick off the show!
Rating: 6.5/10
Kurt Angle is shown arriving from earlier today who is glad they're in Vegas because Vegas is full of losers like The Rock.
Lilian Garcia is backstage with Eddie Guerrero and Chris Benoit who get an Intercontinental shot tonight. Guerrero has a vendetta against Jericho because JEricho injured him. Benoit understands that it's every man for himself but tonight it'll be one of the Radicalz leaving with the gold.
Chris Jericho (c) vs. Chris Benoit vs. X Pac vs. Eddie Guerrero – Fatal Four Way Match for Intercontinental Championship
A big fatal four way for the Intercontinental title, I like the four guys in this match, it should be very entertaining. Benoit and Guerrero come out together. X Pac is the only man not to have been Intercontinental champion before. Jericho hits a big flapjack type move on Guerrero as Benoit and X Pac pair off on the outside. Jericho hits some chops and a hotshot before knocking Eddie down with a clothesline. Benoit then hits some hard chops on Jericho  and the Radicalz double team Jericho. Benoit made his PPV debut at No Way Out last year. Jericho lost the Intercontinental title at No Way Out last year to Kurt Angle. X Pac beat Kane at that event. Benoit and Guerrero double team X Pac now and Benoit locks on the Crippler Crossface. Jericho breaks that up. Jericho then takes the man he beat for the title, Chris Benoit, to the outside. Guerrero hits the Frog Splash to X Pac but Jericho breaks up the cover.
Plenty of action so far in this match. Benoit knocks Jericho down with a clothesline and Guerrero puts Jerichos foot on the bottom rope! Benoit then hits a snap suplex on X Pac for a two count. X Pac hits a big spinning heel kick on Benoit and sets up for the Bronco Buster but Jericho hits him with a missile dropkick before he can. Benoit takes Jericho down with a clothesline for a two count. Benoit then hits a German suplex and Guerrero breaks up the cover! Benoit and Guerrero then go at it  with Eddie hitting a nice hurricanrana on his stable buddy. Jericho hits a suplex on X Pac on the outside whilst Guerrero hits a suplex on Benoit in the middle of the ring. X Pac throws Jericho into the ring steps as Guerrero hits a brain buster on Benoit. Guerrero then goes to the top but Benoit catches him up there and hits him with a superplex. X Pac and Jericho then cover both men but Eddie and Benoit kick out at 2. Jericho hits a backbreaker on Benoit for a near fall. Benoit hits some brutal chops on Jericho.
Guerrero slams X Pacs head into the ring steps as Benoit and Jericho go at it in the ring. Benoit hasn't missed a PPV since he debuted in the WWF. Benoit hits a German suplex on Jericho and bridges but Jericho quickly kicks out. Jericho then goes for the Walls Of Jericho on Benoit and locks it in! Guerrero comes in to break it up but Jericho breaks it and locks the walls on Guerrero! X Pac then comes in and Jericho locks the Walls on X Pac! Justin Credible, X Pacs new running buddy then climbs on the apron and X Pac breaks the hold. X Pac and Justin Credible drag Benoit out of the ring whilst Jericho hits a bulldog and Lionsault on Guerrero for a two count. X Pac hits an X Factor on Jericho but Benoit breaks up the cover. Benoit then locks the Crippler Crossface on X Pac but Eddie Guerrero breaks it up. All four men are down now as is Justin Credible on the outside. Eddie and Benoit are first up and Benoit hits a suplex on his fellow Radical and then a flying headbutt! X Pac knocks Benoit down with a roundhouse kick and then Jericho rolls up X Pac for the three! Chris Jericho wins the match and retains his Intercontinental title in a fantastic match.
Rating: 8/10
Vince McMahon and William Regal are backstage and Vince is pointing out that Regal made the match between Stephanie and Trish and they are both very important to McMahon. Vince is confident that Regal will know what to do when the time is right though. Regal has no idea though!
Video package now for Stephanie and Trish.
Test is in WWF New York and he wants to see Trish and Stephanie beat the hell out of each other.
Stephanie McMahon vs. Trish Stratus
This is a in-ring PPV debut for Stephanie McMahon whilst Trish looks for her first PPV victory on the 4th time of asking. Trish has new entrance music and her ring gear doesn't leave much to the imagination. The two girls get right into it with Stephanie taking down Trish. Both women are heels so I'm not sure who you're supposed to support here. Stephanie hits a couple of clotheslines and throws Stratus round by her hair. Stephanie then throws Trish out of the ring. Trish throws Stephanie into the crowd but Stephanie hits a big right hand and then dives off the barricade with a clothesline! Back in the ring and Trish hits an array of lefts, rights and kicks. Trish then hits a bulldog for a two count. Stratus gets another near fall off the back of a DDT. Trish then chokes Stephanie before Stephanie throws Trish off the top. Stephanie then throw Trish out of the ring and bounces her head off the announce desk. Stephanie then throws a jug of water over Trish! Back in the ring and Trish goes for a hurricanrana but Stephanie powerbombs her for a two count.
Stephanie pulls Trish's pants down and spanks her! The crowd are into this one now! Both women run at each other and take each other down. William Regal then runs down to the ring and pulls the referee over! He then puts Trish on top of Stephanie and the referee wakes up and counts but Regal changes his mind and puts Stephanies foot on the rope! Regal pulls the referee down again and gets in the ring. Trish slaps Regal and Regal hits her with a neckbreaker! Stephanie covers Trish and gets the three! Stephanie beats Trish tonight on her PPV debut with a lot of help from William Regal.
Rating: 4.25/10
There's an advert for Wrestlemania now which looks like it may have been recycled with new pictures.
Vince McMahon bumps into William Regal backstage and shouts at Regal for not knowing what he wanted. McMahon then tells Regal that on Raw tomorrow night it'll be William and Stephanie against Vince and Trish!
VT for Triple H and Steve Austin next. And here was me thinking that these two would be the last match of the night. Michael Cole then asks Austin if he's ready but Austin just walks off. He's ready.
"Stone Cold" Steve Austin vs. Triple H – 2 out of 3 falls, "3 stages of hell" match
Triple H becomes the first man to have wrestled on all 3 No Way Out PPVs. He main evented the first two, the first in a losing effort to Austins team in 8 man tag action and last year he beat Cactus Jack, retaining his WWF title. Well, he's not technically the first man if you count Billy Gunns effort from earlier. It's the 5th PPV match between the two, so far Austin has won 2, Triple H 1 and 1 draw. Austin races into the ring anf this one gets underway! The first fall in this one is straight wrestling and Austin stomps a mudhole in Triple H! There's a big "Austin" chant as he lays into Triple H with big right hands a clothesline. Austin has only won one PPV match since his return from injury 6 months ago and that was the 2001 Royal Rumble match. Triple H is looking for his first PPV victory since beating Chris Benoit back at No Mercy in October. Austin takes it to Helmsley, wrapping his arm around the ringpost. That bad arm bothers Triple H as he goes for a Pedigree back in the ring. Austin hits the Lou Thesz Press on Triple H and follows that up with an elbow for a two count.
Stone Cold hits a spinebuster and then goes up to the middle rope and attempts an elbow but Triple H gets his foot up. Triple H then follows up with a neckbreaker and a chop block, working the knee of Austin. He then smashes the knee into the ring post. Austin starts a fightback but Triple H goes right back to the knee, locking on the figure four! Austin manages to reverse the hold but he can't take the advantage. Triple H continues to work the leg, applying a leg lock but Austin kicks his way out of it. Austin then hits a Lou Thesz press and drives an elbow into the heart for a two count. There's some quick covers and Austin hits some right hands but Triple H hits a low blow. Triple H then comes off the second rope but Austin hits him with a Stunner! Stone Cold pins The Game and gets the three! Austin wins the first fall! 
We're into the second fall now which is a street fight. The fight goes straight to the outside where Austin hits a suplex on the ramp. He follows that up with another suplex! Austin then smashes Triple H with a television monitor! Triple H then heads into the crowd and Austin follows and lays into him! Austin is going to the main event of Wrestlemania next month so I'll be surprised to see him lose this one. The two get back into the ring where Austin smashes a chair accross Triple H's back. Austin continues with the chair and then pins him for a two count. Austin puts the ring bell into the ring but Triple H escapes and Austin follows. Austin then finds a 2×4 wrapped in barb wire! Triple H manages to kick it out of his hand and Triple H uses it himself! Austins head is busted open now but tht doesn't stop Triple H from hitting him with right hands on the announce table. Triple H then tries for a Pedigree through the announce table but Austin back body drops him right through the Spanish announce table! There is blood all over the American announce table.
Triple H is barely moving and Austin grabs a can of beer and smashes it into Triple H's face. The two men then get back into the ring and Triple H nails Austin with the ring bell! Austin kicks out of the cover! Austin tries for a sleeper but Triple H suplexes him onto a chair for another near fall. Helmsley tires for a Pedigree on a chair but Austin back body drops him out of the ring. Austin then smashes Triple H with the steel steps. Both men are bleeding everywhere. Triple H finds his trusty sledgehammer from under the announce desk but Austin fights him off. Triple H gets back into the ring and austin follows and throws the sledgehammer in to. The 2001 Royal Rumble winner stomps away at Triple H and goes for the Stunner but Triple H throws him into the ropes and hits him with the sledgehammer! Triple H then hits the Pedigree in the middle of the ring and that's it! Triple H wins the second fall.
The cage then lowers around them as we head into the third fall. Triple H uses the barb wire 2×4 on Austin, rubbing it against his face. Austin uses a chair to get Helmsley off him. Austin then uses the barb wire 2×4 on Triple H and covers him for a two count. The two men climb up the cage and smash each others faces into the cage and it's Triple H who drops Austin to the canvas. Austin gets up and throws Austin down to the mat and covers him for a two. Austin then goes for a Stunner but Triple H fights him off and hits him with the Pedigree! Austin kicks out of the cover! Austin grabs the barb wire 2×4 but Triple H gets the chair and leathers Stone Cold with it. Triple H then tries for another Pedigree but austin counters it and catapults Helmsley into the cage. Austin then hits the Stunner! But Triple H kicks out! Austin grabs the barb wire 2×4 and Triple H grabs the sledgehammer! Both men hit each other at the same time but it's Triple H that lands on top of Austin! The referee counts and Triple H wins the match! Both men stay down but the surprising result tonight is that Triple H beat the man headed to the Wrestlemania main event! After the bell Austin hits Triple H with a Stunner.
Rating: 8/10
We get some footage from Smackdown with the Right To Censor attacking Jerry Lawler who had tried to save The Kat.
Quick promo from Steven Richards who says that tonight he fights for the Right To Censor.
Tazz comes out to commentate for the following match with Jerry Lawler busy with in-ring action.
Steven Richards vs. Jerry "The King" Lawler
Jerry Lawler is of course representing his real life girlfriend, The Kat tonight. It's Lawlers first PPV match since Unforgiven last September where he lost to Tazz in a strap match. Richards last PPV match was in October at No Mercy. Lawler lays right into Richards with right hands, sending the Right To Censor leader to the outside. Richards gets back in but gets hit with a clothesline and powerslam. Richards rips his shirt off but Lawler keeps sending him to the outside. Ivory gets involved but Lawler holds her and The Kat slaps the WWF Women's champion. Richards throws Lawler into the ring post and then back into the ring. Richards then goes for the Hoe Train but Lawler avoids it and hits Richards with some big right hands in the corner. 26 of them in total! Jerry follows it up with a bulldog for a near fall.
Richards hits some right hands and elbows in the corner before hitting a suplex for a 2 count. A "we want puppies" chant breaks out but will The Kat be forced to join the Right To Censor tonight? Richards grabs a steel chair as Ivory distracts the referee but Lawler hits a low blow and 2 DDTs! He makes the cover but Ivort distracts the referee! The Kat then gets into the ring which distracts the referee and Richards comes at Lawler with the Women's title! Lawler ducks and takes down Richards and Ivory! The referee tries to get Ivory out of the ring which distracts Lawler and Richards grabs him! The Kat then gets in the ring and tries to nail Richards with the title but Richards swings Lawler in the way and The Kat nails The King! Richards covers Lawler and wins the match! That means The Kat has to join The Right To Censor! The rest of Right To Censor carry The Kat away!
Rating: 4/10
We get a VT for the tag team title match.
Michael Cole interviews Undertaker and Kane who said tonight it's not about the tag team titles, it's about pain and suffering.
The Dudley Boyz (Bubba Ray & D-Von)(c) vs. Edge & Christian vs. Kane & Undertaker – Triple threat tables match for the WWF tag team championship
Three sets of "brothers" in this one, who are not brothers in any way. It's a first PPV defence for The Dudley Boyz who beat Edge and Christian for the titles at Royal Rumble. It's the first time Undertaker and Kane have teamed up on PPV. It's the first time The Undertaker has fought on a No Way Out PPV. Kane has previously beaten Vader in 1998 and lost to X Pac last year. The Dudley Boyz won the tag team titles form the New Age Outlaws at last years event whilst Edge and Christian beat The Hardy Boyz. All 6 men go at it in the entrance way! Edge and Christian run away and set up a table by the ring whilst Kane and Undertaker throw The Dudley Boyz off the stage. Undertaker and Kane then go after Edge and Christian and lay into them around the ring. Undertaker smashes Christians face off the announce table a few times. Kane then drops Christian on the barricade. Kane and Undertaker are both former tag team champions but not with each other. The Dudley Boyz take out the Brothers of Destruction with chairs.
Edge and Christian throw the Dudley Boyz into the ring but D-Von hits Edge with a clothesline. Bubba Ray then hits a big back body drop on Christian. The winning team is the one that puts somebody else through a table. I don't think Undertaker and Kane will be going through a table tonight. Edge and Christian hit a flapjack on D-Von and then grab some chairs. They try for a con-chair-to on Bubba Ray but he ducks it and catapults Edge into Christian! We then get the Wassup Drop on Edge! D-Von goes to grab a table but Undertaker and Kane take him out on the outside. Christian hits the Unprettier on Bubba Ray in the ring and both Dudley Boyz are out of it. Undertaker and Kane then lay into Edge and Christian, hitting both men with powerslams reminisent of The British Bulldog. The two big men then go to the top and hit big clotheslines on Edge and Christian. It seems a long time ago since Edge and Christian were in The Ministry of Darkness with Undertaker. The Dudley Boyz are back in and lay into Undertaker and Kane but that doesn't last long. Nobody has fought as many PPV matches as The Undertaker. Christian and D-Von then double team Kane out of the ring and Bubba Ray and Edge double team Undertaker.
D-Von sets up a table in the ring as Bubba Ray gets rid of Edge. The Dudley Boyz go for 3D but Undertaker makes sure that doesn't happen. Undertaker then tries for a chokeslam on Christian through the table but Bubba Ray hits him with a low blow. Edge and Christian try for a double suplex on Undertaker through a table but Kane makes the save. Kane and Undertaker then both hit chokeslams on Edge and Christian and then chokeslams on The Dudley Boyz! Kane and Undertaker both set up tables and have Edge and Christian in powerbomb positions but Rikishi and Haku come out and make the save! Rikishi and Haku lay into Kane and Undertaker outside the ring whilst in the ring Edge goes for a spear on Bubba Ray through a table but Bubba Ray gets out of the way. The Dudley Boyz then hit 3D on Christian through a table to win the match! The Dudley Boyz retain their tag team titles tonight in a good match.
Rating: 7.5/10
There's a Wrestlemania VT and then a VT about The Rock and Kurt Angle. The Rock beat Big Show to win number one contendership.
Michael Cole does a quick interview with The Rock who says that Kurts reign is over.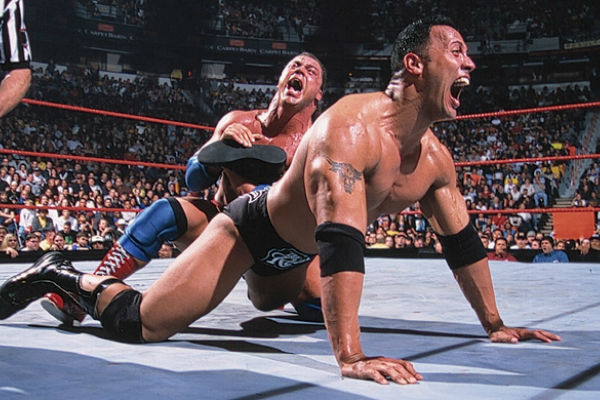 Kurt Angle (c) vs. The Rock – WWF Championship Match
This is only the second one on one match between these two men on pay per view. The first match resulted in Kurt Angle beating The Rock for the WWF title at No Mercy last October. Since then Kurt has beaten Undertaker, Triple H and won fatal four way and 6 man cage matches on PPV to retain his WWF title. The Rock hasn't own on PPV since last November at Survivor Series when he beat Rikishi. The Rock starts this one with big right hands but Kurt takes Rocky down with a knee. The Rock hits a side Russian leg sweep and Kurt quickly kicks out. Angle hits a clothesline, he beat Chris Jericho at last years No Way Out event for the Intercontinental title. The Rock lost to The Big Show at last years event and lost in 10 man tag action at No Way Out back in 1998. Kurt locks on the Ankle Lock but The Rock quickly gets to the ropes. Angle hits a belly to belly suplex and another one! The Rock then hits one of his own! The Rock then explodes with a huge clothesline and then locks on The Sharpshooter! Angle quickly gets to the bottom rope.
The Rock hits a Samoan Drop for a near fall. Kurt goes up top but The Rock crotches him up on the ropes and hits a superplex. for a two count. Kurt then throws The Rock out of the ring. There are some boos but I think they're because spomebody is getting kicked out by security. The Rock holds his ankle on trhe outside so Kurt throws him back into the ring. The Rock is right up though and hits a DDT! The Big Shows music then hits and out comes the Hardcore Champion! This was unexpected. The Big Show chokeslams the referee and then chokeslams Kurt Angle before chokeslamming The Rock! Big Show then leaves! A couple more referees come out and see to the fallen ref, taking him to the back. Kurt pins The Rock and Earl Hebner slides in but The Rock kicks out. Earl then goes out to help Mike Chioda again. The Rock goes out and grabs the WWF title belt and nails Angle with it! The Rock covers Angle but Angle kicks out! Kurt then locks on the Ankle Lock! The Rock gets to the ropes and the two men exchange right hands.
The Rock hits a spinebuster which is usually a prelude to the People's Elbow and that is the case this time. The Rock hits it! But he doesn't quite get the 3 count. Kurt just kicks out. The crowd aren't happy, a "bullshit" chant breaks out. They are definitely behind The Rock in this one. Kurt hits him with a low blow and then unties the top turnbuckle. The Rock goes for the Rock Bottom but Angle shoves him into the exposed turnbuckle and then hits the Olympic Slam! Angle covers The Rock but Rocky kicks out at 2!  Angle runs at The Rock but The Rock sidesteps it and sends Angle into the exposed turnbuckle before hitting him with Rock Bottom! The Rock covers Angle and it looks like it's over but Hebner doesn't count the 3, claiming Angle got a shoulder up! The Rock hits another Rock Bottom but he looks furious! This time he gets the 3! The Rock has done it, he's won the WWF title tonight! Hebner make a complete pigs ear of the finish but it was a decent enough match between these two. The Rock goes on to main event Wrestlemania against "Stone Cold" Steve Austin!
Rating: 7/10 
Well that felt like another really good show. The Hardcore match was a great way to kick things off and although it started off as just Big Show and Raven, the match did get a lot of other guys like Billy Gunn, Steve Blackman and Hardcore Holly on the show. There were a couple of title changes during the match but it's Big Show that left with the gold. That's not a bad place for Big Show to be. It'll get him on the cards with experienced talent whilst he's away from the main event scene. I'm sure Raven will continue to be involved in the Hardcore title picture. We then had a brilliant fatal four way between four of the best athletes in the company. I was a big fan of this match and the guys in it did not disappoint. Jericho comes out of it looking like a star and it didn't do any damage to Benoit, Guerrero or X Pac either. Any of those men could continue the feud with Jericho going forward. And could it be the end of The Radicalz?
Stephanie McMahon then defeated Trish Stratus in her first ever PPV match. For Trish it means 4 losses from 4 matches which will put her in my next Stat Pack. With Regal being the difference maker in this one, it would suggest that it's not over. Apparently he made the wrong call. Could Stephanie McMahon turn face now? Trish definitely seems to be morally wrong in this one. I can definitely see this feud continuing through until Wrestlemania. Another feud that won't be ending anytime soon is betwen Triple H and Steve Austin. You can see that one conitnuing for a long time. I was very surprised that Triple H won this one being that it's Austin going to the main event of Wrestlemania. I'm not sure where it leaves Triple H for the biggest event of the year. Maybe another match with Kurt Angle? Odd result here but both men do come out of the match looking good.
Steven Richards then beat Jerry Lawler which means that The Kat has to join the Right To Censor. I don't mind this as it'll give a new element to The Kats character. She's proven that she can actually promo over the last few weeks although I'm sure her nudity will be missed. I'm not sure what the dynamic between The Kat and Ivory will be though. The Dudley Boyz then retained their tag team titles in a decent tables match. 6 very good performers in this one with Kane and Undertaker bringing a different element to what we'd usually see from The Hardy Boyz. There are plenty of good tag team out there at the moment with these three as well as The Hardy Boyz and Rikishi & Haku. Then came the main event which was decent. Not the best main event in the world but thankfully no hardcore action like we'd see in practically every PPV main event for the last 3 years. The Rock wins the title which puts him on a collision course with Stone Cold Steve Austin at Wrestlemania. Not really sure what the purpose of having Big Show come out was but I'm sure it'll become clear over the next few weeks.
Overall Rating: 64.6/100 (ranked 13th out of 120)
Match Of The Night: Triple H vs. Austin / Intercontinental Title Match
Worst Match Of The Night: Steven Richards vs. Jerry "The King" Lawler
Surprise Of The Night: Triple H beats Austin
Worst Booking Of The Night: Big Show interupting the main event
Superstar Of The Night: The Rock
No Way Out 2001 Will Be Remembered For: The Rock winning the WWF title & the epic 3 stages of hell match