| Date: October 21, 2001
| Venue: Savvis Centre | City: St Louis, Missouri
| Attendance: 15, 647 | Buyrate: 325, 000
No Mercy is exactly what "Stone Cold" Steve Austin is going to have for Kurt Angle and Rob Van Dam tonight as he prepares to defend his newly won WWF Championship. Austin beat Kurt Angle for the WWF Championship a few weeks ago on Raw and it was Mick Foley that announced at No Mercy it would be Austin defending his title against Kurt Angle and if he chose to be in the match, Rob Van Dam. Van Dam, fresh from a lecture from Austin about grabbing the brass ring accepted the match and so a triple threat was confirmed. Austin is very much the leader of the Alliance and angle is very much WWF through and through but the status of RVD seems to be up in the air. Van Dam was seen getting out of a limo with Vince McMahon so after frog splashing Austin and Angle in the last week, where do his loyalties lie? We'll find out tonight.
The wCw World title will also be defended as The Rock goes one on one with Chris Jericho. Stephanie McMahon and The Rock have both told Jericho that he has never had what it takes to win a top title and that has riled Jericho up. He accidentally smashed The Rock in the face with a steel chair in a tag team match which lead to a backstage brawl between the two. Tonight the big gold belt is on the line. The Intercontinental title will be on the line as Christian, who has recently been unveiled as the newest member of the Alliance, defends against his brother Edge. The battle rages on between these brothers and Christian has gone as far as to pretend their mother has been injured in a car accident just to let Edge's guard down so he could attack him with help from Hugh Morrus and Chris Kanyon. The title will be defended tonight in a match both men are the experts in, a ladder match.
Both sets of tag team titles will also be on the line tonight. The Dudley Boyz will be defending their WWF Tag Team Titles against the team of The Big Show and Tajiri. Tajiri fills in for an injured Spike Dudley who was injured at the hands of Bubba Ray and D-Von. The wCw Tag Team titles were won briefly by Booker T and Test but they would lost those belts to The Hardy Boyz. Matt and Jeff will be defending their belts tonight against The Hurricane and Lance Storm who now have "Mighty" Molly Holly in their corner. Torrie Wilson, who will be in Tajiri's corner, will be in action herself when she takes on her former friend Stacy Keibler in a lingerie match. The two girls have fallen out over Torrie's relationship with Tajiri and go one in one in a regular match fought in lingerie.
The war has raged on over the last month between The Undertaker and Kane and Booker T and Test. Booker T and Test defeated The Brothers Of Destruction for the wCw Tag Team titles but tonight there will be two singles matches. Booker T challenged The Undertaker whilst Test challenged Kane. These are two of the biggest WWF vs. Alliance fights on the card tonight and should be very interesting. You'll notice that I'll always put the WWF member before the Alliance member when naming the match competitors.
Anyway, let's get to it.
A video package kicks us off hyping the triple threat main event between Steve Austin, Kurt Angle and Rob Van Dam, describing them as paranoid, vengeful and confident. Jim Ross then welcomes us to St Louis, he's joined at ringside by Paul Heyman.
The Hardy Boyz (Matt & Jeff)(c) vs. Lance Storm & The Hurricane – wCw Tag Team Championship Match
These two teams were both involved in the fatal four way tag team match at last months Unforgiven but neither team could beat The Dudley Boyz. This is the fourth PPV in a row that Lance Storm has been in the opening match on. Plenty of women around the ring in this one as Lita joins The Hardy Boyz, Ivory accompanies Lance Storm and The Hurricane is flanked by his sidekick Mighty Molly (Holly). Lance Storm is one of three newcomers (with Booker T and Rob Van Dam) to have wrestled on every PPV since the beginning of the Invasion. The Hurricane and Jeff Hardy kick things off and we get some nice chain wrestling. Jeff tags Matt and The Hardyz do a double team move before Matt gets the first near fall of the night. Lance Storm makes a blind tag and we get a double team move between the challengers for a near fall. Lance is looking for his first PPV victory on the fourth time of asking. He tags in The Hurricane but Matt hits a clothesline on both men before tagging brother Jeff.
Jeff takes the advantage until Ivory gets involved, grabbing the leg of Jeff. It's all broken down here as all four men go at it. The Hurricane flies to the outside taking both Hardyz down after Molly Holly had helped her partner up. The Hurricane tags Lance Storm who hits a dropkick on Jeff for a two count. Lance Storm has a similar "no nonsense" gimmick to Steve Blackman. That would make The Hurricane an Al Snow type character. Hurricane tags in and hits a backbreaker on Jeff for a near fall. The Hurricane goes back a long time with The Hardy Boyz. Lance Storm tags in but gets caught with a corkscrew from Jeff. Storm tags The Hurricane and Jeff tags Matt! Matt comes in off the top with a clothesline and he takes both opponents down. The Hurricane is the reigning European Champion. The Hardyz hit poetry in motion on Storm but miss with the same move on Hurricane. Matt hits a slam on Hurricane and then a legdrop from the middle rope for a two count.
This is Matt and Jeffs third No Mercy match, the previous two have both been against Edge and Christian. Lance and Hurricane hit a double superkick on Matt but Jeff breaks up the cover. Hurricane holds Matt for Molly but Lita spears Molly out of the way. Ivory then gets rid of Lita and all hell has broken loose! Jeff attacks Ivory and Lita hits a hurricanrana on Storm! Hurricane poses in the middle of the ring so Matt hits him with a twist of fate. Jeff then comes off the top with a Swanton Bomb which is enough for the three! The Hardy Boyz pick up the win tonight and retain their wCw tag team championships! Lance and The Hurricane still look for their first PPV victories!
Rating: 6.75/10
Rob Van Dam is shown arriving and the new wCw Commissioner tells Rob that he should go and find Steve Austin and apologise for hitting him with a frog splash on Smackdown. Van Dam says no and that he just looks out for himself.
A limo arrives and Vince McMahon gets out! Michael Cole asks him where he's been and Vince asks Cole to help him with his jacket. McMahon says he's here to make an impact.
Kane vs. Test
This is a first singles meeting between these two men on pay per view. It's Kane's first singles match on PPV since Judgment Day as his last 4 PPV matches have been tag team matches. These two big men go at it before the bell rings. Kane takes Test down with a boot and follows it up with an elbow drop. Kane hits some big clotheslines in the corner and a powerslam for a near fall. The first two matches tonight have both been officiated by wCw referees. Kane drops Test on the top rope and then he military presses the big man over the top rope! The referee distracts Kane for a second on the outside and that allows Test to grab the ring bell and he smashes it into Kanes face right in front of the referee! Apparently the match continues and Test manhandles Kane back in the ring. Test hits an impressive suplex on Kane for a two count. Test looks like he's bleeding from the mouth and Kane hits some right hands and a clothesline before missing with an elbow drop.
Test hits a clothesline from the second rope for a two count. The Alliance member then hits a sidewalk slam before going to the top rope and missing with a high elbow drop. Kane rolled out of the way and hits a neckbreaker. Kane hits a sidewalk slam for a near fall. Kane has wrestled on two No Mercy PPVs before, beat Mideon at the first and lost to X Pac in a fatal four way at the second. Test hits a big boot on Kane on the outside before rolling the big red machine back into the ring for a two count. Test wrestled at last years No Mercy event in a losing effort in tag team action. He attempts a big boot on Kane who sidesteps it and hits a chokeslam! Kane is slow to get the cover and Test kicks out. The two men slug it out before Kane hits a powerslam. Kane then goes to the top but Test ducks out of the way of a clothesline before hitting a pump handle slam. It looks to be over but Kane kicks out!
Test goes up to the top and hits a flying elbow drop and again Kane kicks out. Test goes to the outside and grabs a chair but Kane dropkicks it into his face. Kane then grabs the chair but referee Nick Patrick takes it off him. Kane grabs the referee by the throat but Test ends up hitting him with a big boot. The referee counts and Test wins the match! A huge win for Test tonight in a surprisingly good match. After the bell Kane chokeslams Nick Patrick twice before hitting him with a powerbomb.
Rating: 6.5/10
Jonathan Coachman is backstage looking to get a word with Stone Cold Steve Austin. Debra answers and says that Steve doesn't want to talk to him. Austin shouts things at Debra to pass on to Coach which she does. It makes for a great segment.
Stacy Keibler is backstage and bumps into Matt Hardy. She flashes Matt and asks him what he thinks of her lingerie. Lita then shows up and Matt tells her how well she did tonight.
There's a VT for Stacy Keibler and Torrie Wilson up next.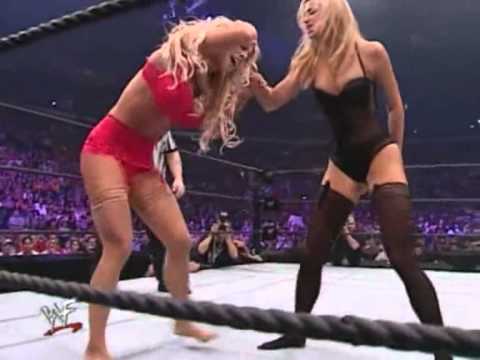 Torrie Wilson vs. Stacy Keibler – Lingerie Match
The rules for this are simple, it's a straight forward wrestling match fought in lingerie. Both women are looking for their first PPV win tonight. Stacy attempts to attack Torrie before the bell but Torrie gets the better of her. Both women look great and Stacy hits a slap before spanking both Torrie and the referee with a little whip. The two women then roll over each other and the referee. Keibler chokes Torrie with her foot but Torrie hits a sunset flip before we get numerous pinfall attempts. Torrie hits a snapmare on Stacy off the top for a near fall. Torrie hits a handspring elbow on Stacy, similar to what her boyfriend Tajiri would do and she gets the three. Torrie Wilson beats Stacy Keibler tonight.
Rating: 2.75/10
Michael Cole is backstage with Kurt Angle who has his eyes set on both of his opponents tonight. Vince McMahon then shows up and wishes Kurt luck. Angle says he doesn't need luck.
Lilian Garcia interviews Christian who remembers when everyone would praise Edge. But Christian says there is always somebody better as he points to his Intercontinental title. Christian says that tonight he'll show the world why he's better.
Next is a VT for Edge and Christians Intercontinental ladder match.
Edge vs. Christian (c) – Ladder match for the Intercontinental Championship
This is the second PPV match between these two "brothers". Christian won the first at Unforgiven last month. The two men have teamed up at the three previous No Mercy PPVs with their only victory coming at last years event over The Hardy Boyz. Both men have great entrances now. They go at it during Edge's entrance and Edge throws Christian into the ring steps. They get into the ring where Edge hits a big back body drop. Christian is the newest member of the Alliance. He drops Edge on the top rope and gets a ladder from ringside. Edge baseball slides it into Christians chest before throwing the champion into the crowd. Edge currently holds the record of wrestling the most PPV matches without main eventing any. The two men fight in the crowd before Edge backdrops Christian back over the guard rail. Edge then catapults Christian into the ladder. Edge sets up a ladder between the ring steps and the barricade. Christian backdrops Edge into that ladder before both men stand on the ladder and Edge drops Christian onto it. This is the second title match of the night, last months Unforgiven PPV had the most title matches of any PPV ever with 7.
Christian slingshots a ladder into Edge's face before setting the ladder up in the middle of the ring and climbing it. Edge pushes the ladder over though. Christian jabs the ladder into Edge's gut making Edge look like the victim of a car crash in the corner. Christian grabs a steel chair but Edge knocks it out of Christians hands and snapmares him on the ladder. Edge puts Christian up on his shoulders before throwing him off onto the ladder. Edge sets up a ladder on the middle rope in the corner and attempts to Irish whip Christian into it but Christian reverses it sending Edge into the ladder. Christian slingshots Edge face first into a ladder Christian then sets up a ladder in the middle of the ring whilst Edge sets up another ladder next to it. Both men climb up their ladders and Edge hits the Edge-o-matic off the top of the ladders on Christian. This match has been fairly slow so far. Christisn currently holds the record of fighting on most PPVs consecutively with 28. Kurt Angle and Chris Jericho could match that should they wrestle tonight and on next months Rebellion PPV.
Edge climbs a ladder whilst Christian climbs the ladder next to him and hits a reverse DDT. Christian looks under the ring and grabs two steel chairs. He doesn't get to use them though as Edge kicks a chair into Christians face. Edge then brings a third ladder into the ring and he lays it across to set up chairs. He lies Christian down on the ladder and goes up to the top before flying off and hitting a splash! This is the first Intercontinental Championship match on a No Mercy PPV to involve two men. The only previous match for that title at No Mercy was between Jeff Jarrett and Chyna in 1999. Edge climbs up a ladder but is knocked off by Christian. Christian sets up three ladders in the ring before climbing one of them. Edge goes up top and dives off hitting a spear on Christian down to the mat. Edge and Christians last PPV match as a tag team was a victory over Lance Storm and Mike Awesome at Invasion. Both men climb either side of the same ladder before slugging it out at the top. The ladder then topples over and both men fall outside of the ring. Only Edge, Christian and Stone Cold Steve Austin will have wrestled on all four No Mercy PPVs after tonight.
Christian is the first man back in the ring and climbs up one of the ladders but struggles. He gets to the top but Edge gets back in the ring and low blows his brother with a steel chair. Edge climbs up a ladder and lays Christian across two ladders, putting a chair underneath his face and smashing his skull with another chair. With that con-chair-to, Christian falls off the top of the ladder and Edge reaches up and grabs the title, becoming a three time Intercontinental Champion! This wasn't the best ladder match I've ever seen. It was a little slow in parts. It went on a bit too long but it did have a good ending.
Rating: 6/10
We see Spike Dudley at WWF New York doing Tequila Slammers. There's a shot showing why Spike is injured after the Dudley Boyz put him through a table. A women gives Spike some attention and Spike asks Molly who?
The Big Show & Tajiri vs. The Dudley Boyz (Bubba Ray & D-Von) (c) – WWF Tag Team Championship Match
The Big Show is on an awful PPV run at the moment. You'd have to go back to February to find his last PPV victory which was over Raven at No Way Out. Tajiri has only won one of his three PPV matches. This is his first tag team match on py per view after matches with Tazz, X Pac and Rhyno. It's his third title match on PPV in a row. The Dudley Boyz have won all 4 of their PPV matches since turning heel. Tajiri kicks things off with Bubba Ray Dudley and Bubba Ray takes the advantage after a D-Von distraction. Bubba Ray tags in D-Von and the champions hit a double shoulder block. D-Von hits some big right hands until getting caught with a big kick from Tajiri and a standing moonsault for a two count. Tajiri tags in the Big Show who lays into D-Von. The Dudley Boyz double team Big Show but get caught with a double clothesline. Big Show slams both men sending them sprawling out of the ring before Tajiri dives to the outside on the champions.
Back in the ring and Big Show hits a sidewalk slam on D-Von for a two count. Show tags in Tajiri who gets caught with a Bubba Bomb after a blind tag. The Dudleyz hit a double flapjack and Bubba Ray follows it up with three elbow drops for a near fall. Quick tags between the Dudley Boyz now and D-Von applies a sleeper. Tajiri gets out of it and hits D-Von with a big kick. Tajiri makes a tag but the referee doesn't see it. The Dudley Boyz then hit their diving headbutt to Tajiri's groin behind the referees back. Bubba Ray attempts a powerbomb but Tajiri reverses it into a DDT. Both men then make tags. Big Show hits both Dudley Boyz with clotheslines, splashes and clotheslines before doing a Razor Ramon type celebration. Tajiri makes a blind tag and hits spinning heel kicks on Bubba Ray and D-Von. Tajiri then locks the Tarantula on D-Von but Bubba Ray breaks it up.
Tajiri hits a handspring elbow on both champions and spits his green mist out at Bubba Ray who ducks and Tajiri sprays the referee in the eyes! Big Show hits a chokeslam on Bubba Ray but the referee is rubbing his eyes! Rhyno gets in the ring and Gores The Big Show! Tajiri gets back in the ring and hits some stiff kicks on D-Von. The referee is slow to get up and D-Von kicks out of the pinfall attempt. The Dudleyz then hit 3D on Tajiri and the referee counts the 3! The Dudley Boyz retain their tag team championships tonight with help from Rhyno! They make it 5 PPV victories in a row.
Rating: 7/10
William Regal meets Rhyno backstage and Rhyno says he's tired of people viewing the Alliance as a joke. Regal says very good, bravo.
Shane McMahon is backstage with Booker T and Test. They're happy with Rhyno and happy that Test beat Kane tonight. Now Booker T has to beat The Undertaker. Booker says that Undertaker will be one dead sucka.
The Undertaker vs. Booker T
This is a first time PPV meeting between these two men. Booker T has been very fortunate in the WWF so far having feuded with Stone Cold Steve Austin, The Rock and now The Undertaker. Booker attacks Undertaker as he gets off his bike and the two men slug it out around the ring. Undertaker hits a big clothesline and throws Booker T into the ring so the bell can ring. Undertaker hits a big boot to get the first near fall of the match. Booker hits a flying forearm for a near fall of his own. This has a big fight feel to it. They were on opposite sides when the Alliance beat the WWF in the Invasion main event. Booker T misses with a shoulder block in the corner and Undertaker goes to work on Bookers arm. Undertaker has only wrestled on one No Mercy PPV before and that was in the main event of the very first event in England. He applies an arm bar to the former 5 time wCw Champion. The Dead Man goes to the top and hits the move he calls Old School, following it up with clothesline for a two count.
Booker T heads to the outside, Undertaker follows and Booker throws Undertaker into the ring steps. If you're keeping score then so far the WWF are beating The Alliance 3-2 tonight. That's if you count Torrie Wilson as a WWF member. Booker T grabs the ring bell but WWF referee Tim White takes it out of his hand. Undertaker then clotheslines Booker into the crowd and hits him with right hands. Undertaker hasn't lost a PPV match since Invasion whereas Booker T hasn't won a PPV match since Invasion. Booker throws Undertaker into the ring post then back into the ring. Booker goes up top and hits an unexpected flying dropkick for a two count. Booker T hits a heel kick for another near fall and then a sidewalk slam. Booker hits a knee drop but Undertaker gets back into the match with a boot. Booker hits a neckdrop for a near fall and then comes off the top but Undertaker gets his boot up. The two men slug it out with right hands resulting in Undertaker hitting a big boot.
Booker hits a spinning heel kick on Undertaker for a near fall. There have been a lot of near falls in this one. Undertaker hits a DDT, a couple of big clotheslines in the corner and a legdrop. Booker drops Undertaker on the top turnbuckle and then hits a spinning heel kick before doing the spineroonie! Booker T then hits his finisher, the scissors kick but Undertaker gets his foot on the bottom rope to stop the count. Undertaker sets up for a chokeslam but Booker t hits a low blow which the referee doesn't see. Booker then hits some right hands in the corner but Undertaker steps out of the corner and hits the Last Ride for the three count! Undertaker beats Booker T with the Last Ride tonight!
Rating: 6.75/10
Chris Jericho tells The Coach backstage that it's time for him to win the big one.
Video package for Chris Jericho and The Rock.
The Rock (c) vs. Chris Jericho – wCw Championship Match
This is the first PPV match between these two men despite Jericho making his debut by interrupting The Great One. The Rock has wrestled at No Mercy twice before, beating The British Bulldog but losing to Kurt Angle. Jericho beat X Pac at last years event. The Rock won the wCw title at Summerslam from Booker T and successfully defended it against Booker T and Shane McMahon at Unforgiven. The Rock starts the match with a headlock and Jericho reverses it into one of his own. The Rock hits a deep arm drag and applies an arm bar. Chris Jericho has not only wrestled on every PPV so far this year but he also wrestled on every PPV last year. Jericho applies an arm bar of his own which The Rock gets out of and hits an reverse elbow. Jericho slaps The Rock and chokes him on the middle rope before hitting some knife edge chops. The Rock hits a slap of his own and some big right hands. The Rock attempts Rock Bottom but Jericho fights him off and attempts the Walls Of Jericho but The Rock gets to the ropes. Jericho hits his trademark springboard dropkick sending The Rock to the floor where he picks up the champion and drops him on the barricade.
Back in the ring and Jericho hits a dropkick off the top for a two count. Both men are very popular WWF stars. It's the first time a wCw title match has taken place on PPV without somebody from the Alliance in the match. Jericho hits some chops in the corner and a spinning heel kick for a two count. Jericho hits a backbreaker and senton splash for a two count. The challenger then hits a basement dropkick to keep the advantage. The Rock hits a big clothesline but can't keep the advantage as Jericho drops him on the top rope. Jericho then climbs to the top but The Rock crotches him up there and hits a superplex. Rocky then hits a big belly to belly suplex and a Samoan Drop for a two count. It's all The Rock now as he sends Jericho out of the ring with a big right hand. Back in the ring and Rocky hit a clothesline for a two count. He follows that up with a suplex for another near fall. The Rock sends Jericho out of the ring again and then back in. Jericho was unsuccessful against Rob Van Dam at last months Unforgiven and now finds himself in a sleeper hold.
Jericho fights out of the sleeper but The Rock slingshots him into the top turnbuckle. There are a few boos for The Rock. Jericho hits a missile dropkick off the top and a swinging neckbreaker. He then hits a standing hurricanrana for a two count. Jericho hits a Rock Bottom on The Rock! He follows that up with a Lionsault and hooks the leg but The Rock kicks out! Both men get up and Jericho hits a bulldog and attempts the People's Elbow but The Rock rolls out of the way! The Rock then locks on the Sharpshooter! But Jericho gets to the ropes and rolls out of the ring. The Rock exits the ring himself and takes apart the Spanish announce table before hitting Rock Bottom on Jericho right through it! Rocky slides Jericho back into the ring and sets up for another Rock Bottom but Jericho elbows his way out of it before running into a spinebuster. The Rock goes for the People's Elbow but Jericho grabs his leg and locks on the Walls of Jericho! Stephanie McMahon then runs out and throws a chair into the ring!
Jericho turns around into a DDT from The Rock after being distracted by Stephanie. Rocky pulls Stephanie into the ring and hits the Rock Bottom on her! The referee sees to Stephanie and Jericho hits The Rock with a facebuster onto the chair! Jericho pushes the chair out of the ring and hooks the leg, getting the three! Chris Jericho wins the match and the wCw title in the biggest win of his career. After the bell The Rock presents Jericho with the chair that he beat him with. Jericho celebrates with the belt and the chair!
Rating: 7.75/10
There's a video package for the Steve Austin/Rob Van Dam/Kurt Angle main event.
Kurt Angle vs. Rob Van Dam vs. "Stone Cold" Steve Austin (c) – Triple Threat Match for the WWF Championship
Steve Austin joins Edge and Christian as the only men to have wrestled on all four No Mercy events. Austin has previously won, drawn and lost at the last three events. Angle wrestled at last years event and won the WWF Championship for the first time from The Rock. RVD is undefeated on PPV since his debut in the WWF, Austin has wrestled on every PPV so far this year as has Kurt who also wrestled on every PPV last year. Kurt is very much the babyface in this representing the WWF, Austin is the heel representing the Alliance whilst Rob Van Dam is the wildcard who has recently held a meeting with Vince McMahon. Van Dam always has brilliant ring gear. Austin never has Debra at ringside with him. This is Van Dams first PPV main event since his debut in the WWF.
Angle attacks Austin before the bell with a German suplex before doing the same to RVD. He hits suplexes on both men but the number become too many and Austin and Van Dam stomp away at Angle. Austin and RVD are then left in the ring but choose not to fight. Angle gets back in and hits a side Russian leg sweep on RVD. Austin takes Angle down and then lays a couple of stomps into Rob Van Dam. Austin lays into both men until Angle catches his leg and locks on the Ankle Lock. Van Dam breaks that up and hits a spinning heel kick on Austin. Van Dam hits a kick on Angle and follows that up with rolling thunder for a two count. Stone Cold throws Angle out of the ring as an "RVD" chant breaks out. Austin hits Van Dam with a spinebuster for a two count. It's all Austin now as he lays into both men, making sure Kurt doesn't get back into the ring. Angle does get back in, to break up a single boston crab. Stone Cold back body drops Angle back out of the ring and then locks an STF on Van Dam. Kurt breaks it up and takes Austin out of the ring where Austin slingshots Kurt into the ring post.
Austin smashes Van Dams knee into the ring post before Angle throws Austin into the crowd. Kurt lays into the champion in the crowd before throwing him back over the barricade. The two men slug it out and Rob Van Dam dives onto both of them and he looks like he missed both. He throws Angle back into the ring and hits a springboard legdrop on Austin off the announce table. RVD gets back into the ring and gets caught with a suplex from Angle. Angle then goes up top and hits a beautiful moonsault on Van Dam. Austin slides back into the ring and pins Van Dam but Kurt breaks it up. Angle then applies a sleeper to Austin but Austin gets out of it and attempts a Stunner. Kurt pushes him away and tries a Stunner of his own but Austin pushes angle away and both men hit clotheslines. RVD then comes off the top with a 5 star frog splash but both men roll out of the way. Angle hits a German suplex on Van Dam and Austin hits a Stunner on Angle! Van Dam breaks up the cover and hits a split legged moonsault on Austin.
Angle hits an Angle Slam on Van Dam but Austin breaks up the cover. Austin then pushes Angle out of the ring and follows him out. The two men slug it out on the outside until Austin attempts a piledriver on Angle on the table but Kurt back body drops the champion. Rob Van Dam then dives to the outside taking Angle out. All three men are down but from out the back walks Vince McMahon! Kurt hits some knife edge chops on Rob Van Dam before those two men get back into the ring. Angle lays into Van Dam with chops and right hands until RVD heel kick. Van Dam then goes up top but Kurt runs up top and hits a belly to belly suplex! Austin slides back into the ring and hits a Stunner on Angle! Angle falls out of the ring though. Stone Cold looks at Van Dam and laughs maniacally. Vince McMahon then gets in the ring and smashes Austin with a chair! Van Dam goes up top and hits the 5 star frog splash on Austin! McMahon screams at Angle to get back into the ring and he does, just in time to break up Van Dams pinfall. Angle hits four German Suplexes on Van Dam and an Angle Slam! Shane McMahon then runs out from the back and breaks up the pinfall attempt throwing Angle out of the ring!
Vince McMahon goes mad, laying into Shane on the outside! In the ring Austin hits the Stunner on Van Dam and covers him for the three! Austin wins the match, pinning Rob Van Dam and retaining the WWF Championship!
Rating: 8.5/10
Well there we have it, No Mercy 2001. The fourth No Mercy PPV, the 11th PPV of 2001 and the fourth PPV of the "Invasion era". We're only one year removed from last years event but it's interesting to look back and see those who were involved, the likes of Mideon, Rikishi, Chyna, Val Venis, Albert, Chaz, D-lo and Grand Master Sexay who are but memories now due to the over-sized roster that came with the Invasion. This show kicked off with a fast paced tag team match that was an enjoyable watch. Helms has become one of the Invasions forefront members since becoming The Hurricane. Him and Lance Storm have a great dynamic in the vein of Head Cheese. I'm not sure how long they'll last as a tag team but for now they're good fun. The Hardy Boyz make good champions and I hope we get a Hardyz v Dudleyz match in the future for both sets of titles.
Test then beat Kane in what looks to be one of Tests biggest wins of his career. I think it was the right result as Test is being presented as one of The Invasions most important members. If they push Test correctly then I could see him as a main eventer. Kane is in a decent enough position as tag team partner to The Undertaker. Stacy Keibler and Torrie Wilson rolled around on the mat in lingerie for three minutes. There was only one reason for this match and it wasn't to put on a memorable athletic spectacle. The girls looked great, Torrie picked up the win, it did exactly what it was supposed to. Edge beat Christian in a match that went on a little bit too long if you ask me. At 22:16 it got a little bit boring and wasn't as fast paced as you would hope. The psychology was good though and it was nice to see Edge become a three time Intercontinental Champion. He is a man that will fly up the card over the coming months and now they have his presentation right, there's nothing stopping him. I would like to see a third and final match between Edge and Christian at Survivor Series.
The WWF Tag Team title match was a lot of fun. The Dudley Boyz are a fantastic heel team whilst Tajiri is the ultimate babyface at the moment. I don't know where I stand with the Big Show but at the moment he's a good face and balances out the small size of Tajiri (or Spike Dudley). The result was correct and as I said before, I look forward to the merging og the tag team titles which will hopefully be a match between The Hardyz and Dudleyz. Also, what could Rhyno's involvement mean? A feud with Big Show perhaps? Undertaker then beat Booker T in something of a "dream match" if you don't mind me saying. This match could have gone either way, Booker arguably needed the win more though. I'm not sure where either men go from here but I wouldn't mind seeing Booker T hook up with Edge and Undertaker and Kane with the Dudley Boyz.
Chris Jericho beat The Rock in the biggest surprise of the night. For whatever reason, I just didn't see Jericho winning. It's Chris's biggest win in the WWF for me and it puts him in a big position going forward. Him celebrating with the chair is a bit of a heelish move but interestingly The Rock got more boos than he did during the match. The Rock could easily go on to be the WWFs driving force in the battle against the Alliance, focusing more on Austin. Jericho vs. Booker T could be a great feud going forward. As for the WWF Champion, Stone Cold pinned fellow Alliance member Rob Van Dam to retain the belt. It'll be interesting to see the dynamic between Austin and Van Dam following this. Angle not getting beaten keeps him in the title picture. The main event was a fantastic watch and if you haven't seen it, I would definitely recommend it.
Overall Rating: 65/100 (ranked joint 15th out of 129)
Match Of The Night: Steve Austin vs. Kurt Angle vs. Rob Van Dam
Worst Match: Torrie Wilson vs. Stacy Keibler
Surprise Of The Night: Chris Jericho wins the wCw title
Worst Booking Of The Night: I think Booker T should've beaten Undertaker
Superstar Of The Night: "Stone Cold" Steve Austin
No Mercy 2001 Will Be Remembered For: Chris Jericho beating The Rock for the wCw Championship