| Date: July 21, 2002
| Venue: Joe Louis Arena | City: Detroit, Michigan
| Attendance: 12, 000 | Buyrate: 375, 000
Quick and Merciless. That is how The Undertaker is hoping to end his match tonight against Kurt Angle and The Rock. WWE Undisputed Champion The Undertaker finds himself in a triple threat situation after originally challenging The Rock to a match after The Rock nearly cost The Undertaker his title at King Of The Ring.  Since then Kurt Angle nearly beat Undertaker for his gold when he caused Undertaker to tap out a second after having his shoulders pinned to the mat. As a result, Vince McMahon made the decision to put Kurt Angle in The Rock and Undertakers match at Vengeance. So it'll be a triple threat and it looks as though the winner will go on to main event Summerslam against Brock Lesnar.
Vince McMahon has made two new general managers of Raw and Smackdown. He shocked the world by making Eric Bischoff the general manager of Raw and then made his own daughter Stephanie the general manager of Smackdown. Bischoff has already made an offer to Triple H to sign over to Raw and tonight we will find out whether he does or not. The first pay per view match that Bischoff made was for Vengeance and it's a match between Booker T and The Big Show. Booker T's on-going rivalry with the nWo has come to an end following Kevin Nash's injury a couple of weeks ago but that hasn't stopped the rivalry with Booker T and Big Show. The two meet in a no disqualification match tonight.
On July 4th, Hulk Hogan and Edge won the tag team titles from Billy and Chuck. Edge was scheduled for a match with Chris Jericho at Vengeance but Jericho convinced Vince McMahon to change it and instead Edge and Hulk Hogan defend the tag team titles against two allies of Jericho, the anti-Americans of Christian and Lance Storm. Chris Jericho meanwhile will have a match at Vengeance against the new-comer John Cena. Cena pinned Jericho in a tag team match on Smackdown and Jericho demanded that he fight Cena tonight. The other match representing Smackdown tonight will be a Cruiserweight title match between champion Jamie Noble and challenger Billy Kidman. Kidman has pinned Noble in tag team matches and made the challenge to Noble for Vengeance, a challenge that Jamie accepted.
Over on Raw one of the biggest feuds since King Of The Ring has been between Brock Lesnar and Rob Van Dam. Van Dam hasn't been able to let his loss go at KOTR due to the way Lesnar beat him. Paul Heyman then made the challenge to Van Dam for an Intercontinental Championship match at Vengeance, a challenge that Van Dam accepted. The European Championship will also be defended as William Regal gets a rematch against the man who defeated him for the gold, Jeff Hardy. Regal was devastated when he lost the belt, breaking down in tears. Hardy has been on a hell of a roll as of late, earning the respect of The Undertaker after a grueling ladder match with him. Also tonight Bubba Ray Dudley and Spike Dudley take on Eddie Guerrero and Chris Benoit in a tables match. Remember, Bubba Ray cost Guerrero his match against Ric Flair at King Of The Ring. Benoit is back in action after being out for a year.
On the pre-show, Goldust defeated Steven Richards.
They've decided to go down the bible quote route for the opening video package. Shots of The Rock, Kurt Angle and The Undertaker flash up between soundbites from the three men. The big "V" sits on the stage differentiating it from other pay per views. Michael Cole is the man to welcome us to the Joe Lewis Arena, he's joined by Tazz to bring us the first half of Vengeance.
Bubba Ray & Spike Dudley vs. Eddie Guerrero & Chris Benoit – Tag Team Table Match
The Raw tag team division is arguably hotter than the Smackdown tag team division at the moment which is a shame because the titles are on Smackdown. Benoit and Spike start the match, it's Benoit's first PPV match since last years King Of The Ring. Benoit hits Spike with a backbreaker and follows it up with a hard Irish whip. Spike tags in Bubba Ray and Benoit is quick to take him down with a drop toe hold. Benoit then tags Guerrero and both Radicalz lay into Bubba Ray. This is the first time Benoit and Eddie Guerrero have teamed up as a tag team on PPV. Lots of quick tags between Benoit and Guerrero. Guerrero hits a basement dropkick to Bubba Ray and then tags in Benoit.
Bubba Ray is the only man of these four to have wrestled on last years Vengeance event, he and brother D-Von were victorious that night against Big Show and Kane. Guerrero tags back in and hits some big right hands to Bubba Ray. This feud came about when Bubba Ray cost Guerrero his match against Ric Flair at King Of The Ring. Spike gets drawn into the ring allowing the heels to take the advantage with double team moves. Spike last fought on PPV at Insurrextion when he retained his European title against William Regal. Benoit takes a cheap shot on Spike and then Guerrero gets the first table from underneath the ring. He sets it up outside the ring as Benoit continues to lay into Bubba Ray Dudley. Spike then flies over the top rope, taking out Eddie Guerrero!
More double teaming in this one which shouldn't be illegal because it's a tables match. Guerrero sets up a table in the middle of the ring and then he and Benoit attempt a double suplex through it off the top but Spike moves the table out of the way. Guerrero slides another table into the ring and Benoit hits a gutbuster on Spike. This match has broken down now. Guerrero sets up a table in the corner and then he and Benoit attempt to throw Spike through it but Bubba Ray makes the save. Bubba Ray then starts a comeback, hitting clotheslines and back body drops on Benoit and Guerrero. Guerrero attempts his top rope hurricanrana on Bubba Ray but Bubba Ray throws him across the ring. Bubba Ray hits his trademark jabs and elbow on Eddie and then Spike dives in with the Wassup drop on Benoit!
Bubba Ray asks Spike to get the tables but in comes Benoit who locks the Crippler Crossface on Spike. Bubba Ray breaks it up and sets up a table in the middle of the ring before lying Benoit on it. Bubba Ray then goes up to the second rope but a distraction from Eddie Guerrero allows Benoit enough time to roll out of the way and Bubba Ray crashes through the table. Spike and Eddie then go at it and Eddie accidentally hits a cross body on his partner. Guerrero then attempts to suplex Spike through a table but Spike reverses it and hits the Dudley Dogg on Eddie through the table! Eddie is eliminated from the match (despite Eddie actually going through the table). Back in the ring and Benoit press slams Spike out of the ring and through a table!
It's down to Benoit and Bubba Ray in this one. Benoit sets up a table but Bubba Ray hits a Bubba bomb on Benoit right through it! Bubba Ray and Spike win the match! Not the result I would have booked but it is their trademark match so it does make them look unstoppable in a tables environment. Decent match between these four.
Rating: 6.75/10
Eric Bischoff is backstage with the Coach. Bischoff is excited about the potential of signing Triple H tonight. Triple H then walks past and Bischoff follows him as Helmsley going into Stephanie McMahons office. That's Bischoff's first ever appearance on a WWE PPV.
Jamie Noble (c) vs. Billy Kidman – Cruiserweight Championship Match
Kidman became number one contender by pinning Noble in a tag team match and then beating Tajiri on Smackdown last week. It's a first PPV meeting between these two men, Noble is undefeated on PPV after his win over The Hurricane at King Of The Ring last month. Kidman gets the first near fall of the night. Plenty of fast action in the early going. Nidia sees to her man. Noble then lays into Kidman with a snapmare but Kidman hits him with a flying head scissors. Kidman then drops Noble on the middle rope with a legdrop. Outside the ring Noble pushes Nidia into Kidman before taking his challenger down with an armbar takedown. Noble follows that up by ramming Kidman into the ringpost. Both of these men are wCw alumni.
Noble gets a near fall and then hits a northern lights suplex for a two count. Noble rams Kidman into the ringpost again sending him out of the ring but quickly rolls him back into the ring and applies a reverse keylock. Kidman gets out of it and hits a clothesline, hurricanrana, dropkick and neckbreaker for a two count. Kidman has never really established himself in the WWE. He's a good worker but seriously lacking in personality. Rey Mysterio debuts this week on Smackdown, he'll be a huge boost to the Cruiserweight division. Noble goes back to the armbar but Kidman gets to the ropes. Kidman reverses a powerbomb into a facebuster for a two count. Kidman then goes up top but Noble meets him up there. Kidman ends up hitting a powerbomb from the top for a two count.
Kidman goes up top and attempts the shooting star press but Noble gets out of the way and rolls him up but only for a two count. Noble then hits a sit out powerbomb and that's enough for the three! Noble wins the match and retains his Cruiserweight title!
Rating: 6/10
Mark whatshisface is backstage with Kurt Angle. Angle deals with "whens" and when someone taps out to his ankle lock tonight….he's off to Summerslam says Paul Heyman. Heyman and Brock Lesnar to show up. Angle and Lesnar shake hands and then Angle tells Lesnar he's looking forward to wrestling him at Summerslam. This isn't the summer of Brock it's all year Angle! Brock wishes Kurt luck tonight.
Jeff Hardy (c) vs. William Regal – European Championship Match
This is a first time pay per view meeting between these two men. Jeff beat Regal for the title a couple of weeks ago on Raw. Both of these men fought on last years Vengeance pay per view, Regal losing to Edge and Jeff beating his brother Matt. Regal hits a big slap on Jeff in the early going. This is Jeffs first European title reign, Regal gets the first few near falls of the match. Regal misses with a knee drop and Hardy takes the advantage, hitting a chinbreaker for a two count. Jeff then slingshots Regal over the top rope before hitting him with a hurricanrana. Hardy then attempts a cross body off the barricade but Regal ducks it. Regal slides Jeff back into the ring and pins him for a two count.
Regal Irish whips Jeff but Hardy bounces up to the top rope and hits whisper in the wind. Jeff then attempts the Swanton Bomb but Regal gets his knees up. Regal then hits a half nelson suplex for a two count. Regal pulls Jeff up to his feet but Hardy rolls Regal up and out of nowhere gets the 3 count! What an abrupt finish to the match. This one felt like it didn't really get started. Had potential to be much better but ended up being quite average.
Rating: 5/10
Ric Flair is backstage and congratulates Jeff Hardy. Hulk Hogan then arrives and also congratulates Hardy. Flair and Hogan then shakes hands. Hogan says he might hit a swanton bomb tonight. Flair mocks him and the two men laugh. Flair and Hogan aren't happy with the new general managers and Flair is worried about the likes of Jeff Hardy and Edge as a result. Flair says Bischoff might run the company out of business.
Chris Jericho vs. John Cena
This is a PPV debut for John Cena. He comes out to some generic rock music. This was originally supposed to be Chris Jericho vs. Edge. Jericho runs at Cena outside the ring with a chair but Cena ducks the chair and ends up using it himself. Eventually the two get into the ring and it's Cena with the early advantage. He hits a clothesline, knocking Jericho down, a reverse elbow, hip toss and a spinebuster for a two count. Jericho hotshots Cena on the top rope to take the advantage and follows it up with a side suplex. Jericho tries to take off the top turnbuckle from one of the corners and Cena ends up rolling him up for a two count. Jericho lays into Cena with right hands and chops. Jericho then hits his breakdown move and goes up to the top but Cena goes up with him and hits a superplex for a near fall.
Cena hits a tilt-a-whirl slam for a near fall and then gets hit with a dropkick from the middle rope. Jericho has been on a downward spiral since losing the WWE title at Wrestlemania, a loss tonight would be disastrous. Cena hits a belly to belly suplex for a two count but then misses with a dropkick. Jericho misses with the lionsault and Cena rolls him up for a two count. Jericho drops Cena and pins him using the ropes for leverage and Cena still kicks out. Jericho hits a bulldog and the lionsault but Jericho chooses not to pin him. The former WWE Champion then goes for the walls of Jericho but Cena rolls him up and gets the 3! Rookie John Cena beats Chris Jericho tonight! Absolute upset. Jericho hasn't won a PPV match since No Way Out back in February!
Rating: 5.5/10
Eric Bischoff is waiting outside Stephanie McMahons locker room when an attorney turns up with a contract. Bischoff can't believe it.
Jim Ross and Jerry Lawler turn up to take over commentary. Tazz looks like he's biting his tongue and chooses to be nice.
There's a video package for Rob Van Dam and Brock Lesnar up next.
Rob Van Dam (c) vs. Brock Lesnar – Intercontinental Championship Match
This is a rematch from last months King Of The Ring final in which Brock beat Van Dam. This time the Intercontinental Championship is on the line. Van Dam is the first man to have wrestled on every single PPV so far this year. Undertaker will also have that accolade later. Lesnar hits a big standing firemans carry early on and throws Van Dam from one side of the ring to the other. RVD drop toe holds Lesnar into the second turnbuckle before kicking him out of the ring. Paul Heyman tries to calm Lesnar down on the outside as Van Dam celebrates on the inside. Lesnar gets back into the ring and Van Dam hits him with kicks and dropkicks before Brock uses his strength to throw Van Dam across the ring again. Lesnar misses with a clothesline and goes flying out of the ring. Van Dam jumps out at Brock who catches him and powerslams him on the outside.
Back in he ring and following a near fall for Brock, he slams Van Dam. Brock is such a beast. He hits a gutbuster on Van Dam and then a belly to belly suplex. Jim Ross reminds us that Van Dam's PPV debut was a year ago at Invasion. He hits a spinning heel kick on Lesnar and then lays into him with more boots. Lesnar catches RVD and throws him out of the ring. Brock then goes outside the ring and throws Van Dam into the ring steps. Could Lesnar go into Summerslam as Intercontinental Champion? Back in the ring and Lesnar applies a bearhug and then an abdominal stretch. Van Dam gets out of it and hits a karate kick from the middle rope. Van Dam has only missed one pay per view since his debut a year ago and that was the UK Rebellion event. Van Dam gets a near fall following rolling thunder.
RVD hits a karate kick and then goes up top for the 5 star frog splash but Lesnar grabs him off the top and attempts the F5 which Van Dam reverses itno a DDT! Van Dam goes up top again and this time hits the 5 star frog splash! He takes his time to cover Lesnar and gets a 2 count as Heyman pulls the referee out of the ring! Referee Charles Robinson calls for the bell! It's a DQ win for Rob Van Dam. Charles Robinson lays into Heyman on the outside hitting some of the worst punches I've ever seen. Lesnar flings Robinson away and Van Dam dives out at Lesnar. RVD grabs a chair and looks to hit the Van Terminator on Lesnar but Heyman grabs him and Lesnar hits Van Dam with a suplex onto the chair and the F5 onto the chair. Decent match between these two but it didn't blow me away.
Rating: 6.75/10
Eric Bischoff and Coach are backstage waiting for Triple H to emerge. Stephanie McMahon emerges and tells Eric that he's signed. Triple H follows Stephanie out and Bischoff berates him. Triple H tells Eric that the papers he's signed are divorce papers.
Big Show vs. Booker T – No Disqualification match
This is a first PPV match between these two men. Big Show has the early advantage, throwing Booker T around the ring. Booker hits an enzeguri but Big Show gets right back into it with a clothesline. Show then clotheslines Booker T right out of the ring. Booker uses the opportunity to grab a steel chair but Big Show punches it right out of his hands. Show then throws Booker into the ringpost. Big Show wrestled at last years Vengeance event in a losing effort with Kane to the Dudley Boyz. The two men continue to brawl around the ring and Booker chokes Big Show with some cable. Booker has shown so much charisma recently. He takes apart the Spanish announce table and leather Big Show with one of the monitors. Booker then runs across the US announce table and scissor kicks Big Show right through the Spanish announce table!
Both men get back into the ring and Big Show grabs Booker by the throat but Booker hits him with a low blow and then the scissors kick. Booker goes up to the top and hits the Houston Hangover which is enough for the three! Booker T beats Big Show tonight in a fairly poor match.
Rating: 4.5/10
Torrie Wilson and Dawn Marie are at The World. Torrie thinks The Rock will win the WWE title tonight whilst Dawn Marie thinks The Undertaker will win. The two women then argue who looks better in a thong.
Triple H is out to announce whether he will be staying with Smackdown or moving to Raw. Before he can say anything, out comes Eric Bischoff. Bischoff apologies for earlier and tells him that if he comes to Raw then it'll be all business. Bischoff talks about the movie studios being interested in Triple H but out comes Stephanie McMahon. Stephanie says it'll be all business on Smackdown and points out it was Bischoff that once said Triple H had no charisma at all. Triple H ponders over both offers and offers his hand to Bischoff before pulling away. He says that he would prefer to go with the devil he knows rather than the devil he doesn't. Just as he is about to announce he is re-signing with Smackdown, Shawn Michaels music hits and out comes HBK. Michaels says he wouldn't like to be in Triple H's shoes but he wants Triple H to consider friendship and fun and he'll get all that if he signs with Raw. Triple H then says sorry to Stephanie and gives Michaels a big hug! Triple H is heading to Raw! Bischoff floats and gets a slap from Stephanie.
Mark whatshisface is backstage with Rikishi asking him about Triple H joining Raw. Rikishi is disappointed and says he's let down the kids in the locker room.
Booker T and Goldust are backstage when Terri Runnels turns up and asks Booker about Triple H joining Raw. Booker says if he's joining Shawn Michaels then he'll have a problem with them. Goldust says Triple H might be the game but they are the ones with the bigger joysticks.
There's a VT next for Hulk Hogan and Edge against Christian and Lance Storm. Edge and Hogan won the tag team titles on July 4th.
Hulk Hogan & Edge (c) vs. Lance Storm & Christian – WWE Tag Team Championship Match
Lance Storm goes into this match looking for the first PPV of his WWE career, one year after he debuted. He gets on the mic before the match and compares Hogan to America, being past his prime. Christian looks forward to getting the hell out of America. Hogan and Christian start the match and Hulk powers Christian right out of the ring. So far the Cruiserweight, European and Intercontinental Championships have all been retained by the champions so far tonight. Lance Storm takes a cheap shot on Hogan allowing Christian to take the advantage. Christian tags in Storm and they hit a double suplex on Hogan. Edge distracts the pair and Hogan hits a double noggin knocker on the challengers.
Hogan lays into Storm and he and Edge both take shots at the anti-American. Hogan hits a clothesline on Storm and then tags in Edge. Edge hits a flapjack on Storm. Some double teaming from the heels gives them the advantage. Storm hits a spinning heel kick and tags in Christian. At the July PPV last year it was Edge and Christian against Storm and Mike Awesome. Christian hits a backbreaker on his brother for a two count and then applies a sleeper. Edge tries to get out of it but Christian hits a backbreaker for a two count. Christian then attempts an elbow off the middle rope but Edge gets out of the way. Christian stops Edge from tagging but Edge hits an enzeguri and then tags out. Hogan hits some big right hands on both Christian and Storm and then a big boot on Storm. Christian hits his reverse DDT on Hogan for a two count.
Hogan starts to Hulk up and he hits a big boot on Christian after disposing of Storm and then drops the big leg on Christian! he makes the cover but Storm breaks it up. Hogan gets rid of Storm but Christian hits Hulk with a thumb to the eye. He then throws Hogan out of the ring where Lance Storm hits him with a superkick. Christian rolls him back into the ring and lays into Hulk with big right hands before tagging out to Storm. Storm and Christian make quick tags, isolating Hogan in the corner. Hogan fights back and hits clotheslines on both men but he goes down too. Hogan then tags out to Edge! Edge takes down both men with right hands, clotheslines and back body drops. Edge hits some big spears in the corner and gets a near fall on Lance before all hell breaks loose.
Hulk Hogan and Christian fight to the outside and Storm avoids a spear from Edge but Edge nails the referee! Edge hits an Edge-o-cution on Lance Storm but the referee is down. Test, an ally of Christian and Storm then appears, throws Hogan into the ring post and then hits a big boot on Edge. Storm covers Edge but Edge kicks out! Rikishi then shows up and fights Test to the back. Edge hits a spear on Storm but with the referee distracted by Christian and Hogan, Chris Jericho comes out of nowhere and smashes Edge with a tag team title! Lance Storm makes the cover and gets the three! Lance Storm and Christian with the tag team title tonight! Good match between these four, I really enjoyed it.
Rating: 7.25/10
Kurt Angle is backstage when Eric Bischoff turns up and says that he wants Angle on Raw whether he wins, loses or draws tonight. Kurt is flattered but only concentrating on his title match tonight.
Mark whatshisface is with Stephanie McMahon who says that she may have lost the first battle but she will win the war. She says she will rip the heart out of Raw.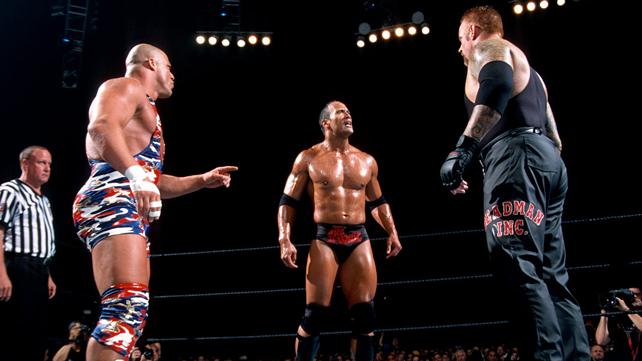 The Undertaker (c) vs. The Rock vs. Kurt Angle – Triple threat match for the WWE Championship
This is a very strong main event. We've seen these three men battle against each other in singles matches over the years but never in a triple treat match. It's the first main event since No Way Out back in February to not feature either Hulk Hogan or Triple H. Undertaker and The Rock go nose to nose in the early going but Kurt doesn't like being left out and ends up getting thrown out of the ring. The Rock lays into Undertaker before the champion takes him down with a clothesline. The Rock then clotheslines Undertaker out of the ring where Kurt Angle is waiting and throws Undertaker into the ring steps. Angle hits a German suplex on The Rock and then stomps away at him in the corner. Angle hits some painful sounding chops on The Rock in the corner until The Rock hits some of his own. Kurt hits a belly to belly suplex as an "Angle sucks" chant breaks out. Kurt hits another belly to belly on The Rock.
The Rock gets back into it with a DDT for a near fall. The three men battle on the outside of the ring where Undertaker looks like he's bleeding from the top of the head. Undertaker lays into The Rock and then rolls him back into the ring where he hits a sidewalk slam for a two count. Kurt Angle gets up onto the apron distracting The Undertaker for a moment which allows The Rock to get up and hit The Undertaker with a chokeslam for a two count. Kurt Angle gets back into the ring to break up the cover and then lay into The Rock. The Rock gets up, hits a clothesline on Angle and then locks on the ankle lock! Kurt gets out of it and hits The Rock with a rock bottom! Undertaker breaks up the cover and hits an Angle slam on Kurt! He makes the cover but The Rock breaks it up.
The Rock throws Kurt Angle out of the ring and then hits a spinebuster on The Undertaker. The Rock then hits the People's Elbow! But Kurt pulls him out of the ring and steals the cover only for Undertaker to kick out. Kurt and Undertaker slug it out in the corner  which results in Undertaker hitting a clothesline on Angle. Kurt misses with a shoulder charge in the corner and falls all the way to the outside. Undertaker joins him outside and lays into him but The Rock comes over and spits water in the champions face. Undertaker throws Rocky across the announce table and then goes back to work on Kurt Angle. Angle is bleeding from the face and Undertaker hits a leg drop on him on the apron. Back in the ring and Undertaker hits old school on Angle for a two count. After breaking up the cover, The Rock lays into The Undertaker but he lowers his head and Undertaker hits him with a DDT for a near fall.
Kurt grabs a steel chair from outside and runs at Undertaker who sees him coming and hits him with a right hand. The Rock and Undertaker then take it in turns to him Kurt with right hands. The Rock hits undertaker with a low blow and then Kurt smashes Undertaker with the chair! Angle hits the Angle slam on The Rock and then crawls over to Undertaker, pins him but Undertaker kicks out! Angle then covers The Rock who also kicks out! The Rock grabs the leg of Kurt Angle and locks on the Sharpshooter! Angle looks like he's about to tap out but Undertaker big boots The Rock. Undertaker then hits the last ride on The Rock but Kurt Angle breaks up the pinfall and locks the ankle lock on Undertaker!
Undertaker gets out of the ankle lock and attempts the last ride on Angle but Angle locks on a triangle choke! Undertaker looks like he's out of it but The Rock makes the save and breaks the hold. He then attempts the Rock Bottom but Kurt takes Rocky down and locks on the ankle lock! The Rock gets out of it and rolls Kurt up for a two count. Undertaker hits a chokeslam on Angle but The Rock hits Rock Bottom on Undertaker! Undertaker kicks out of the pinfall and we're back to square one. Undertaker boots The Rock down and Kurt hits the Angle slam on Undertaker. Kurt pulls down the straps but turns around into a Rock Bottom! The Rock makes the cover and The Undertaker is a second too late to break up the cover! The Rock wins the match and the Undisputed WWE Championship! He's heading to Summerslam to take on Brock Lesnar!
Rating: 8.25/10
Well that was Vengeance 2002. One thing that stood out was how stacked the roster is at this point. Look at the guys who wrestled, The Undertaker, The Rock, Kurt Angle, Hulk Hogan, Edge, Chris Jericho, John Cena, Brock Lesnar, Rob Van Dam, Chris Benoit, Eddie Guerrero, Booker T, Big Show. With Triple H and Shawn Michaels also present for the event. We kicked off with a surprising result when Bubba Ray and Spike beat Eddie Guerrero and Chris Benoit. Don't get me wrong, The Dudley Boyz win tables matches, that's their thing. And I guess that's why they won. I would have preferred to have seen Benoit and Guerrero win but that's just me.
Jamie Noble retained his title against Billy Kidman. That result is fine and gives Noble a decent title defence. With Rey Mysterio soon to debut I can see him getting involved in the title picture soon. It wasn't a bad match between Noble and Kidman, Noble bring a slower pace to the division but he has a boatload of charisma and can carry the division over the next few months. Jeff Hardy then beat William Regal. I'm not sure Jeff needs the European title at the moment but it does get him on pay per views which is important for him at the moment. Jeff looks to be on the verge of a huge push and it'll be interesting to see his development over the next few months. I like Regal in the mentor role for Chris Nowinski. John Cena then beat Chris Jericho in the biggest upset of the night. Jericho hasn't won a PPV match since No Way Out back in February, he could have done with a win tonight. Could Cena be the next big thing on Smackdown? He's a bit of a white meat babyface at the moment.
Rob Van Dam retained his IC title against Brock Lesnar next. I like RVD as Intercontinental Champion so it makes sense to keep him as champion but it was important for Lesnar to be protected. They probably could have done it better though. None the less, Van Dam wins by DQ and if nothing else the result was good to see Charles Robinson go nuts on Paul Heyman. Lesnar now heads to Summerslam to face off against The Rock (presumably). Booker T then beat The Big Show in an average match. This one could have gone either way really but it felt like a big win for Booker and gives him some momentum. Speaking of big wins, Lance Storm and Christian got a huge win over Hulk Hogan and Edge. They were definitely the under-dogs and got help from Test and Chris Jericho. I don't mind Storm and Christian as champions though. Where does this leave Hogan and Edge for the second biggest show of the year? Maybe a match between the two at Summerslam?
Then in the main event it was a huge win for The Rock. I think they had this in mind for a while but it was interesting to see Angle added to the match. The match was really good. A solid main event between three men who are experienced in main events. A good main event to an above average show.
Overall Rating: (62.5/100 ranked joint 32nd out of 140)
Match Of The Night: The Undertaker vs. The Rock vs. Kurt Angle
Worst Match Of The Night: Booker T vs. The Big Show
Surprise Of The Night: Lance Storm & Christian win the tag team titles
Worst Booking Of The Night: Bubba Ray & Spike beat Benoit & Guerrero
Superstar Of The Night: The Rock
Vengeance 2002 Will Be Remembered For: The Rock winning the WWE Championship