| Date: March 30, 2003
| Venue: Safeco Field | City: Seattle, Washington
| Attendance: 54, 097 | Buys: 560, 000
| tweet me: @BastionBlogger
Dare To Dream. That's what the tagline is for Wrestlemania 19 and there are plenty of superstars from both Raw and Smackdown who have dared to dream themselves on the grandest stage of them all. There are ten big matches tonight, one of which will be on Sunday Night Heat before the show. The main event tonight is the winner of the Royal Rumble match Brock Lesnar taking on WWE Champion Kurt Angle. Since No Way Out, Brock has run through the likes of Team Angle and Paul Heyman in order to get at Kurt. Kurt and Brock were scheduled for a singles match on Smackdown a few weeks ago but Kurt tricked Brock by putting his brother Eric out. Since then, Smackdown GM Stephanie McMahon has said that if anybody gets involved in Kurt match at Wrestlemania then Kurt will lose his title.
The World Heavyweight title will also be on the line tonight as Triple H defends against Booker T. Booker T won a battle royal to get a shot at Helmsley, last eliminating The Rock. Since then Triple H has been vocal that "people like Booker T" shouldn't be getting shots at the World Heavyweight title. There has been a lot of racial undertones and Triple H has also bought up the fact that Triple H is a convicted criminal. Last week on Raw Booker T and Goldust beat Triple H and Ric Flair. The other big match from the Raw brand is The Rock taking on the man that he has never defeated at a Wrestlemania event "Stone Cold" Steve Austin. Rock made the challenge to Austin as beating him at Wrestlemania is the only thing he hasn't achieved in his career.
Vince McMahon tried to kill Hulkamania at No Way Out when his bent referee Sylvain Grenier cost Hulk Hogan his match against The Rock. McMahon would then claim Hulkamania is dead but Hogan denied this and says Hulkamania is stronger than ever. McMahon challenged Hulk to a match at Wrestlemania with the stipulation that if Hogan lost he would be forced to retire. Hogan agreed to the match and McMahon would attack Hogan at their contract signing in order to sign the contract in Hogans blood. Also from Smackdown will be a tag team match with The Undertaker and his protegé Nathan Jones taking on The Big Show and A-Train. This feud has been pretty straight forward, with Jones evening the odds after A-Train attacked Undertaker following his match with The Big Show at No Way Out. Four big men battle in this one.
A feud that has been going on for months is the one between Shawn Michaels and Chris Jericho. Jericho has always claimed that Michaels was his idol growing up and that he always wanted to be the next Shawn Michaels but now he wants to be the first Chris Jericho. Jericho eliminated Michaels from the Royal Rumble earlier this year, attacking him from behind and the two agreed to a match at Wrestlemania. The other Raw brand match on the main card tonight is a triple threat match with Victoria defending her Women's Championship against Trish Stratus and Jazz. Victoria attacked both Trish and Jazz as they battled to be number one contender which resulted in the match being made a triple threat at Wrestlemania.
There will be two more title matches tonight, both representing Smackdown. The World Tag Team titles will be defended as Team Angle defend their belts against both Los Guerreros and Chris Benoit and Rhyno. Much like the build to the Women's championship match, Team Angle attacked the other two teams as they battled to become number one contenders. Stephanie made the triple threat match for Wrestlemania. The Cruiserweight Championship will also be defended. Rey Mysterio beat Jamie Noble to become number one contender to Matt Hardy's belt.
Sadly there are a few guys missing from the biggest pay per view of the year. Guys like Scott Steiner, Randy Orton and Batista have made an impact in recent weeks but it's those like The Hurricane, Jeff Hardy, Test and Christian who have played big parts on Raw and Smackdown over the past year but there's no spot for them on this card. That even goes for tag teams like Rob Van Dam and Kane and World Tag Team Champions Lance Storm and Chief Morley who met on Heat before Wrestlemania. Storm and Morley retained their titles when Bubba Ray Dudley dropped an elbow on Van Dam to cost him the match.
A VT kicks us off with the likes of Booker T, Undertaker, Stone Cold Steve Austin, Kurt Angle and Brock Lesnar talking over it. They all hype up Wrestlemania whilst talking about previous events. Jim Ross then welcomes us to Wrestlemania, he's joined by Jerry "The King" Lawler. Michael Cole and Tazz then introduce us to the Smackdown portion of the show.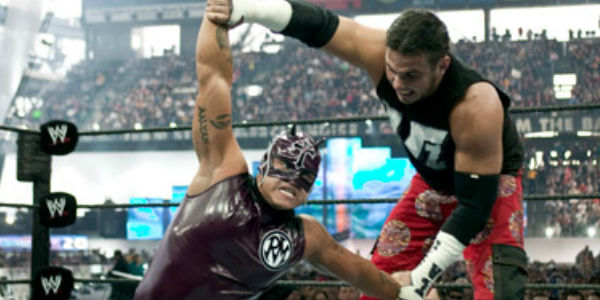 Matt Hardy (c) vs. Rey Mysterio – Cruiserweight Championship Match
This first PPV meeting between these two men marks Rey Mysterio's Wrestlemania debut. He goes into this match looking for his first pay per view victory whilst Matt Hardy looks for his first Wrestlemania victory on the fourth time of asking. It's Matts first singles match at a Wrestlemania event and he is accompanied by his Mattitude follower Shannon Moore. Moore distracts Mysterio before the bell rings but this doesn't distract Mysterio long enough for Hardy to take an advantage. Mysterio gets the first near fall of the night and he follows that up with a leg scissors and a spinning heel kick. Mysterio attempts a sunset bomb but Shannon Moore kicks Mysterio to allow Matt to take the advantage. Hardy gets a couple of near falls himself before choking Mysterio on the ropes.
Mysterio, dressed in purple, attempts a springboard but Hardy catches him and attempts a twist of fate but Mysterio counters it. Hardy hits side effect but Mysterio kicks out of the pinfall attempt. Hardy applies a surfboard stretch but Mysterio gets out of it. Hardy misses with a shoulder charge in the corner allowing Mysterio to hit a couple of springboard moves for a near fall. Mysterio hits a spinning head scissors and a DDT for a two count. Rey sets up Hardy for the 619 but Shannon Moore grabs Mysterio's legs. That allows Hardy to hit the twist of fate but Mysterio kicks out of the pinfall!
Hardy looks to hit a Razor's Edge from the top rope but Mysterio reverses it into a hurricanrana from the top! Rey makes the pin but Shannon Moore puts Hardy's foot on the rope. Moore gets up on the apron but Mysterio sidesteps Hardy who goes crashing into his follower. Mysterio then hits the 619 on Hardy but Hardy ducks the West coast pop! Mysterio goes for a victory roll but Hardy sits down on him and grabs on to the ropes to get the 3 count! Matt Hardy wins the match and retains his Cruiserweight title! Good way to start the show!
Rating: 6.5/10
We see some "catfight girls" arriving and arguing over their favourite superstars.
Next there's some footage from Sunday Night Heat showing The Big Show and A-Train attacking Nathan Jones. Will he be ready for tonights match?
Limp Bizkit are out to sing Rollin' for Undertakers entrance.
The Undertaker vs. The Big Show & A-Train
The Undertaker goes into this match with an unblemished 10 – 0 Wrestlemania record. A-Train is the same actually, he's had one prior match at the biggest event of the year and he won it. This is Big Show's fourth Wrestlemania match, he's looking for his first Wrestlemania victory tonight. A-Train spits on Undertakers bike as he makes his entrance. This serves as a distraction for Undertaker but he quickly gets rid of Big Show and then chokeslams A-Train for a near fall. Big Show and A-Train have to tag each other in and out of the match and it's Big Show that starts the match. Undertaker lays into Big Show causing him to tag in A-Train. A-Train doesn't have any luck either and Undertaker hits him with a hiptoss and then the old school clubbing blow off the ropes.
Big Show distracts Undertaker allowing A-Train to hit him with the de-railer. He then throws Undertaker out of the ring which allows Big Show to drive him into the ring post and then onto the barrier. Back in the ring and A-Train slingshots Undertaker into the middle rope for a near fall. A-Train then tags in Big Show who finds himself on the receiving end of some big right hands. Big Show then goes for a chokeslam but Undertaker drops him with a fujiwara arm bar. A-Trina comes in to break it up but Undertaker locks an arm bar on him. Big Show breaks it up with a legdrop and follows that up with a headbutt. Show then locks on an abdominal stretch and A-Train offers him arm for extra leverage. Show tags in A-Train who locks on an abdominal stretch of his own.
Undertaker locks on an abdominal stretch of his own before hitting a side suplex. Big Show cheap shots Undertaker and then A-Train knocks him down with a clothesline for a two count. Undertaker fights back with rights and lefts and then a DDT. Big Show breaks up the pinfall attempt. It's worth noting that there is no Paul Heyman at ringside for this one. Undertaker fights both men, hitting them with clotheslines in opposite corners. He then takes Big Show down with a flying clothesline but A-Train takes down Undertaker with a pump kick. Big Show hits Undertaker with a chokeslam but then out comes Nathan Jones! Big Show goes to meet him in the entrance way and Nathan Jones takes him down with a spin kick. Nathan Jones gets in the ring and hits a spin kick on A-Train and Undertaker Tombstones A-Train to get the three! Undertaker wins the match and is announced as the winner. Surely it should have been a disqualification? I don't think Nathan Jones knows what he's doing to be honest.
Rating: 5/10
The catfight girls bump into Stacy Keibler and Torrie Wilson backstage. They all seem to get one well and leave together.
Next up is some footage from Heat with The Dudley Boyz hitting Lance Storm with the 3D in his tag team title match but then Bubba Ray dropping an elbow on Rob Van Dam, costing him and Kane the match.
Victoria (c) vs. Trish Stratus vs. Jazz – Triple threat match for the Women's Championship
This match is similar to the Women's title at last years Wrestlemania except Victoria replaces Lita. Jazz won the match last year. She attacks Trish and Victoria before the bell. Victoria is accompanied by Steven Richards. Jazz gets rid of Victoria so she and Trish can go at it. Trish hits a Lou Thesz press and then Victoria drags her out of the ring. The girls go at it on the outside until Victoria throws Trish back in the ring and hits her with a legdrop for a two count. Jazz then hits Trish with a legdrop for a near fall. It's a Wrestlemania debut for Victoria. Victoria and Jazz hit a double shoulder breaker on Trish before taking shots at one another. Victoria hits a big powerslam on Jazz for a near fall. Victoria has been champion since Survivor Series and successfully defended the title at Armageddon in a triple threat with Trish and Jacqueline.
Trish hits a pump kick and a clothesline on Victoria. Jazz then hits a sit-out slam on Trish for a near fall. Trish hits a double noggin knocker on Jazz and Victoria and then Victoria holds Trish for Jazz but Trish ducks and Jazz hits Victoria. Trish then rolls up Jazz for a two count. Trish hits a chick kick on Jazz but Victoria breaks up the cover. Victoria hits a knee on Trish and then goes to the top but Trish hits her with her trademark hurricanrana. Trish knocks Victoria out of the ring and then Jazz locks a half Boston crab on Trish and then turns it into an STF. Victoria gets up on the apron and Steven Richards then attacks Jazz and throws her out of the ring. Victoria gets in the ring and so does Jazz who takes Victoria down with a clothesline.
Jazz picks Trish up in the chickenwing position and throws Trish to the mat. Victoria then takes Jazz down before missing a moonsault. Steven Richards is back in with a chair but misses everyone and hits himself. Trish hits him with Stratusfaction. Trish then hits Victoria with Stratusfaction and pins her to get the three! Trish wins the match which was fast paced and fun. Trish is the new Women's Champion!
Rating: 6/10
The Coach is backstage with The Rock. The Rock doesn't like the people as they boo'd him at last years Wrestlemania. Rock says that the previous two meetings at Wrestlemania between him and Austin don't matter because everyone only remembers the third act.
Team Angle (Charlie Haas & Shelton Benjamin) vs. Los Guerreros (Eddie & Chavo Guerrero) vs. Chris Benoit & Rhyno – Triple threat match for WWE Tag Team Championships
Wrestlemania debuts for Team Angle, Chavo and Rhyno tonight. Benoit and Eddie Guerrero both have 1-1 records at Wrestlemania. None of these 6 men actually wrestled at last years Wrestlemania. The 6 men go at it before the bell rings until eventually Charlie Haas and Chavo officially start the match. Chavo hits a back drop and a side suplex before Haas tags out to Benoit. Chavo takes Benoit down with an arm drag before tagging out to Eddie. Eddie hits some big right hands on Benoit until Benoit swings him round and hits him with some chops. Eddie hits a shoulder charge on Benoit and both men go down. Benoit then tags in Rhyno. Rhyno hits a powerslamo n Guerrero for a two count. Eddie tags in Shelton Benjamin. Team Angle are looking for their first PPV victory tonight.
No Paul Heyman with Team Angle tonight. Benjamin tags in Haas and both members of Team Angle hit a dropkick on Rhyno. Rhyno tags in Benoit who lays into Charlie Haas. Benoit tags Rhyno back in and Haas tags in Benjamin. Rhyno hits a shoulder charge in the corner for a one count. Eddie tags himself in and hits a dropkick on Rhyno. Rhyno tags Benoit who Eddie hits with a side suplex. Eddie then heads to the top but Benoit meets him up there and hits him with a superplex. Benoit gets a near fall after Benjamin breaks up the pinfall. Benoit then locks the crippler crossface on Guerrero but Charlie Haas breaks it up. Eddie hits a big brainbuster on Benoit for a two count. Eddie tags in Chavo who takes out everyone before Benoit hits him with four German suplexes. Chavo tags in Benjamin who hits a superkick on Benoit. Eddie breaks up the pinfall attempts and then he and Benoit knock heads.
Benjamin hits a slam on Benoit and then a legdrop but as he makes the cover Eddie comes off the top with a frog splash! Chavo then tags himself in but Haas hits him with a belly to belly suplex. Rhyno then hits Haas with a Gore and then does the same to Chavo! Eddie drags Rhyno out of the ring and Shelton Benjamin covers Chavo and gets the three! Team Angle win the match and retain their WWE Tag Team titles!
Rating: 7/10
Torrie and Stacy are still backstage with the catfight girls. Stacy says that Vince McMahon made Wrestlemania but Torrie disagrees and says it was Hulk Hogan that made Wrestlemania what it is. The catfight girls also disagree, one thinks it was Vince McMahon and the other thinks it was "Hulk Holgan".
Shawn Michaels vs. Chris Jericho
This is Shawn Michaels 10th Wrestlemania, he's previously only won 3 matches at this event and lost 6. Jericho has a 2-1 record at Wrestlemania and main evented last years event against Triple H. It's a first PPV meeting between these two men. Michaels has a 2-2 record since returning to the WWE at Summerslam last year. His last Wrestlemania appearance was at Wrestlemania 14 back in 1998. Michaels shoots pyro guns as he comes out but half of them don't work. All 5 of Shawns PPV matches since returning to the WWE have either included Triple H or Chris Jericho. Michaels looking for his first PPV victory since Survivor Series. There's a little bit of chain wrestling in the early going. Jericho takes Michaels down with a shoulder charge and then slaps HBK in the face. Michaels tosses Jericho out of the ring and then hits him with a baseball slide.
Back in the ring and Michaels heads to the top and hits a cross body but Jericho rolls through it for a near fall. Jericho hits a spinning heel kick. Michaels locks on a figure four leglock but Jericho quickly counters the hold. Michaels attempts the figure four again but Jericho kicks him into the ringpost. Jericho throws Michaels out of the ring but Michaels skins the cat and head scissors Jericho out of the ring. Michaels then hits a plancha to the outside and hits Jericho with right hands up the entrance ramp. Shawn attempts a dropkick but Jericho catches him and locks on the walls of Jericho at the bottom of the entrance ramp. Jericho rams Michaels back into the ring post a couple of times and then celebrates in the ring. HBK gets up on the apron nd Jericho hits him springboard dropkick knocking Michaels back to the outside.
Jericho rolls Michaels back in the ring and hits him with a side suplex and a vertical suplex for a near fall. Jericho locks on a sleeper which Michaels gets out of and then reverses a back body drop into a DDT. Jericho hits a flying forearm and then nips up and celebrates like Shawn Michaels would. Michaels then nips up himself and takes down Jericho with an inverted atomic drop and a big back body drop. Michaels hits a boot and then a moonsault for a near fall. The two men exchange pinfalls and then Jericho goes for the walls of Jericho but Michaels kicks him off. Jericho hits a northern lights suplex for a two count. Jericho then hits a clothesline and a bulldog. Jericho hits the lionsault but takes a while to make the cover so only gets a 2 count.
Michaels attempts a hurricanrana but Jericho puts the brakes on and then applies the walls of Jericho! Michaels gets to the ropes to break the hold. Jericho hits a double underhook backbreaker and then heads to the top where he hits a reverse elbow. Jericho motions for sweet chin music and he hits it! Jericho pins Michaels but Michaels kicks out! Michaels has been wrestling for titles in his last 5 Wrestlemania matches, the last time he didn't was against Tito Santana at Wrestlemania 8. It's also Jericho's first Wrestlemania match that isn't for a title. Michaels slingshots Jericho into the ringpost for a two count. Jericho attempts a suplex from the top but Michaels counters it into a cross body. Shawn heads to the top but Jericho pushes the referee into the ropes to crotch his opponent. Jericho goes up for a superplex but Michaels throws him off the top before coming off the top with an elbow drop.
Michaels then motions for sweet chin music but Jericho ducks it, takes Michaels down and locks on the walls of Jericho! Michaels gets to the ropes to break the hold. Michaels then hits sweet chin music from nowhere! Michaels makes the cover but Jericho kicks out! Both men get up and Jericho hits a hard Irish whip. Jericho then goes for a suplex but Michaels nips down the back and rolls Jericho up and gets the 3! It's an abrupt finish but Michaels win the match tonight! After the match the two men hug before Jericho hits Michaels with a low blow! Great match between these two men.
Rating: 9/10
Backstage bent referee Sylvain Grenier is backstage shown walking into Vince McMahon's locker room.
We then hear that Wrestlemania has produced an attendance record.
Limp Bizkit then come out and sing a song. Piss break.
Extended piss break as The Coach announces a cat fight between the miller light girls. Stacy Keibler then interrupts, she wants to get involved. Torrie Wilson is out next, she wants in. The tops come flying off as does Coach's pants. This is terrible. The girls leave together.
Video package next for Triple H and Booker T. Booker T has a great mug shot.
Triple H (c) vs. Booker T – World Heavyweight Championship Match
Triple H has a 4-3 record at Wrestlemania, Booker T has a 0-1 record. It's a first one on one PPV match between these two men. Booker has had a good run since joining the WWE, feuding with the likes of Triple H, Steve Austin, The Rock, The Undertaker and Edge. Ric Flair is present in Triple H's corner. Booker knocks Triple H down with a right hand and the two men then exchange chops. Booker hits a big back body drop and some more chops. Triple H goes to the top but Booker arm drags him down to the mat. Booker T hits a clothesline for a two count. These two men were in the same ring at Survivor Series last year when Shawn Michaels won the Elimination Chamber. Triple H ducks a kick and then back body drops Booker onto the apron before smashing him into the ring post to drop him to the outside.
This is Triple H's second World Heavyweight title reign. He's left the last two PPVs against Scott Steiner with the gold, he's looking to make it 3 from 3. Helmsley hits a neckbreaker for a near fall. Triple H hits a nice Arn Anderson style spinebuster for a near fall. No sign of Randy Orton or Batista tonight. Triple H hits a big clothesline on Booker in the corner. Booker hits a DDT, a big spinning heel kick, a sidewalk slam and a flying forearm for a near fall. Triple H locks on a sleeper which he was using as a finisher at one point. Booker T rams Triple H into the ring post but Triple H hits his challenger with a high knee for a near fall. Booker hits a spinebuster for a two count and then kicks Triple H as he comes diving off the top rope. Booker attempts his scissors kick and Triple H gets out of the way so Booker tries for it again but this time goes flying out of the ring. Ric Flair then smashes Booker into the ring steps.
Back in the ring and Triple H locks on an Indian deathlock. Booker gets to the ropes but the damage has been done. Triple H continues to work away at the knee of Booker who screams in agony. Booker T does manage to roll Triple H up from nowhere but Triple H kicks out. Triple H then goes for the Pedigree but Booker counters it and slingshots Triple H into the referee. Referee Nick Patrick seems fine though, he completely no sells it. Booker hits a reverse elbow and then his scissors kick! Booker T is hurt though and eventually rolls over but only for a two count. Booker goes to the top but Ric Flair is up on the apron only to get hit off. Booker then hits Triple H with a somersault legdrop (Harlem legdrop? Something like that). But Booker pins Triple who gets his foot on the rope.
Booker gets up and bounces off the ropes but his leg gives way. Triple H then hits him with the Pedigree but takes a long time to pin the challenger. He eventually puts an arm on him and gets the 3! Triple H wins the match and retains the World Heavyweight Championship for a third straight pay per view. A big win for Triple H.
Rating: 6/10
VT up next for Hulk Hogan and Vince McMahon.
Hulk Hogan vs. Vince McMahon – Street Fight
Hulk Hogan has won 7 matches at Wrestlemania before, 3 losses and one draw. Vince has had one match at Wrestlemania before, losing to his son Shane. If Hulk Hogan loses this match then Hogan must retire. Vince McMahon is looking ripped. He slaps Hulk Hogan before the bell but Hogan takes McMahon down. Hulk has his weight belt on which means that'll be getting used. Hogan hits some big right hands and a weak looking clothesline. Earlier we saw bent referee Slyvain Grenier but he isn't the referee in the ring right now. Hogan lays into McMahon in the corner with right hands and boots. McMahon hits an elbow and a clothesline of his own before hitting right hands and elbows in the corner. Vince then goes to work on the left arm of Hogan. He applies a hammerlock which is an odd thing to do in a street fight.
McMahon wraps Hogans arm around the ring post. The two men then get into a test of strength which McMahon wins for the most part albeit with a few kicks. Vince tosses Hogan out of the ring and then throws him into the barricade and ring post. Vince swings a chair at Hogan who ducks it and then smashes McMahon into the ringpost. Hogan hits McMahon with the steel chair and celebrates with the chair. McMahon is busted open now and Hogan lays into McMahons forehead with his fist. Back in the ring and Hogan drops McMahon with right hands sending him back out of the ring. Hogan then grabs a steel chair and lays into McMahon with it. McMahon ducks one swing and Hogan nails one of the Spanish announcers with it. Vince hits a low blow and then swings the chair into Hogans face.
McMahon pulls a ladder out from under the ring and randomly decides to climb it. Hogan pulls him down but McMahon shoves him into the barricade. Vince then lays Hogan across the Spanish announce table and climbs up the ladder before diving off with a huge leg drop. McMahon rolls Hogan back into the ring but only for a two count. McMahon looks under the ring and finds a steel pipe. There's a shot of him coming back up with an evil look on his face. Hogan hits McMahon with a low blow before he can use the pipe. Rowdy Roddy Piper then shows up in a big black overcoat! He takes off the coat to reveal his trademark t shirt and kilt. Piper spits at Hogan and then kicks McMahon. He picks up the steel pipe and tells McMahon to get up before turning round and smacking Hogan with it! McMahon crawls over and pins Hogan but Hogan kicks out!
McMahon goes for the steel pipe but referee Brian Hebner stands on it! Vince disposes of the referee and then picks up the pipe and motions at someone to come out from the back. Out comes referee Sylvain Grenier but he's followed by referee Mike Sparks. McMahon smashes Hogan with the pipe and then hits a legdrop! Vince pins Hogan and Grenier makes the count but Hogan kicks out! Hogan then Hulks up! Hogan knocks McMahon down with a right hands and then disposes of Sylvain Grenier. Hulk hits McMahon with a big boot and then three legdrops! He makes the cover and it's over! Hulk Hogan beats Vince McMahon tonight! Shane McMahon then walks out and check on his father whilst staring a hole through Hulk Hogan. Vince flips Hogan the bird.
Rating: 7/10
There's a video package next for The Rock and Stone Cold Steve Austin.
"Stone Cold" Steve Austin vs. The Rock
This is the sixth PPV match between these two men and Stone Cold Steve Austin has won the first 5. The Rock has never beaten Austin on PPV and that includes two prior bouts at Wrestlemania. Austin has a 5-1 record at Wrestlemania whilst The Rock has a 3-3 record. Austin lays into The Rock in the early going with right hands and then attempts a Stone Cold Stunner but The Rock escapes out of the ring. Austin goes after The Rock, hits him with a clothesline and then into the barricade and steel steps. Austin clotheslines The Rock onto the Smackdown announce table and then drops him on the barricade before throwing him into the steel steps. Back in the ring and Austin chokes The Rock and hits him with a side suplex for the first near fall of the match.
Austin hits a clothesline on The Rock to knock him down and then chokes him on the ropes. The Rock aims for Austins knee to send him sprawling to the outside and then follows it up with another chop block. Back in the ring and The Rock continues to work on Austins knee, wrapping it round the ring post. Rocky then locks on a Sharpshooter in the middle of the ring but Austin gets to the ropes. The Rock then smashes Austins knee into the ringpost again before putting Stone Colds vest on and getting back in the ring. Austin knocks The Rock down with a big clothesline. Both men get up and Austin hits some right hands and then the Lou Thesz press. Austin then bounces off the ropes and drops an elbow on The Rock for a near fall. Austin stomps a mudhole in The Rock in the corner but The Rock hits him with a big clothesline and nips up.
Austin gets up to his feet and hits The Rock with Rock Bottom! Austin hooks the leg but Rocky kicks out! Austin then attempts to kick The Rock but Rocky catches his leg and hits Austin with the Stone Cold Stunner! The Rock hooks the leg but Austin kicks out of his finisher. Austin then hits the Stone Cold Stunner! But both men are down. Austin crawls over and hooks the leg but Rocky kicks out. Austin shoves the referee out of the way and so The Rock hits Austin with a low blow. The Rock then motions for the People's Elbow but Austin rolls out of the way! Austin then goes for the Stunner but The Rock shoves him into the ropes and hits him with a spinebuster. The Rock then hits the People's Elbow and he hooks the leg but Austin kicks out.
The Rock motions for Rock Bottom and he hits it! He then hooks the leg but Austin kicks out. Jim Ross is on point with his commentary in this match. The Rock goes for another Rock Bottom and he hits it! He covers Austin again but again Austin kicks out! The Rock motions for a third and he hits it! The Rock hooks the leg and referee Earl Hebner counts the 3! The Rock finally beats Stone Cold Steve Austin. He sits whispering to Austin, thanking him for the match. The Rock celebrates a really good match.
Rating: 8.25/10
Video package next for Brock Lesnar and Kurt Angle.
Kurt Angle (c) vs. Brock Lesnar – WWE Championship Match
There's no Paul Heyman at ringside for this one. It's a Wrestlemania debut for Brock Lesnar whilst Kurt goes into this match with a 2-1 win record at Wrestlemania. This night marks one calendar year since Lesnar debuted and this is the match the year has led to. Brock won the King Of The Ring, won the WWE Championship at Summerslam, lost it at Survivor Series, won the Royal Rumble and now finds himself in the Wrestlemania main event. Plenty of chain wrestling in the early going and Brock applies an armbar. Kurt reverses it as the two men attempt to out-wrestle one another. Brock hits a reverse elbow to take Angle down and then hits him with some shoulder charges in the corner. Lesnar then hits a slam for the first near fall of the match.
This is a first Wrestlemania main event for Angle who hits a German suplex on Brock. Lesnar gets back up and hits some kicks and knees before Kurt escapes the ring. Back in the ring and Brock press slams Kurt Angle to the mat. Kurt hits a boot and then German suplexes Brock into the corner. Angle hits a side suplex for a two count. Kurt then hits a vertical suplex with a floatover for a near fall. Angle then locks on what looks like a Tazmission. Kurt breaks the hold and hits a belly to belly suplex and then a couple of big knees sending Brock out of the ring. Kurt then throws Brock back into the ring but Brock catches Angle with a spinebuster. Brock hits a flying forearm, a clothesline and a big kick before shoving Angle into the corner and hitting him with shoulder charges. Lesnar then hits a belly to belly suplex throwing Angle across the ring before hitting another for a near fall.
Both men get up and Kurt hits four German suplexes on Lesnar. Kurt then goes for the angle Slam but Brock nips down and sets up for the F5 but Kurt gets down from it and locks on the ankle lock! Brock gets out of it and backdrops Angle out of the ring. Kurt gets back in the ring and hits Lesnar with a huge German suplex for a near fall. Kurt then hits the Angle Slam! He hooks the leg but Lesnar kicks out. Kurt then attempts another Angle Slam but Brock rolls him up for a two count. Both men get up and Lesnar hits Angle with the F5! Brock hooks the leg but Angle just gets his shoulder up. Kurt then locks on the ankle lock from nowhere! Brock gets to the ropes and then kicks Kurt across the ring. Brock then sets up for the F5 but Angle rolls him up for a two count. Angle then goes for the Angle Slam but Brock nips down and hits Kurt with the F5!
Brock hesitates instead of going for the pinfall. After a few seconds Lesnar heads to the top where he dives off with a shooting star press! Lesnar nearly kills himself, landing on his head. Brock holds his head and Kurt pins up but Brock does kick out. Kurt pulls Brock to his feet but Brock kicks him and hits Angle with a third F5! Brock throws his arm over Angle and the referee counts the 3! Brock Lesnar beats Kurt Angle to become a 2 time WWE Champion! The two men shake hands and then hug in the middle of the ring to end the show.
Rating: 7.75/10
Well I feel out of breath, that was some Wrestlemania. 9 matches took the show to 3 hours and 45 minutes. I like how they kicked things off with Matt Hardy and Rey Mysterio, it was a fast paced match to start the show with. I was expecting Rey Mysterio to win so was surprised Hardy took home the gold although I am loving Hardy's work right now so am more than happy he continues his run. Hardy won by cheating and it means that Mysterio has still not won a match on pay per view. I think this feud will continue. The pace then slowed as Undertaker took on Big show and A-Train in a handicap match. I'm assuming Nathan Jones was taken out of this match because his in-ring work wasn't good enough. Jones would show up though and clearly The Undertaker should have been disqualified. This was the poorest match of the night and should be the end of this feud. No idea where they go with Nathan Jones.
A new Women's Champion was crowned as the jewel in the crown of the women's division Trish Stratus pinned Victoria. The women's division isn't the strongest at the moment and I'm hoping Lita will return soon. Jazz and Victoria are still strong and it'll be interesting to see who challenges Trish next. Not a bad match from these three girls. The WWE Tag Team Championship match that followed was good fun. I get the impression Rhyno was filling in for Edge but that's fine, Rhyno is decent. I like proper tag teams so don't mind Team Angle winning despite them looking a little green. I think Rhyno will probably turn on Benoit before long and Los Guerrero's will continue to feud with Team Angle. I really liked the finish to this match with Rhyno's Gore getting a big push and being the move to cost Chavo the match. This match also seemed a bit of a "throw everyone in on Smackdown that deserve to be on the card" match.
There felt like a bit of a split in the show here with the remaining five match all being of epic proportions. Shawn Michaels beat Chris Jericho which surprised me a little. I did think Michaels would put Jericho over. But this was a classic match and one of the best in Wrestlemania history. I loved the hug and then the low blow at the end, it meant Jericho left with his head held high. Really good match here that shows Michaels can still go. Triple H beat Booker T in an above average match. The World Heavyweight Championship has been used in a middle of the card slot on a couple of occasions now. Triple H won fairly cleanly to be honest which makes me think that this feud is over. Flair did get involved but at the end of the day it was Triple H and his Pedigree that retained the belt. Booker doesn't seem as hot as he was a few months ago, I get the impression he was getting bigger crowd reactions when playing the comedy role.
Hulk Hogan beat Vince McMahon in a match that Rowdy Roddy Piper returned in. That was unexpected but it's great to have Piper back. Is this going to lead to Hogan vs. Piper? Hogan kept his job in the end and we got that awesome shot of McMahon peering over the ring apron with a grin on his face whilst covered in blood. Hopefully Hogan sticks around, I'm loving seeing these legends in action. Hogan vs. Shane next? Hogan vs. Piper? There are a couple of options. Then was the Austin/Rock match. This felt like The Rock kicking Austins ass for most of the match and probably came across more one sided than it should have been. It's a nice touch to have The Rock beat Stone Cold and get that elusive win. Between you and me, this is Austins last ever match and it's fitting that it was against the man he had forged such a rivalry with. Great match.
Finally in the main event Brock Lesnar beat Kurt Angle for the WWE title. This was some match. Brock missing that shooting star press is one of the cringiest things I've ever seen, he nearly killed himself. IT feels that the whole of the last 12 months has been building to this match and this conclusion. Lesnar becomes a two time WWE Champion beating the man they predicted such chemistry with. I don't mind that at all. Lesnar does feel a bit lost without Heyman but maybe they'll get back together down the line. I could actually see a double turn with Angle but they have to wait a while. Overall this Wrestlemania felt really good. Especially the last 5 matches, it's hard to find a run of 5 better matches on a single show.
Overall Rating: 69.4/100 (ranked 6th  out of 149)
Match Of The Night: Shawn Michaels vs. Chris Jericho
Worst Match Of The Night: The Undertaker vs. The Big Show & A-Train
Surprise Of The Night: Matt Hardy beats Rey Mysterio/Rowdy Roddy Piper returns
Worst Booking Of The Night: Shawn Michaels beats Chris Jericho
Superstar Of The Night: Brock Lesnar
Wrestlemania 19 Will Be Remembered For: Brock Lesnar winning the WWE Championship for a second time