| Date: December 14, 2003
| Venue: TD Waterhouse Center | City: Orlando, Florida
| Attendance: 12, 672 | Buys: 240, 000
| tweet me: @BastionBlogger
Evolution Of The Game. That's the tagline for this Raw brand pay per view so if you had any doubts who this show is based around, that clears it up. Triple H gets a shot at Goldbergs World Heavyweight Championship in the main event and so does the man who has interfered in Triple H and Goldbergs matches as of late, Kane. Eric Bischoff made the triple threat match much to the disdain of Triple H. The Intercontinental Championship will also be on the line tonight as Rob Van Dam defends against Randy Orton. Orton got involved in a previous IC title match between Van Dam and Ric Flair and so Bischoff granted Orton the title shot. Mick Foley, who is the new co-general manager of Raw has interjected himself into the match as the special guest referee.
Batista will also be in action tonight as he takes on Shawn Michaels. Batista attacked Michaels at Survivor Series which led to Michaels elimination and the feud has continued from there. The World Tag Team Championships will be on the lines as The Dudley Boyz defend in tag team turmoil. The other teams expected to participate are La Resistance, Scott Steiner & Test, The Hurricane & Rosey, Mark Jindrak & Garrison Cade and Val Venis & Lance Storm. Booker T goes one on one with Mark Henry after The World's Strongest Man eliminated Booker T at Survivor Series last month. Henry has attacked Booker on numerous occasions since then. Also tonight Chris Jericho and Christian team up to take on Trish Stratus and Lita in the battle of the sexes. Jericho and Christian have grown close to Trish and Lita as of late but it was all revealed that they had a bet on who could sleep with one of the ladies first.
On Sunday Night Heat before the show, Rico defeated Jon Heidenreich.
Lilian Garcia kicks off the show with her rendition of star-spangled banner. There's a religious based video package then showcasing  Triple H, Goldberg and Kane whilst bible quotes are uttered. And then…the end is near! I love the Armageddon soundtrack. It's a Raw only pay per view so Jim Ross welcomes us to the show, he's joined by Jerry Lawler.
Booker T vs. Mark Henry
It's a first time meeting between these two men on pay per view. Booker T has a 1-0 record at Armageddon PPV's whilst Mark Henry has a 0-1 record. It seems as though Mark Henry is getting a push at the moment and in this case it's at the expense of Booker T. Surprised this is the opening match, it's usually a faster pace match that kicks things off. Mark Henry eliminated Booker T in their Survivor Series match last month. The commentary seems a bit low. Booker T starts quickly but a big clothesline from Mark Henry puts a stop to that. Henry hits a powerslam and then clotheslines Booker T out of the ring. Teddy Long is in the corner of Mark Henry. Henry whips Booker T into the steps before throwing him back in the ring. It'll surprise you that Mark is slow getting back in the ring so Booker T dropkicks him, flies over the top and then throws him back into the ring before hitting him with a missile dropkick for the first near fall of the night.
Teddy Long is up on the apron which causes a distraction for Booker T allowing Henry to knock Booker down with a clothesline. Henry hits a slam and then applies a modified bow and arrow. It might surprise you that Booker T has wrestled more PPV matches than Mark Henry despite Henry being in the WWE for 5 years longer. Henry applies a chinlock but Booker gets out of it but not for long as Henry applies a bear hug. Both pf these men have only won roughly 33% of their PPV matches up to now. Booker fights his way out of the bearhug but runs right into a clothesline. Henry misses with a legdrop and Booker hits him with a nice pump kick and heel kick. Booker T then hits a flying forearm and his trademark scissors kick so pins the big man but Mark Henry kicks out.
Henry hits a spinebuster for a two count and follows that up with a clothesline and legdrop for another near fall. Henry hits a powerbomb but drops Booker T. Henry then misses with a splash in the corner and Booker T hits him with a scissors kick which is enough for the three! Booker T wins the match, a match that was sloppy and ended out of nowhere. Pretty poor match between these two but I am glad Booker T won.
Rating: 3.75/10
Eric Bischoff is backstage with Christian and Chris Jericho. Christian is happy they're fighting Lita and Trish tonight but Jericho seems more concerned. Jericho tries to voice his concerns but Mick Foley's music cuts him off!
Mick Foley heads to the ring and is happy to be at his first PPV as co-general manager of Raw. He says the petition to bring Stone Cold back to Raw has over a million signatures. I find that hard to believe. Foley wonders if there is anyone backstage who wants to join him in celebration and out comes Stacy Keibler dressed as a cheerleader! Evolutions music then hits and out walk Randy Orton and Mick Foley. Orton tells Foley that Foley that Austin is done because of him. Foley then takes off his shirt to reveal a referee's shirt and says there's no reason why the match can't happen now!
Rob Van Dam (c) vs. Randy Orton – Intercontinental Championship Match with Mick Foley as the special guest referee
This is a first time PPV meeting between these two men and the first PPV match Randy Orton has had that doesn't involve Shawn Michaels. It's an Armageddon debut for both of these men. Van Dam starts the match with a leg sweep causing Orton to dart out of the ring. Randy gets back in the ring and applies a headlock to Van Dam and then the two men exchange wrestling holds. There's a very nice chain wrestling sequence and both men end up toe to toe. RVD hits a big spinning heel kick and a dropkick to the gut. He then heads to the top and executes a high cross body for a two count. Van Dam then sends Orton out of the ring with a kick before diving out on top of him with a somersault plancha.
Van Dam hits a legdrop for a two count and then heads to the top but Orton shoves him down to the barricade below. A "holy shit" chant breaks out which is a little over the top for that spot. Randy hits a dropkick on the outside and then throws Van Dam back into the ring for a near fall. Orton drops a fist for a two count. There was no Armageddon PPV in 2001 as it was re-named Vengeance. Foley breaks up a choke from Orton by literally throwing him off Van Dam. Orton hits a weak looking hard Irish whip. RVD hits a cross body for a two count but Orton is up first and takes Rob down with a clothesline. I think Orton would make a good Intercontinental Champion, more of a throwback champ. He smashes RVD into the top turnbuckle and pins Van Dam for a two count. Orton applies a sleeper.
The Intercontinental Championship has been defended twice at Armageddon PPVs before and both times the title has changed hands. Van Dam gets out of the sleeper and slams Orton before hitting him with a split-legged moonsault for a near fall. Orton then executes a gut wrench into a backbreaker into a neckbreaker which was pretty impressive. Doesn't finish the job though. Randy goes back to the sleeper which is not how the match will end. Van Dam gets out of it and hits Orton with a spinning heel kick. The pace has slowed down now and the sleepers have ruined the match. RVD hits some big right hands and then monkey flips Orton across the ring. Rob hits a springboard kick and a clothesline as the pace quickens. He hits a northern lights suplex for a two count and then Orton heads to the outside.
Van Dam suplexes Orton onto the security railing and Van Dam flies off the apron, kicking Orton who lays prone. Rob rolls Randy back into the ring but as the champion enters the ring Orton grabs him and DDT's him into the mat. That earns Randy a near fall. Orton misses with a knee drop which gives Van Dam the advantage. He hits a spinning heel kick and a dropkick before hitting his trademark rolling thunder. Van Dam then hits Ric Flair with a dropkick as he screams on the outside. RVD heads to the top but Ric Flair gets up on the apron for the distraction. Foley clotheslines Flair off the apron and then Orton dropkicks the top rope, crotching the champion. Orton then hits the RKO and pins Van Dam for the three! Randy Orton wins the match and the Intercontinental Championship! A decent match by these two spoilt slightly by the sleeper holds.
Rating: 6/10
Advert for the new Ric Flair DVD is next.
There's a package next showing the relationship between Chris Jericho and Trish and Christian and Lita.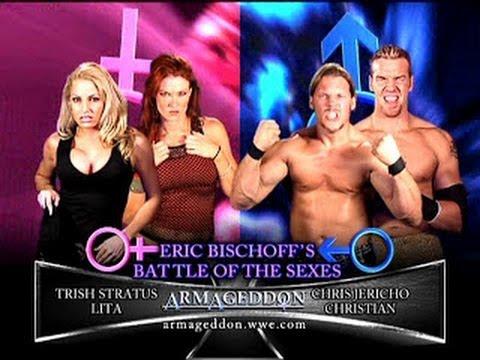 Chris Jericho & Christian vs. Trish Stratus & Lita – Battle Of The Sex's
This is obviously a first match between these two teams. Chris Jericho and Christian have wrestled on all 4 Armageddon PPV's, Jericho has a 2-1 record so far and Christian has a 1-2 record. Trish and Lita have both fought at one Armageddon PPV before and they both lost their previous match. Jericho doesn't look too happy about this match but Christian is grinning like a Cheshire cat. Trish slaps Jericho and the match is underway. Jericho won't fight back but does catch Trish, puts her over his knee and spanks her! Trish just keeps going for Jericho and hits him with a flying head scissors and a dropkick. Christian tags in and launches Stratus across the ring. Lita tags in and headbutts Christian before laying in some boots and right hands.
Christian misses with a splash in the corner and Lita takes him down with a flying head scissors for a near fall. Jericho takes a cheap shot on Lita to give the males the advantage. Christian hits a slam and tags in Jericho. Christian and Jericho were tag team champions this time last year before losing it at this PPV. Y2J slams Lita and then attempts a powerbomb but Lita counters it into a hurricanrana. Jericho tags in Christian who rips off Lita's top! He taunts Lita with her top until Lita hits him with a low blow! Lita then tags Trish who hits Christian with the chick kick and then gets out of the way of Christian who falls to the outside. Jericho goes up top but Lita grabs his leg to crotch him. Jericho then blocks a hurricanrana and Christian pins her for a two count.
Christian attempts a clothesline but Trish does the old matrix to avoid it and Christian nails Jericho. Christian then knocks Trish down but turns around into a hurricanrana from Lita! Jericho pulls Lita out of the ring and throws her into the barricade before pulling Trish back up to her feet carefully only for Christian to roll up Trish for the win! Christian and Jericho win the match but Jericho doesn't seem too happy about it! This was a fun match.
Rating: 5.75/10
There's a bit of Shawn Michaels and Batista history next.
Shawn Michaels vs. Batista
This is a first singles PPV match between these two men and Batista's first PPV match since the Royal Rumble 11 months ago. Batista is joined by Ric Flair and goes into this match with a 1-0 record at Armageddon having previously beaten Kane last year. Michaels has a 0-1 record after his loss to Triple H last year. Jim Ross announces that Shawn Michaels has 68 PPV appearances to his name, I make this his 66th PPV match. I do agree with Ross saying it's Batista's third PPV appearance. Michaels hits some big jabs in the early going, using his speed to get the better of the big man. Batista uses his power to hit some big clubbing blows but Michaels hits him with chops and then takes Flair down with a big right hand. Flair delicately touches Batista on the outside.
Back in the ring and Batista lays into Michaels with some knee strikes before choking Shawn with his knee in the corner. Batista then hits a big clothesline to take Shawn down for a near fall. Batista hits a suplex for another near fall. Batista works the lower back of Shawn, hitting him with a hard Irish whip and then choking him in the corner. The two men exchange right hands and chops and then Batista pops Michael on the top turnbuckle before going up with him but Michaels elbows Batista to the mat and then hits him with a moonsault for a two count. Shawn hits a flying forearm and then nips up to his feet but Batista takes him down with a clothesline and then throws him to the outside. Back in the ring and Batista hits a backbreaker for a near fall. Batista hits another backbreaker and turns it into a submission.
Batista is sweating big time. He could probably do with this rest. The two men exchange right hands and chops and then Shawn hits a flying forearm and nips up. Michaels hits an atomic drop and a DDT and both men are down. Michaels goes up top and hits a big elbow drop before motioning for sweet chin music but Batista catches him and hits HBK with a spinebuster. Batista hits another spinebuster, poses and then motions for the Batista Bomb. Batista goes for it but Michaels nips down and hits him with sweet chin music which is enough for the three! Michaels wins the match out of nowhere!
Rating: 6/10
After the match Batista and Ric Flair are stood in the ring and out comes Maven. You can barely hear what the commentators are saying when they play music. Matt Hardy is then introduced and apparently this is a match. Hardy and Maven go at it outside the ring and then Matt throws Maven into the ring where Batista takes out Maven with clotheslines and a Batista Bomb. Matt Hardy then gets into the ring but the referee tells Lilian Garcia that the match between Maven and Matt Hardy can't take place. Matt angrily pins Maven and makes the count himself. Hardy declares himself the winner anyway.
Backstage Batista is fuming. Ric Flair tries to keep the animal under control. Flair tells Batista he has the special thing inside that will get him to the top. Flair says he has something special for Batista and tonight they will leave the arena with title belts around their waist.
Tag Team Turmoil for the World Tag Team Championships
Rene Dupree & Rob Conway vs. The Hurricane & Rosey
None of these four men have wrestled on an Armageddon PPV before. Rosey starts the match with Rob Conway and it's Rosey with the early advantage. Rosey tags in The Hurricane who absolutely botches a splash to the outside. Conway hits a big swinging neckbreaker on The Hurricane who is looking for his first ever PPV victory tonight. Conway tags in Rene Dupree who is a former Tag Team Champion. Hurricane is too. Dupree hits a running powerslam on Hurricane for a near fall. Hurricane hits a version of X Pac's X Factor and both men are down. Dupree tags Conway and Hurricane tag Rosey. Rosey takes both men down with back body drops and Samoan drops. Rosey then hits a big sidewalk slam on Conway but Dupree breaks up the ball.
Rosey drops Dupree out of the ring and then hits a spinebuster on Conway. Rosey tags Hurricane and Hurricane hits a splash off Roseys shoulders to eliminate La Resistance from the match!
The Hurricane and Rosey vs. Mark Jindrak & Garrison Cade
Jindrak and Cade come from behind and Jindrak rolls up The Hurricane to get the 3! They made quick work of the super heroes!
Mark Jindrak & Garrison Cade vs. Val Venis & Lance Storm
Val Venis and Mark Jindrak kick things off for these two teams. Plenty of chain wrestling and quick attacks from these two men. Val hits a reverse elbow and then tags in Lance Storm. This is a PPV debut for Jindrak and Cade. Jindrak tags in his partner but Storm takes Cade down with an arm drag. More chain wrestling between Storm and Cade which results in Storm hitting an uppercut and applying an armbar. Cade reverses the arm bar and then Jindrak hits a cheap shot on Storm. Cade tags Jindrak in and he applies a double arm bar to Storm. Storm lost in tag team action at last years Armageddon event. Storm tags in Val Venis and he takes down both Jindrak and Cade with spinebusters and neckbreakers. All 4 men get involved and it's Val with a sit out powerbomb for a two count.
Val Venis won matches at Armageddon 1999 and 2000. Jindrak pins Venis and Cade holds Vals feet down to get the 3!
Mark Jindrak & Garrison Cade vs. The Dudley Boyz (Bubba Ray & D-Von) (c)
The champions are out next and have actually lost at the previous 3 Armageddon pay per views. The two teams go at it and D-Von disposes of Jindrak. Cade knocks Bubba Ray down with a clothesline and then Bubba Ray ties Cade up in a tree of woe. Bubba tags D-Von and the Dudley Boyz hit a double shoulder charge for a near fall. Cade tags Jindrak who gets caught with a big spinning elbow for a two count. Jindrak returns the favour with a big clothesline for a near fall. Cade cheap shots D-Von allowing Jindrak to lay in the boots. Jindrak tags in Cade who hammers away at D-Von. Cade applies a sleeper to D-Von as a "we want tables" chant breaks out. D-Von gets out of the sleeper but Cade takes him down with an elbow before going up top and missing with an elbow drop.
Bubba Ray gets the tags and so does Jindrak. Bubba takes apart both opponents and then tags D-Von back in. All four men go at it and there's a couple of near falls. D-Von disposes of Cade and then The Dudleyz hit Jindrak with a 3D to eliminate them from the match! Cade then takes both Dudleyz down with clotheslines!
The Dudley Boyz (Bubba Ray & D-Von) (c) vs. Test & Scott Steiner
Steiner and Test are the final men out for this tag team turmoil and both men are making their in-ring Armageddon debuts. They run down to the ring to take advantage of the Dudley Boyz who are both down. Steiner throws D-Von into the steps and then Steiner hits Bubba Ray with a suplex. Test then swings Bubba Rays arm into the ringpost before throwing the rest of Bubba Ray into the ring post. Back in the ring and Steiner hits a clothesline of Bubba Ray before dropping an elbow. Steiner works the left arm of Bubba Ray and then tags in Test who continues to work the arm. Test pops Bubba Ray on the top turnbuckle but Bubba shoves Test to the mat before hitting him with a senton bomb.
Bubba tags in D-Von who knocks Steiner off the apron and then hits Test with clotheslines, shoulder blocks and then nails Steiner and Test with neckbreakers. The numbers become too much and Steiner hits D-Von with a suplex before Test hits him with a sidewalk slam for a near fall. Test then attempts to boot D-Von but D-Von moves and Test nails Steiner! Test hits a full nelson slam on D-Von for a near fall and then heads out the ring and grabs a chair. He throws a title belt in the ring and as the referee throws it outside, Test nails D-Von with a chair! Bubba Ray breaks up the count and then hits Test with a Bubba Bomb! D-Von covers Test and gets the 3! The Dudley Boyz retain their World Tag Team Championships!
Eric Bischoffs music hits and the co-general manager of Raw heads down to the ring. Bischoff announces that there is one more team in this match!
The Dudley Boyz (Bubba Ray & D-Von) (c) vs. Ric Flair & Batista
The Dudley Boyz can barely stand but out come Batista and Flair who lay into the champions. Flair hits a low blow on Bubba Ray as all four men go at it. Batista hits a Batista Bomb on D-Von as Flair locks the figure four on Bubba Ray! Batista pins D-Von and the referee counts the 3! Ric Flair and Batista win the match and are the new World Tag Team Champions! This also means that the Tag Team Champions going into an Armageddon PPV have ever won at the show. It also means The Dudley Boyz have lost at all 4 Armageddon PPVs.
Rating: 7/10
There's a VT announcing there will be a show for the troops this year.
Molly Holly (c) vs. Ivory – Women's Championship Match
This match has been added on the fly and Ivory has new entrance music. This is Ivory's third appearance at an Armageddon PPV and she actually beat Molly Holly and Trish at the 2000 event. I believe this is the first singles match between these girls on a PPV. Ivory takes the advantage in the early going, getting a few near falls. She then heads to the top and hits a cross body for a two count. Ivory does not seem dressed to wrestle at all. She slingshots Molly out of the ring and hits her with what is essentially a Molly-go-round on the outside. Molly doesn't let Ivory back in the ring, she dropkicks Ivory and then throws her in for a near fall. Molly hits a northern lights suplex for a near fall as the commentators bang on about Molly being sexually frustrated.
Molly applies a hammerlock which Ivory gets out of but Molly drops Ivory on the bottom rope for a two count. Molly hits a suplex for a two count and then applies a chinlock. This match has had no build at all. Molly hits a handspring elbow for another near fall and then stomps away at Ivory. Molly takes off the top turnbuckle pad but it's Ivory that smashes Molly into it! Ivory rolls up Molly for a two count and then Molly reverses the pin, possibly pulls the tights and gets the 3! Molly retains her Women's Championship tonight. Not the worst match but certainly nothing to write home about.
Rating: 5/10
Package next showing the history between Goldberg, Triple H and Kane.
Goldberg (c) vs. Triple H vs. Kane – World Heavyweight Championship Match
It's a first triple threat match between these three men. Kane has been getting a good push as of late but you wonder if he's in this match so Triple H doesn't pin Goldberg to win the title. Triple H is 2-1 at Armageddon PPV's whilst Kane is 1-2. Triple H has main evented all 4 Armageddon shows. Goldberg only has one PPV loss going into this event.  There are no members of Evolution at ringside for Triple H in this one. All 3 men hesitate in the early going as the crowd chant for Goldberg. Triple H and Kane then double team Goldberg, taking it in turns to take shots at the champion. The audio has been seriously terrible for this show. You can still barely hear the commentators. Goldberg fights back with a clothesline on Triple H but Kane takes Goldberg down with a clothesline of his own. Goldberg then takes Kane down with a shoulder charge and a powerslam and then clotheslines Triple H out of the ring.
Goldberg starts to exit the ring but sees Kane sit up in the ring and changes his mind. Kane hits some big clotheslines on Goldberg and gets the first near fall of the match. Kane is over as he ever has been at this time and could actually make a good champion. He hits a sidewalk slam on Goldberg and then heads to the top but Goldberg throws him down to the mat. Goldberg then lifts Triple H high above his head and then drops Triple H down with a powerslam. Goldberg lines up for a spear on Kane but ends up eating the big red machine's boot. You wonder where they could go for a Wrestlemania main event next year. I quite like the idea of a Shawn Michaels heel turn and taking on Goldberg. Kane and Triple H hit a double suplex on Goldberg.
Kane hits a running powerslam on Goldberg and then Triple H runs over and pins Goldberg just for Kane to tear him off. Kane then accidentally levels Triple H with a clothesline sending him out of the ring. Kane hot shots Goldberg and then motions for a chokeslam but Triple H gets in the ring and smashes Kane with a chair! Kane is sent sprawling out of the ring, Goldberg slams Triple H and then sets up Triple H's ankle in the chair but Kane stops him from doing any further damage. Kane and Goldberg battle to the outside where Kane throws Goldberg into the steps and then sets up the Spanish announce table before Kane chokeslams Goldberg into the table but the table doesn't give! Kane then lays Goldberg on the table and Triple H stands on the barricade before diving off with an elbow drop through Goldberg and through the table this time.
Triple H launches Kane into the ringpost, attacking him from behind. Triple H then attempts a Pedigree on Kane but Kane back body drops him. Back in the ring and Kane big boots Triple H and hits him with a sidewalk slam. Kane goes up to the top rope and leaps off, clotheslining Triple H in the middle of the ring before motioning for a chokeslam. Triple H pokes Kane in the eye and hits him with a DDT but Kane sits right back up. Triple H takes him back down with a neckbreaker but again Kane sits back up. Kane and Triple H then go at it down the entrance ramp and Kane chokeslams Triple H on the steel ramp! Kane rolls Triple H back in the ring whilst on the other side of the ring Goldberg has rolled back in. Goldberg launches himself at Kane, taking him down with a big spear.
Goldberg pins Kane but Triple H breaks up the cover. The three men slug it out  and Goldberg takes jabs at both men until Triple H pokes him in the eye. Goldberg takes both Triple H and Kane down with a clothesline and then Goldberg lands another spear on Kane! Goldberg then spears Triple H but out come Randy Orton and Ric Flair! Goldberg fights them off and hits another spear on Triple H but Kane breaks up the pinfall attempt. Goldberg and Kane attempt the choke each other out and Triple H breaks it up by low blowing Goldberg. Kane then hits Goldberg with a chokeslam but Batista drags Kane out of the ring and Triple H pins Goldberg for the win! Triple H wins the match, pinning Goldberg which surprises me. Normality is restored on Raw and Triple H is once again World Heavyweight Champion.
Rating: 7.75/10
And that was Armageddon 2003. 7 matches in the end after a surprise Women's Championship match was added. Armageddon kicked off with Booker T and Mark Henry in a pretty poor way to kick off the show. Booker put a stop to Henry's momentum which was a little surprising, I don't think Mark needed to lose cleanly. I'm more intrigued about the note Booker T got on Raw a few weeks ago saying "I never forget". Was that supposed to be from Mark Henry? No idea. Not great though. Randy Orton then beat Rob Van Dam for the Intercontinental title which I really like. Orton has been great as of late and RVD hasn't done much with the belt despite winning it 2 months ago. This was a decent match and it began the Evolution celebration.
Chris Jericho and Christian defeated Trish Stratus and Lita in a random but fun match. Christian and Jericho re so entertaining and are the best two men for this sort of job. Hard to say where this storyline is going at the moment and it's weird having a love story angle with Chris Jericho. He does seem a little out of his comfort zone. Jericho looks to turn face so maybe he'll end up feuding with Christian into Wrestlemania. Shawn Michaels beat Batista in a decent match. This would've seemed like the wrong result if not for what happened later. There are a couple of thrown together matches on this card and this was one of them. Batista would of course return for tag team turmoil where he and Ric Flair won the World Tag Team Championships. Again, I like that result. There are quite a few tag teams at the moment but this does freshen things up. Tag Team Turmoil was good fun but it looks like the La Resistance push is over. The other teams got a decent showing but I think Jindrak and Cade need something to freshen them up, I just can't care for them at the moment.
Molly Holly beat Ivory in a random match. It gave Molly a clean win which isn't a bad thing but Ivory didn't even look like she was wearing wrestling gear. With Lita and Trish involved with Christian and Jericho, Molly could do with a new contender to her title. Maybe Gail Kim? Then in the main event Triple H topped off Evolutions successful evening by pinning Goldberg for the World Heavyweight Championship. Normality is restored on Raw as Triple H is champion once again. This match was decent actually, possibly the best match Goldberg has had in his WWE run. It was a good showing form Kane and Triple H too and now we can assume Triple H will go all the way into Wrestlemania as champion against a face Royal Rumble winner. Bit of a mixed bag of a night, some decent matches, some not so good.
Overall Rating: 58.9/100 (ranked 66th out of 159)
Match Of The Night: Goldberg vs. Triple H vs. Kane
Worst Match Of The Night: Booker T vs. Mark Henry
Surprise Of The Night: Evolution enter and win tag team turmoil
Worst Booking Of The Night: Mark Henry losing clean
Superstar Of The Night: Triple H
Armageddon 2003 Will Be Remembered For: Triple H regaining the World Heavyweight Championship and a clean sweep for Evolution