| Date: March 28, 1999
| Venue: First Union Centre | City: Philadelphia, Pennsylvania
| Attendance: 20, 276 | Buyrate: 800, 000
The Ragin' Climax. The Climax to the last year. Everything comes to a head tonight. And look at that buyrate, 800, 000 bought this PPV, the biggest buyrate of all time up to now. And tonight they will be tuning into watch "Stone Cold" Steve Austin fight for The Rocks WWF title. Mankind may have left the last PPV as champion but he lost the belt back to The Rock in a ladder match on Raw. A ladder match in which The Big Show chokeslammed Mankind off the top of the ladder to help Rocky win the coveted championship for a third time. Austin earned his way into the match after Vince McMahon gave up his spot that he won in the 1999 Royal Rumble and so we get a battle between the top two men in the company.
Speaking of Mankind and Big Show, it was Big Show announced to be the special guest referee for the main event but after Mankinds keenness to also be the referee, a match was made between the two with the winner getting the opportunity to referee the main event. Plenty of history between the two with Big Show costing Mankind the WWF title on Raw. The Undertaker is a man that has been haunting Vince McMahon as of late. He's formed a Ministry Of Darkness made up of Bradshaw, Faarooq, Mideon, Viscera, Gangrel, Edge and Christian and they have been targeting Vince McMahon and more specifically Vinces daughter Stephanie. The Corporations Head Of Security The Big Boss Man has tried his best to defend McMahon and tonight goes head to head with The Undertaker in Hell In A Cell.
On Raw a few weeks ago Shane McMahon shocked the world when he beat X Pac for the European title. X Pac gets his rematch tonight against the man that has christened him "X-Punk". X Pac's DX mate Triple H will go one on one with The Corporations Kane who has a blossoming relationship with Chyna. The two have been joined at the hip since Chyna left DX and Triple H looks for revenge. The other two members of DX, Road Dogg and Billy Gunn will also be in singles action defending titles. Road Dogg won the Intercontinental championship from Val Venis and defends against former champions Ken Shamrock, Goldust and Venis who has been feuding with each other over Kens sister, Ryan. Gunn defends his newly won Hardcore Championship against former champion Hardcore Holly and Al Snow.
We'll get a Brawl For All match between Brawl For All tournament winner Bart Gunn and pro boxer Butterbean. Butterbean has previously been in action beating Marc Mero but Gunn should be a tougher opponent. Bart won't have fought anyone like Butterbean before. Sable will defend her Women's title against the Sable superfan Torrie. Sable has gone as far to use Torrie to win matches but tonight Torrie goes out for herself. The tag team titles will also be in action as Jeff Jarrett and Owen Hart defend their titles against D-lo Brown and Test who won a battle royal on Heat before Wrestlemania began. Let's get to it.
We kick off with "America The Beautiful" sung by Boyz 2 Men. Pretty sure they haven't been relevant for about 5 years at this point. They get a mixed reaction at first but the crowd is respectful for the anthem itself.
Then is a video package voiced by Classy Freddie Blassie. He talks us through pictures of The Rock, Shawn Michaels, The Undertaker and Andre The Giant amongst others. Welcomes to Wrestlemania, Showcase Of The Immortals.
It's not the most extravagant set but there is a big logo at the top of the entrance way. Michael Cole is the man that welcomes us to Wrestlemania 15.
Billy Gunn (c) vs. Al Snow vs. Hardcore Holly – Hardcore Title Match
This is a third Wrestlemania match for Billy Gunn, who is yet to win at the biggest show of the year. It's Hardcore Holly's second appearance, he hasn't won yet either and Al Snow makes his Wrestlemania debut. It's a first singles match for Billy Gunn who has previously lost Wrestlemania matches for the tag team titles. Al Snow starts well, taking both men down and throwing Billy Gunn into the steel steps. Billy Gunn and Hardcore Holly are 2 of 5 men to have held the Hardcore title. Holly suplexes Al Snow on the outside of the ring. Billy Gunn goes for a piledriver on the outside on Al Snow but Hardcore Holly makes sure that doesn't happen. Al Snow then finds a hockey stick and he nails both opponents with it. Gunn picks up the hockey stick and breaks it over Hardcore Holly's back. Al Snow hits a low blow then goes to work with a broom stick. Anything goes with these matches. Hardcore Holly is the only one of these three to have won a PPV match in 1999.
Al Snow picks up a chair and hits both Gunn and Holly with it before setting it up and using it to launch himself off. An "ECW" chant breaks out before long. Al Snow nails both men with Head then gets some advice off his spiritual leader. Snow then grabs a table from underneath the ring. He puts it in the ring and sets it up in the corner. Billy Gunn then nails Hardcore Holly with a chair and hiptosses Al Snow through the table! He then nails the Fame-asser on Al Snow on a chair! Gunn pins Snow but Holly nails Gunn with a chair to break it up and pins Snow himself to win the match! Hardcore Holly win the match and the Hardcore title to become a two time champion! Holly remains the only one of these three blondes to have won a PPV match in 1999! Fun way to start the night!
Rating: 6/10
We see some footage form Heat with D-lo and Test winning a battle royal to get a shot at the tag team champions.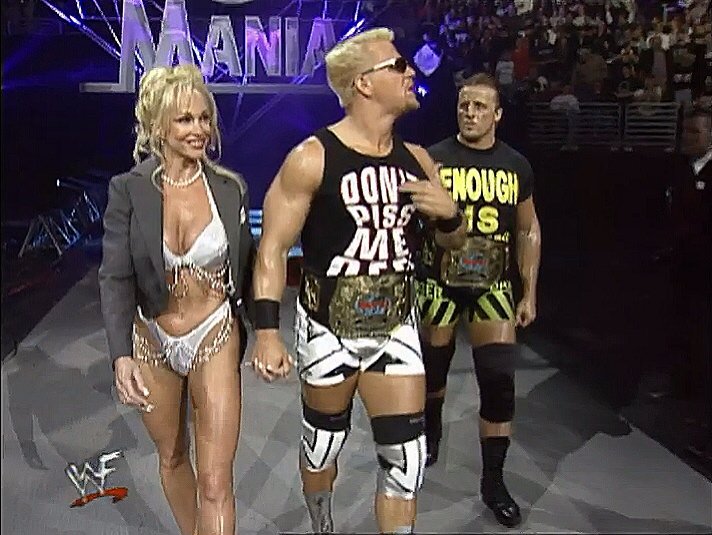 Jeff Jarrett & Owen Hart (c) vs. D-lo Brown & Test – Tag Team Championship Match
Well this is an interesting one. It looks as though booking wise, Mark Henry got injured so they decided to throw together a team with Test. Those two argue before the bell has even rung. Good history by Michael Cole reminded us that Jarrett and Hart beat the Corporation for the belts a couple of months ago. Test attempts to clothesline Owen Hart out of the ring and fails. Jeff Jarrett and D-lo start the match and it's high energy from D-lo. These 4 men were all in the closing stages of the 1999 Royal Rumble match. Test and Owen Hart are tagged in and Test hits a big powerbomb on Owen Hart. Hart gets back into it and locks on a Sharpshooter but D-lo breaks it up. D-lo is then tagged in and he hits his trademark legdrop. Hart hits a spinning heel kick following a distraction form Jarrett. Hart then tags in Jarrett and the champions hit a double clothesline. Jeff tags Owen but D-lo clotheslines both men down before hitting powerslams on both men.
All 4 men are suddenly in and Debra is up on the apron. Ivory sees to her though. D-lo goes for his Low-Down but Owen Hart comes in off the top rope with a dropkick! Jarrett rolls up D-lo and it's enough for the three! Jarrett and Hart retain their titles but that doesn't go down well with Test. He and D-lo start going at it! That gets broken up. A quick tag match between these two teams. Felt like it didn't really get started.
Rating: 4.25/10
Next up is a video package for Bart Gunn and Butterbean.
Bart Gunn vs. Butterbean – Brawl For All Match
Plenty of boxing people as well as Gorilla Monsoon around ringside for this one. Butterbean has been in the ring before, he had a boxing match against Marc Mero and won. Bart Gunn hasn't been in PPV action since last years King Of The Ring. Bart Gunn won the Brawl For All Tournament beating the likes of Hardcore Holly, Dr Death, The Godfather and Bradshaw. Butterbean hits some big rights and lefts and knocks Bart Gunn down early. Bart is back up though and straight back down. Butterbean killed him. Bart Gunn stood no chance against a pro boxer. After the match the "famous" San Diego chicken comes out and the special guest referee bloke knocks him out.
Rating: N/A
We see some footage form Heat with Big show and Mankind fighting backstage.
Kevin Kelly interviews Mankind next who wants to be in the Wrestlemania XV main event. Mankind has beaten The Undertaker and Stone Cold Steve Austin recently but hopes Big Show tries to have a nice day.
Mankind vs. The Big Show
This is a PPV debut for The Big Show. He is a big old unit and made his debut at the last PPV, St Valentines Day Massacre. Mankind needs no introduction, this is his 17th PPV in a row. Big Show takes Mankind down early with a big boot then throws the former WWF champion out of the ring. Mankind slams Big Shows head into the ring steps but then gets shoved into the steps himself. Mankind is a big bloke but dwarfs in comparison to Big Show. Back in the ring and Big Show hit some big slaps to Mankind chest. Foley has been part of the last two Wrestlemania's but this is his first singles match at the big event. He's yet to lose at Wrestlemania. Big Show goes for a right hand but Mankind ducks it and Big Show goes flying to the outside. That gives Mankind chance to release Mr Socko and as Big Show gets back into the ring Mankind rams it down Shows throat. Big Show gets out of it though and Mankind locks it on again and once again Big Show fights him off. Mankind locks it on a third time and this time Big Show goes down to his knees. The referee checks him but Big Show gets back up to his feet and drops on Mankind!
Big Show knocks Mankind to the outside of the ring now and grabs a steel chair. He then jabs it into Mankinds middle section and back. Surely that should be a disqualification? Apparently not. Earl Hebner leaves him to it. Big Show rolls Mankind back in the ring and sets up to chairs next to each other. Show then chokeslams Mankind onto the chairs! The referee finally calls for the bell and Mankind has won! Vince McMahon comes out and can't believe it. The winner becomes referee in tonights main event so it's going to be Mankind. McMahon berates Big Show until the big man can't take it anymore! He picks up McMahon to chokeslam him but then decides against it. McMahon tells him not to make any more mistakes and then slaps Big Show! Show replies with a big right hand to the owner of the company! Well we're only 45 minutes in but we've had 4 matches already.
Rating: 5/10
Vince McMahon is backstage and wants Big Show arrested!
Road Dogg (c) vs. Ken Shamrock vs. Val Venis vs. Goldust – Intercontinental Title Match
None of these men have ever won at a Wrestlemania event. This will be Goldusts fourth time trying, Road Dogg and Ken Shamrocks second and Val Venis's first. Road Dogg gives us his standard introduction then Val Venis tells the ladies that even the Intercontinental belt won't keep his pants on. All three challengers are former IC champions. Three of them have held the belt in the last month, that's as many that held the gold in the year previous. Goldust has Ryan Shamrock and The Blue Meanie with him. All 4 men get into it as the bell rings and Shamrock hits a hurricanrana on Goldust. This is an elimination match with two men in the ring at the same time. Ken Shamrock and The Road Dogg kick things off. Shamrock hits a hard Irish whip, in this, the third title match of the evening. A coin toss apparently decided who would start this match. Road Dogg hits a dropkick and tags in Goldust. Goldust hits a flying clothesline and Val Venis tags himself in.
Goldust goes for the Curtain Call on Venis but Val gets out of it and hits a spinebuster for a two count. Goldust hits a clothesline for a near fall then pops Val up on the top rope, attempting a superplex but Val blocks it. Venis then hits a bulldog off the top rope for another near fall. Val hits a fishermans suplex for a two. Val then hits an accidental low blow and suddenly all four men are in there. Shamrock hits a DDT on Goldust and Road Dogg hits a DDT on Val Venis! Goldust is first up and covers Venis for a two count. Road Dogg has somehow tagged himself in and goes to work on Val Venis. Road Dogg has been Tag Team, Hardcore and Intercontinental champion in the last 6 months. He hits his trademark jabs on Val then draws Goldust in ans hits his jabs on him before knocking Shamrock down and hitting his shaky legs knee drop on him! Road Dogg celebrates which allows Val to come in and hit a suplex on the champion for a two count. Blue Meanie and Ryan Shamrock argue on the outside. In the ring Road Dogg hits a pump handle slam on Val then Shamrock tags himself in.
Shamrock takes Val down and locks the Ankle Lock on Val Venis! Val manages to get to the ropes. Ken goes for a clothesline but Venis ducks it sending Shamrock to the outside. Kens sister Ryan distracts him long enough for Val to hit a baseball slide. Val and Ken then start battling up the entrance way and they get counted out! Shamrock snaps and hits belly to belly suplexes on Road Dogg and Goldust! Both men eventually get up and Ryan Shamrock grabs Goldusts foot! Hard to tell whether it was accidental. Road Dogg rolls Goldust up and it's over! Road Dogg retains the title! Goldust is not happy with Ryan after the bell. He and The Blue Meanie kick her to the curb! This was a fun fatal 4 way.
Rating: 7/10
We see some footage of police officers putting Big Show into a police car. He is out of here.
Next is some footage form 3 weeks ago with Kane hitting Chyna with a fireball. Then last week Triple H dressed as Goldust used a flamethrower on Kane.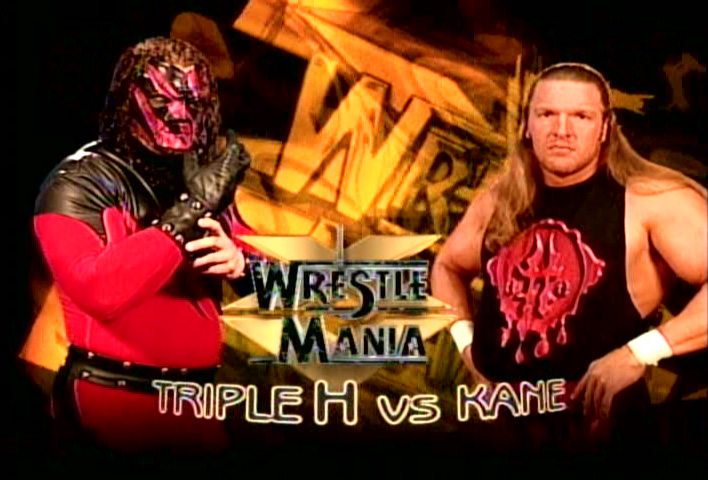 Triple H vs. Kane
Kane comes out on his own, there's no Chyna in sight. As he makes his entrance, the San Diego chicken comes out and attacks him! Kane takes off his head and it's Pete Rose! The man that Kane attacked last year! Kane throws him in the ring and Tombstones him for a second year running! Pete Rose gets carried to the back by referees. Triple H comes from out of the crowd or under the ring to attack Kane. This is a first time meeting between these two on PPV. Kane is looking for his first Wrestlemania win tonight. Triple H has won on the last two Wrestlemania events, beating Goldust and Owen Hart. Kane and Triple H battle to the outside where Kane gets whipped into the steel stairs. This is an evenly placed match with both men just under the main event status. It's Triple H's biggest match since Summerslam last year. Back in the ring and Kane hits a big boot then tosses Triple H out of the ring. Helmsley pulls Kane out of the ring but Kane ends up chokeslamming Triple H off the ring steps onto the barricade! Shane McMahons friends The Mean Street Posse are at ringside. Kane rams Triple H into the ring post.
Kane rolls Triple H back into the ring and hits him with a big throat thrust before hitting a hard Irish whip. This is the fourth match so far tonight to feature a Corporation member. So far the previous three have all lost. Kane hits a big clothesline but Triple H starts to fight back with right hands. Kane disposes of him out of the ring though then the big man bounces off the rope and hits a plancha over the ropes! I've never seen Kane do that before. He barely hits it but Triple H sells. Both men get back into the ring and Kane goes to the top rope but Triple H pulls him off. Kane then misses with a splash in the corner and Triple H lays into him with right hands then a knee to the face. Chyna then walks out from the back. That distracts Triple H long enough for Kane to scoop him up for a Tombstone but Helmsley slips down and attempts a Pedigree bit Kane gets out of that. Chyna then throws the steel steps into the ring! Kane picks them up but Triple H kicks them into his face!
Triple H then hits a drop toe hold on the steps. How isn't this a disqualification! Triple H clothesline Kane out of the ring then follows him out. Helmsley then goes for a Pedigree on the ring steps but Kane backdrops him off. Back in the ring and Kane hits a chokeslam on Triple H. Chyna then gets up on the apron with a chair, she wants to lay out Helmsley with a chair but instead she clocks Kane! Kane can't believe it and Triple H grabs the chair and nails Kane with it twice before hitting the Pedigree on the chair. Kane wins the match by disqualification but Triple H and Chyna are back together! Chyna can barely walk in her boots. You kind of feel sorry for Kane in this one.
Rating: 7/10
Kevin Kelly is backstage and lets us know that Big Show has been arrested and and Mankind has been taken away to a hospital. So who will be the referee for the main event? Vince McMahon shows up and tells us that he will be the referee for tonights main event!
Sable (c) vs. Tori – Women's Title Match
This is a PPV debut for Tori who goes up against the woman who has fought more PPV matches than any other female. Sable was victorious at last years Wrestlemania. Sable gives us a "grind" for all the men that came to see her and the women who want to be her. This is the fourth title match so far tonight. Sable doesn't let Tori into the ring for a while. Eventually Tori gets in and Sable throws her right back out. Tori drags Sable out and slams her face into the ring apron and the barricade. Sable reverses and Irish whip into the barricade then flies off the apron with a cross body to the head. She then throws Tori back into the ring and boots her in the ribs. Sable grinds and pays for it with a clothesline. Tori hits some poor looking right hands The women's division has grown recently with the likes of these two women, Luna, Jacqueline, Terri, Ivroy and Debra. Both women get near falls then Sable attempts some kicks which Tori ducks.
Tori bounces off the ropes and Sable ducks and Tori ends up hitting the referee. Sable goes for a Sable Bomb but Tori gets out of it and attempts one of her own but a huge woman comes in and attacks Tori. Lawler tells her that it's Nicole Bass from the Howard Stern show. Sable picks up Tori and hits the Sable Bomb. The referee gets up and counts the three! It's over! Sable wins the match with some help form Nicole Bass!
Rating: 4.25/10
Backstage to DX which now includes Chyna. Triple H tells us DX is stronger than ever and tonight X Pac will be handing Shane his shiny Corporate ass.
Shane McMahon (c) vs. X Pac – European Title Match
Shane McMahon comes out with the Corporations Hired Gun, Test. X Pac comes out alone and gets attacked by Patterson and Briscoe! X Pac takes care of them then runs to the ring. This is the fifth title match so far tonight. And Shane is the fifth Corporation member to be in action tonight. So far Test, Ken Shamrock and Big Show have all lost and Kane won by disqualification. X Pac chases Shane around and then into the ring where Pac lays out Shane with a roundhouse kick. He then goes for a Bronco Buster but Test pulls Shane out of the ring. We keep getting shots of Shanes buddies The Mean Street Posse at ringside. Test soon gets involved and atomic drops Pac into the ringpost. X Pac nearly gets counted out, he slides back in the ring just in time. Shane then lays into X Pac with knees in the corner and a slap to the face. Shane then slams X Pac in the middle of the ring and follows it up with a Corporate Elbow but X Pac rolls out of the way. Test gets up on the apron distracting the referee and allowing Shane to hit a low blow on X Pac! Shane then whips X Pac with Tests belt!
X Pac back body drops McMahon out of the ring then dives out on top of him. The Mean Street Posse then get involved but X Pac fights them all off and rolls Shane back into the ring. Test then lays out the former champ with a clothesline before rolling him back into the ring. Shane hits an elbow then goes to the middle rope and hits an elbow ala Bret Hart. He then goes up to the top rope but X Pac dropkicks him and crushes the McMahon jewels. X Pac hits a superplex off the top rope and pins Shane for a two when Test pulls him out. X Pac then grabs the belt and whips Shane with it! X Pac then hits the Bronco Buster on Shane! But Test nails him with the European belt! This is a PPV debut for Shane McMahon and a Wrestlemania debut for both men. Shane covers X Pac for the two then sets up X Pac in the corner before attempting a Bronco Buster that X Pac avoids. Once again Test gets in the ring but X Pac fights him off! Triple H and Chyna then make their way to the ring as X Pac hits a Bronco Buster on Test. He then hits the X Factor on Shane! But Chyna gets up on the apron distracting the referee and Triple H nails X Pac with a Pedigree! Shane pins X Pac and wins the match!
After the match Triple H and Test lay into X Pac. The Outlaws come out to fight off Test and Triple H and a "Kane" chant breaks out. The lights go out and out comes Kane. Shane, Triple H, Chyna and Test scarper and Kane chases them off. Decent match between Shane McMahon and X Pac. A really good energy and a shocking ending.
Rating: 7.75/10
Video package for The Undertaker and his ministry against Vince McMahon and his Corporation next.
The Undertaker vs. The Big Boss Man – Hell In A Cell Match
Both of these men are undefeated at Wrestlemania. They have both wrestled their fair share of PPV matches but never against each other. They hit each other with right hands to begin the match then Undertaker hits a clothesline for a two count. Undertaker has wrestled two Hell In A Cell matches before beating Mankind but losing to Shawn Michaels. Boss Man escapes the ring and Undertaker follows him and rams the former Hardcore champion into the cell. Boss Man reverses an Irish whip and Undertaker goes flying into the cell. Boss Man then finds some handcuffs and cuffs The Undertaker to the cell! Boss Man then lays into Undertaker with the nightstick. The dead man falls to the floor and breaks the handcuffs as he does. Undertaker is busted open now as Boss Man chokes Undertaker with the nightstick. Undertaker manages a comeback and throws Boss Man into the side of the cell.
Undertaker looks under the ring and finds a steel chair. He smashes it into Boss Mans back then rolls back into the ring. He then leaves the ring again and rams Boss Man face first into the cage. Undertaker hits right hands and it looks like the Boss Man is busted open too. Boo's from the crowd, it's not been the fastest pace match of the night. Undertaker hits a flying clothesline for a two count. Undertaker spins the arm and heads to the top where he goes for his trademark flying clothesline but Boss Man kicks the ropes and Undertaker loses his balance. Both men slug it out in the ring now with right hands and it's Boss Man who gets the advantage until Undertaker hits a low blow. Undertaker then goes for the Tombstone but Boss Man slips down and hits an Irish Whip. Undertaker ducks a clothesline then hits the Tombstone for the win. This was a slow match. Undertaker holds his arms up and we see The Brood come down from the ceiling!
They rip a hole into the cell and drop a noose down! Undertaker puts the noose around Boss Mans neck then the Brood go back up to where they came. Except Edge, he looks stuck. Paul Bearer then controls the cell, lifting it up which hangs Boss Man from the cell! The ending was better than the match.
Rating: 3.75/10
We see some footage from the Wrestlemania Rage Party.
The Rock (c) vs. "Stone Cold" Steve Austin – WWF Title Match
Jim Ross is first introduced as a guest commentator for this match. I would be almost certain that Austin requested this Vince McMahon then comes out as the special guest referee but Shawn Michaels music then hits and out comes the man that main evented last years event! He is the Commissioner of the WWF still. Michaels tells McMahon that he has got to read the WWF rulebook. Shawn then says that there is only one man that can appoint an official at Wrestlemania and that is the commissioner. Michaels tells McMahon to hit the bricks then says that the Corporation are barred from ringside. But not McMahon.
Rock and Austin then come out and get right into it. Rock back body drops Austin over the top rope and they get to fighting outside. They battle back inside the ring where The Rock stomps away at Austin but Austin comes back with right hands. This match was made a no disqualification match earlier on Heat. Austin throws Rock out of the ring and the two battle into the crowd now. The Rock chokes Austin with some cable then the two fight up the entrance way where Austin reverses an Irish whip into the barricade. Austin lays into Rock with right hands then goes for a piledriver which Rocky reverses and back body drops Austin onto a lighting rig. Austin chokes The Rock with some cable then throws The Rock into the Wrestlemania logo. Mike Chioda is the referee now in case you were wondering. The Rock hits a suplex on the entrance way which doesn't have a mat. The two fight round to the commentators table where The Rock has a mouthful of water and spits it out in Austins face.
These two men have fought once on PPV before and it was Austin that won that match, retaining his Intercontinental title at In Your House: D-Generation X. Austin sets up The Rock on the announce table and then hits two big elbows on the champion, putting him through the table. Two were required as the first one didn't break the table. Austin then whips The Rock into the ring steps. Austin was last WWF champion in September where he lost it to Kane and The Undertaker at In Your House: Breakdown. Back in the ring and The Rock hits a Rock Bottom out of nowhere! He covers Austin but he kicks out at 2! The Rock grabs a chair but Austin gets it off him and as he goes to hit The Rock, Rocky ducks and Austin hits the referee! The referee is out and Austin goes for the Stunner but The Rock pushes him away. The Rock then goes to town with the steel chair, mostly targeting Austins knee. Rock nails Austin in the face then covers him and a second referee comes in and counts a two.
The Rock locks on a sleeper now. Austin gets out of it but is on the wrong end of a clothesline. Rocky goes back to the sleeper. The Rock has won both of his previous Wrestlemania matches against The Sultan and Ken Shamrock. Austin has won 2 out of 3, beating Savio Vega and Shawn Michaels and losing to Bret Hart. Austin gets out of the sleeper but The Rock hits him with a Samoan drop. The Rock then hits a Rock Bottom on the referee! He turns around and Austin hits him with the Stone Cold Stunner! A third referee slides in and The Rock kicks out at 2! Vince McMahon then walks down to ringside, which was expected. He taunts Austin, distracting him long enough for The Rock to get up and hit Austin with a low blow. McMahon then gets into the ring and lamps the referee! He then joins The Rock in stomping away at Austin! But here comes Mankind! He runs down holding his ribs then lays out Vince McMahon. Austin quickly rolls up The Rock who is distracted by Mankind and Mankind counts a 2! It's all Austin now as he hits a Lou Thesz press and elbow.
The Rock fights back and hits a second Rock Bottom on Austin! He then stands over the challenger and goes for the Corporate Elbow but Austin moves out of the way. He goes to kick the Rock but The Rock catches his leg. Rock goes for the Rock Bottom but Austin fights out of it and nails the Stone Cole Stunner! Rock sells it better than anyone in history and Stone Cold pins him for the three! Stone Cold Steve Austin is a three time WWF Champion! For the second year running, Steve Austin celebrates winning the WWF title in the Wrestlemania main event. He drinks beer with referee Earl Hebner then Stunners Vince McMahon and coats him in beer for good measure.
Rating: 8/10* Match Of The Night
And that was Wrestlemania 15. In the past, Wrestlemania has been the full stop on the end of the wrestling calendar. Monday Night Raw tends to hit the reset button on the following night and new rivalries are created. It'll be interesting to see what does happen on Raw. I could see Hardcore Holly and Al Snow continuing their feud. I think Billy Gunn was a temporary filler and a result of shock booking. Now Holly has the title, he and Snow can continue where they left off. I like Hardcore Holly as champion, he's a great fit for the division. The same can be said for Jeff Jarrett and Owen Hart as tag team champions. They gel well as a team and have good chemistry. Maybe D-lo and Test will go on to feud with one another, it would make sense. The tag division does not a shot in the arm, there aren't many tag teams at the moment. The New Age Outlaws seem to have split up, Mark Henry is injured and tag teams like Too Much, Ken Shamrock and Big Boss Man, The Headbangers and D.O.A are all heel. Maybe it's time to re-introduce The Legion Of Doom back into the fold?
I don't know what to say about Bart Gunn and Butterbean. Gunn got schooled. Maybe he could go into the Hardcore division? Or a feud with "Dr Death" Steve Williams might make sense consider Bart knocked him out. It's not a feud I would look forward to though. Mankind and The Big Show are two men just on the cusp of the main event scene. Those two along with The Rock, Steve Austin and The Undertaker are the top 5 guys right now. Big Show appears to have turned face at the end of this match but with both men as faces, maybe they won't be in a position to challenge new WWF champion Austin. Perhaps a tag team feud with the Corporation? Road Dogg held on to his Intercontinental title and I think he may pair off with Goldust going forward whilst Ken Shamrock and Val Venis continue their issues. I'm not sure where Ryan Shamrock fits into it all though. I'd like to see Road Dogg have a long IC reign to establish him on that level and bring back some prestige to the belt following Vals short reign.
The plot thickens with Triple H joining Shane McMahon and Chyna in the Corporation, turning his back on best friend X Pac. This turned Kane babyface in the process and will potentially lead to a Triple H & Shane McMahon vs. X Pac and Kane feud. The bigger question is whether this is the end of DX. I would like to see Shawn Michaels re-join his old faction but I'm not sure whether that'll happen. The Corporation may have lose Kane and Big Show tonight but they gained Triple H and look strong going forward. Boss Man in one Corporation member who didn't come out of the show looking good. He was hung by The Undertaker and his Ministry who's demonic force continues. I think the feud between The Ministry and The Corporation will blow up now and we'll see fireworks over the coming months.
The Women's division becomes stronger with the lines of Sable, Torrie, Ivory, Jacqueline and Luna. This is the strongest the division has ever been in my opinion. Plenty of options for feuds going forward and maybe we'll get the battle of the amazons between Chyna and Nicole Bass.
Then in the main event, "Stone Cold" Steve Austin defeated his nemesis The Rock to win the WWF title at a second consecutive Wrestlemania. Austin is without a shadow of a doubt the top man in the company with the likes of The Rock and Mankind just barely beneath him. It would be nice to see the main event scene freshened up as nobody besides these three men have main evented a PPV in 6 months. The WWF seems to be setting up the likes of The Rock, Undertaker and Triple H as top contenders for him. The business is booming right now and I can't wait to see what unfolds going forward.
Overall not the best Wrestlemania of all time. The main event and European title match were highlights but the likes of Undertaker/Boss Man, Mankind/Big Show and the tag team title match let the show down.
Overall Rating: 58.8/100 (ranked 25th out of 93)
Match Of The Night: "Stone Cold" Steve Austin vs. The Rock
Worst Match Of The Night: The Undertaker vs. The Big Boss Man
Surprise Of The Night: Triple H turns his back on X Pac
Worst Booking Of The Night: N/A
Moment Of The Night: Triple H Pedigree's X Pac/Big Boss Man hangs from Hell In A Cell
Wrestler Of The Night: "Stone Cold" Steve Austin
Wrestlemania 15 Will Be Remembered For: Triple H turning on DX & Steve Austin winning the WWF title for a second time