| Date: July 25, 1999
| Venue: Marine Midland Arena |City: Buffalo, New York
| Attendance: 16, 605 | Buyrate: 360, 000
New York will be Fully Loaded tonight for the last PPV before the biggest party of the summer, Summerslam. So expect a lot of this show to be laying the groundwork for the second biggest show of the year. So what is in store? Well for starters, The Undertaker lost the WWF tirle back to the man he won it from, Stone Cold Steve Austin. Austin won the belt back the night after Raw but The Undertaker has his rematch tonight in a match in which Undertaker cost Austin the title to his brother, Kane, last year at King Of The Ring, A First Blood Match. To make things more interesting, Vince McMahon has says that the WWF is no longer big enough for the both of them and if Austin loses he will never be allowed a WWF title match again but if Vince loses then he will leave the WWF. Huge stipulations for tonights WWF title match.
Austin and Undertaker isn't the only rematch from Over The Edge (and Summerslam 1998) from 2 months ago, we will also get a match between Triple H and The Rock. They will meet in a Fully Loaded Strap Match for number one contendership to the WWF title. The winner of this one will get a WWF title shot at Summerslam. The history for this one speaks for itself but what has been evident over the last few week is the trouble between Triple H and The Undertaker. With the Corporate Ministry in tatters, could the two figureheads by on a collision course at Summerslam? Triple H's girlfriend Chyna will be in action also, teaming with Billy Gunn after being loaned out to him to take on X Pac and Road Dogg in a match that has the rights and royalties to DX on the line. Apparently there is big money in those royalties and former DX members Billy Gunn and Chyna want a piece of that pie.
Since King Of The Ring, number one contenders to the tag team titles, The Hardy Boyz cashed in their title match and went on to beat The Acolytes on Monday Night Raw. Tonight the Acolytes have challenged the Hardyz to a rematch in the form of an Acolytes rules match, which is basically a no disqualification match but it'll be a handicap match as Michael Hayes will be teaming with his Hardy Boyz. The European title will also be on the line when Mideon, who is champion by way of finding the title in Shane's bag, defends against former European champion D-lo Brown. Mideon has attacked D-lo a couple of times since Brown has shown interest in the title heating up this rivalry. Mark Henry won't be present though as he is has taken a step back due to high blood pressure!
Big Show and Kane are two super-heavyweights that have had their fair share of run-ins recently. A third "super heavyweight" in Hardcore Holly has been assigned as the referee for the contest but because of his blossoming relationship with The Big Show can he stay unbias? Steve Blackman has returned to action recently as a silent assassin and on a few occasions he has targetted his old friend Ken Shamrock. The two have fought all over the arenas and so a challenge was made to fight out in the car lot surrounded by cars in an "Iron Circle" match. That one should be brutal. Also tonight, Al Snow defends his Hardcore title against former Hardcore champion The Big Boss Man. So let's hit play.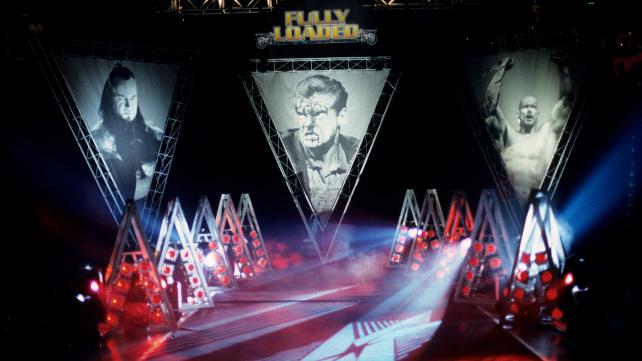 A black and white video package starts the show highlighting the history between Steve Austin and Vince McMahon. One of them has to go tonight. It's going to be a first blood match between Austin and Undertaker and the stakes couldn't be bigger. Jim Ross then welcomes us to Fully Loaded, he's joined by Jerry Lawler. As has been the case for the past few PPVs we see some footage from Heat and this time it's The Undertaker attacking Stone Cold backstage, busting him open and putting a target on his forehead in their First BLood match later tonight. We then see some live footage of a doctor telling Austin he needs stitches. Michael Cole then interviews Vince McMahon who says he had nothing to do with the attack. Vince goes on to guarantee that Austin will lose the WWF title tonight and never hold it again.
Edge (c) vs. Jeff Jarrett – Intercontinental Title Match
WEll, how about this for some late breaking news. Edge beat Jeff Jarrett for the IC title last night in his hometown of Toronto. He stood in for Ken Shamrock who couldn't wrestle and beat Jarrett for the gold! So Edge is the new Intercontinental champion, his first title in the WWF. There is a little big of history between these two in that on Raw, Jeff Jarrett was hit with a Bloodbath. It didn't look like it could be Edge but who was it? This is a first time PPV meeting between these two men. Edge is looking for his first PPV win on the year, having not a match since Decembers Rock Bottom PPV in 6 man tag action against The J.O.B Squad. Edge shoves Jarrett down in the early going and hits a big spinning heel kick for the first near fall of the match. Jeff is a 4 time Intercontinental Champion which is a record joint with Razor Ramon. He heads for the back but decides against it and ends up getting his head rammed in to the top turnbuckle. Jarrett manages to pull Edge out of the ring and he throws the champion into the steps.
Edge is the 6th man to hold the Intercontinental Championship in the first 7 months of 1999. The two men get back into the ring where Edge gets a near fall. Edge then tweaks his knee whilst jumping over Jarrett. The veteran then goes straight to work on Edge's knee. This time last year at Fully Loaded, Jeff Jarrett was also in the opener in a losing effort against Val Venis. He rams Edge into the ring post then hits an armbar takedown. This is the first of 5 title matches tonight. Jarrett is looking for his first PPV win since Wrestlemania. He locks a sleeper on Edge now. Edge gets out of the sleeper and locks one of his own on Jarrett! Jeff quickly gets out of it but it's Edge with the advantage and hits a couple of covers on Edge. Edge then accidentally hits a low blow on the former champion. It's all Edge now as he hits a dropkick, a swinging neckbreaker and then an inside cradle for a two. Edge then hits a tornado DDT and goes for the spear but Jarrett sidesteps it and sends Edge to the outside. The Brood music then hits and the lights go out. The lights flicker red and a man that looks like Gangrel attacks Edge on the outside of the ring. The lights then come back on and Edge is stood above Gangrel!
Jarrett attacks Edge from behind and throws him back in the ring. He comes off the top with a cross body but Edge rolls it through for a near fall.  Jarrett goes for a hurricanrana but Edge reverses it into a powerbomb for another near fall. Edge then hits the spear! Debra gets up on the apron and shows Edge her assets allowing Jarrett to get up. Jeff hits Edge with a right hand, hitting him into Debra who falls off the apron. Gangrel then jumps up and pulls Edge's neck onto the top rope allowing Jarrett to get up and hits a front Russian leg sweep which is enough for the three! Jarrett wins the match and becomes the first ever 5 time Intercontinental champion! He gets on the mic after the match and once again names himself the greatest Intercontinental champion of all time! Good way to start the night! Austins music then hits and the WWF Champion races to the ring and nails Jarrett with a Stunner!
Rating: 7/10 
Austin gets on the mic and says that he's going to find Undertaker and bust him wide open!
The Hardy Boyz (Jeff & Matt Hardy) & Michael Hayes vs. The Acolytes (Faarooq & Bradshaw) – Acolytes Rules match for the Tag Team Titles 
This is a no disqualification 3 on 2 handicap match for the tag team titles! Matt and Jeff are currently undefeated on PPV having won their one and only match. It's a PPV debut for Hayes who hasn't had a WWF PPV match before this one. The match gets underway on the entrance way where the Acolytes go right to work on the Hardyz and Hayes. Faarooq nails Hayes with the ring steps. Faarooq and Bradshaw were actually on opposite teams at last years Fully Loaded where Faarooq and Scorpio defeated Bradshaw and Terry Funk. That was where Bradshaw turned heel. Jeff Hardy dives over the ropes on Bradshaw and then Matt Hardy hits a moonsault to the outside. Finally the match goes into the ring and Bradshaw hits a fallaway slam on Matt Hardy. Matt and Jeff both hit dropkicks to Bradshaw sending him to the outside of the ring. The Acolytes have yet to be in a two on two match with each other on PPV.
Jeff hits a big senton splash on Faarooq for a two count. Bradshaw throws Jeff out of the ring and then deals with Michael Hayes as Faarooq hits a big spinebuster on Matt. Faarooq tags Bradshaw which seems pointless in the grand scheme of things but it looks like a we have a normal tag team match now. Bradshaw tags Faarooq who hits a backbreaker on Matt. Matt tries to crawl to his partner but Faarooq hits him with a legdrop for a two count. Faarooq tags Bradshaw and the two men hit a double shoulder block on Matt. Matt tags Michael Hayes who hits some right hands on Bradshaw. It's not long before Bradshaw has the advantage though with a big boot for a near fall. Bradshaw tags Faarooq who stomps away at Hayes. Hayes hits a boot and tags in Jeff who is on the wrong end of a powerslam. Faarooq tags Bradshaw who is no nonsense. Jeff races to the top rope but Bradshaw throws him off for a near fall. Faarooq comes in and locks a sleeper on Jeff. Jeff gets out of it and Faarooq sets up for a powerbomb but Mat comes in to break it up and all hell breaks loose.
Faarooq goes for a Dominator on Matt but Hardy gets out of it and hits a neckbreaker for a two count. Bradshaw then gets in the ring and nails Matt with a clothesline and then a side suplex from the top rope! He covers Matt but it's broken up by Jeff. Jeff then grabs Michael Hayes' cane and nails Bradshaw with it but Bradshaw gets his shoulder up to stop the cover. Jeff springboards himself off Matt but is caught with a clothesline from hell! The Acolytes double team Hayes, hitting a double powerbomb and Bradshaw pins him for the three! The Acolytes become two time tag team champions tonight! A fun match between these five but you wonder what the repercussions will be of Hayes losing the tag titles for the Hardy Boyz!
Rating: 6.75/10
We see a shot of Austin looking for The Undertaker backstage.
Kevin Kelly is with D-lo who is looking to hold the European title for the first time in 9 months. He says there's more to that title than finding it in somebodies bag.
Mideon (c) vs. D-lo Brown – European Title Match
D-lo hopes to follow in the footsteps of Faarooq and win two matches from two at Fully Loaded. Last year he beat X Pac as European champion in a non title match. The two men go at it with right hands. We've had two title changes so far tonight. D-lo hammer Mideon with right hands in the corner then hits a hard IRish whip on the champion. D-lo then clotheslines Mideon out of the ring before nailing him with a suicide dive! Big move from D-lo there. Mideon whips D-lo into the ring steps to take the advantage. Mideon looking for his first PPV win since Backlash whilst D-lo hasn't won on PPV since Rock Bottom last December. Mideon hits a gut wrench powerbomb for a two count then locks on a sleeper. D-lo gets out of the sleeper but gets hit with a neckbreaker before kicking out a near fall. D-lo slaps away at Mideons chest in the corner but Mideon hits a thumb to the eye. The European champion hits a clothesline and a "boring" chant breaks out. D-lo hits a tornado DDT for a two count.
D-lo catches Mideon with a powerbomb and follows it up with his trademark leg drop. D-lo then tells Mideon he sucks before going to the top and hitting his Low Down frog splash for the three count! D-lo wins the match and becomes a three time European champion! Not the best match in the world this one. But I like D-lo as European champion!
Rating: 4/10
Once again we see Steve Austin looking for The Undertaker.
Michael Cole is backstage with Al Snow who looks crazier than usual. We see some footage from Raw a couple of weeks ago with Big Boss Man attacking Snow. Al Snows Head has a big old piercing in it courtesy of Droz and Prince Albert.
Al Snow (c) vs. The Big Boss Man – Hardcore Title Match
This is a first time meeting between these two veterans on PPV. Snow meets Boss Man in the entranceway and they get straight into it. Boss Man is a former Hardcore champion, he beat Mankind for the title and lost it to Road Dogg. Boss Man puts Snow in a flight case to which Lawler asks whether it's a casket match! Snow gets out of it and nails Boss Man with a sandbag. Boss Man retorts by throwing Snow into the set. Boss Man covers Snow for the first one count of the night. The two then battle to the back where Boss Man hits Snow with some wood. Boss Man hits Snow with anything he can find and Al replies with a few jabs. Snow then finds a tray and nails Boss Man with it before grabbing a canister of coffee and throwing that on Boss Man too! Al hits a suplex on Boss Man through a table. Boss Man rams Snow into a gate and then sits on some sort of golf cart but he can't get it going.
Snow hits Boss Man with a plant but the former Hardcore champion takes off his belt and whips the current champion with it. Boss Man takes Snow down a narrow hallway, smashing him off both walls as he does. They go through a door and outside the arena where Boss Man hits a bulldog, smashing Al's head off the pavement. Snow manages to kick out of the pin. Snow hits Boss Man with a hubcap and then a cone. These two have hit each other with some stiff shots. Boss Man nails Snow with a brick for a two count. I don't know how either of these men can be beaten in a normal match again. The two men fight into the road as a car goes by. Boss Man smashes Snow into metal signs but the champion just smiles. Boss Man then handcuffs Snow to a gate and beats him with a metal truncheon. Boss Man then puts his foot on Snow and although Snows shoulders aren't on the ground, the referee counts it and The Big Boss Man wins! He becomes a two time Hardcore champion and that makes it four title changes from the first four matches tonight!
Rating: 5/10
We get a video package tonight for Big Show and Kane. For a short while Kane was back with his brother The Undertaker but Kane soon turned his back on his brother after seeing footage of the dead man attacking Kanes friend X Pac.
Kevin Kelly is backstage with Hardcore Holly. Holly says that he is the big shot and he is not going to be partial towards Big Show tonight.
Kane vs. The Big Show – Hardcore Holly as Special Guest Referee
This is a rematch from King Of The Ring last month where Kane defeated The Big Show in the KOTR quater final. Big Show is still looking for his first PPV victory. Hardcore Holly has some big trainers on. Kane was in the main event to Fully Loaded last year, in a losing effort with Mankind against Steve Austin and The Undertaker. The two men slug it out in the early going and Big Show impressively military presses Kane all the way to the outside of the ring. They go at it on the outside of the ring now and Big Show throws Kane into the ring post. Big Show rolls Kane back into the ring but it's Kane that hits a big boot and some right hands in the corner. Hardcore Holly pulls Kane off the Big Show allowing Show to hit a clothesline out of the corner. Big Show hits a hard Irish whip and grates Kane on the top rope.
Big Show hits more right hands and stomps down on Kane in the corner before choking the former WWF champion with his boot. It's all Big Show so far, he hits a clothesline on Kane and a knee to upper thigh. Big headbutt from the Big Show in what has been a slow match so far. Kane starts to slug back but Big show hits a big boot. Big Show hits a powerslam but Kane kicks out at two. Hardcore Holly tells Big Show to hook the leg. Show hits a side Russian leg sweep but misses with an elbow drop. Kane is first up to his feet and hits some hard right hands and a DDT. Holly gets in Kanes face but Kane goes to the top and hits a flying clothesline! The big red machine motions for his chokeslam and he wraps his hand around the Big Shows throat but Hardcore Holly hits a chopblock on Kane! Big Show then hits a chokeslam on Kane and pins him to which Holly gives a fast three count for the win! X Pac comes in and hits a kick on Hardcore Holly and down comes The Undertaker who chokeslams X Pac. Undertaker and Big Show then double team Kane! Is Big Show aligning himself with Undertaker? Undertaker leaves on his own. Big Show leaves with Hardcore Holly.
Rating: 4/10
Backstage Austin attacks The Undertaker as he gets to the back! And Austin busts open The Undertaker!
Next up is a video package showing Steve Blackman making his return to the WWF and attacking Ken Shamrock on two different occasions. Blackman beat Shamrock down in a weapons match on Raw.
Ken Shamrock vs. Steve Blackman – Iron Circle Match
These two men are fighting backstage in a circle of cars. Some of the wrestlers sit on and in the care that surround Shamrock and Blackman. Guys like Droz, Albert, Faarooq, Viscera and Val Venis. Both man have entrance music into the car park. The two have fought on PPV once before, at Capital Carnage in the UK when Ken Shamrock successfully defended his Intercontinental title against Blackman. The two men get right into it and Shamrock throws Blackman onto a car. The two men slug it out, this is going to be a brawl. Blackman hits a low blow on Shamrock then throws him to the floor. There is plenty of shouting from the guys surrounding the match as well as horns and banging on the cars. Blackman grabs a chain from somewhere but Shamrock avoids the attack. Blackman slams Shamrock on a car as The Godfather and Viscera look on. Blackman then grabs a tyre iron but once again Shamrock gets out of the way.
The two fight into the darkness, around the outside where you can't really see anything. Shamrock nails Blackman with a trashcan then wraps the chain around the house before hitting Blackman with a big right hand. Shamrock then pounds Blackmans head with the chain before choking him with it. Blackman passes out eventually and Shamrock stands over him. The bell then rings and that's it. Ken Shamrock defeats Blackman after choking him out. I actually thought Blackman would take this one. An interesting match, which had its moments.
Rating: 5.5/10
Kevin Kelly is with The Undertaker who says the most dangerous animal is a wounded one.
Michael is then with Billy Gunn and Chyna who don't care about X Pac. Tonight they're having a feast.
X Pac & Road Dogg vs. Billy Gunn & Chyna – Winner gets the rights of De Generation-X
Both teams come out to DX's music. Billy Gunn is the reigning King Of The Ring and has had a good push over the last few months. X Pac and Road Dogg are the two remaining members of DX and look to keep it that way. Road Dogg gets on the stick before the bell and gives his usual schtick. X Pac is one of two men with Stone Cold Steve Austin to have wrestled on every PPV so far in 1999. Road Dogg and Chyna start the match. Road Dogg beat Chyna last month in the quarter final of the King Of The Ring tournament. Chyna starts with a headlock and then knocks Road Dogg down with a shoulder block. Chyna and Billy Gunn have matching black ring gear tonight. She goes back to the headlock and once again knocks Road Dogg down. Road Dogg then nails her with a dropkick, knocking Billy Gunn off the apron in the process. Road Dogg goes for the pump handle slam but Gunn pulls her out.
Billy Gunn enters the match and it's outlaw vs outlaw. Gunn beat Road Dogg at Over The Edge a couple of months ago. The two men exchange right hands before Gunn hits a big splash in the corner. Chyna gets involved, hitting Road Dogg with a clothesline then Gunn tags her in. Chyna hits a snapmare and boots Road Dogg in the back. She then hits a couple of elbow drops for a two count. Chyna tags Billy Gunn back in who chokes Road Dogg. Billy hits a jackhammer on Road Dogg then dives off the middle rope only to be caught with a boot from Road Dogg. Road Dogg then tags X Pac in for the first time. X Pac goes to town on Gunn and Chyna with big kicks but Gunn catches X Pac and drops him on the top rope. Billy and X Pac met in the finals of the King Of The Ring tournament. Gunn hits some right hands on X Pac and tags in Chyna. Chyna locks a sleeper on the former European champion but X Pac gets out of it and gets hit with a powerslam. Chyna then goes to the front facelock and X Pac makes the tag to Road Dogg but the referee doesn't see it because he was distracted with Billy Gunn so Road Dogg is sent back out.
Billy Gunn comes back in and applies a chinlock to X Pac. X Pac gets out of it but Gunn hits him with a big powerslam for a two count. Billy Gunn tags Chyna who hits an Irish whip and then cartwheels and backflips across the ring only to get hit with a clothesline from X Pac. Chyna tags Billy Gunn and X Pac tags Road Dogg! Road Dogg hits a back body drop on Gunn and then jabs away at Chyna before nailing his shaky legs knee drop! Billy Gunn breaks up a cover and X Pac is in and hits the Bronco Buster on Chyna! Billy Gunn then goes for a splash on X Pac but Chyna pulls X Pac out of the ring. Road Dogg then hits the pump handle slam on Billy Gunn for the win! X Pac and Road Dogg win the match and retain the rights to the DX name! Billy Gunn takes the fall and can't continue his momentum from King Of The Ring! Road Dogg gets on the stick after the match and tells Billy Gunn and Chyna that they can suck it!
Rating: 6/10
We get a video package showing the history between Triple H and The Rock next. A long and stories history between these two men.
Triple H vs. The Rock – Fully Loaded Strap Match for #1 Contendership to the WWF title
This is the fifth PPV match between these two men. The Rock won the first, beating Triple H at In Your House: Final 4 back in 1997. The two then drew at Fully Loaded last year in a 2 out of 3 falls match. Triple H beat The Rock in a ladder match at Summerslam and then The Rock beat Triple H by disqualification at Over The Edge two months ago. So I make it 2 wins for The Rock, 1 for Triple H and 1 draw. This is arguably the most important of all 5 matches as the winner will receive a WWF title match at Summerslam. I can see Triple H winning this one. Him against either Austin or Undertaker is a fresh match compared to The Rock vs. Austin or Undertaker. With Triple H in the ring, The Rock cuts an awesome promo on Helmsley. He then comes out and goes to town on Triple H before he's even put the strap on. Both men get strapped in and The Rock lays the smack down on Triple H outside of the ring. Triple H takes his turn to hit Rocky with right hands before The Rock smashes him into the announce table. The match is yet to go to the ring. Triple H drops The Rock on the Spanish announce table where Savio Vega is doing commentary.
Finally the two men get in the ring and it's advantage Rock as he hits a clothesline. Triple H hits a clothesline of his own to take control. Usually in a strap match you have to touch all four corners but apparently this isn't the case in this match. Rocky throws Helmsley into the ring steps and then over the barricade and into the crowd. The two men battle through the crowd and out to the entrance way where Triple H pulls Rock into the barricade using the strap. The Rock gets back into the match dropping Triple H on the barricade. Triple H throws The Rock into some of the set and then clotheslines him for a two count. Helmsley whips The Rock with the leather strap at the top of the entrance way. Triple H then goes for a suplex but The Rock reverses it and suplex's Triple H for a two count. I didn't know this was falls count anywhere. Triple H whips The Rock into a barricade for another near fall before going back to whipping The Rock. A lot of the build to this match has been around Triple H and his desire to be WWF champion. Back in the ring and Helmsley smashes The Rock into the top turnbuckle before whipping his opponent.
Triple H hits a big knee to the face and out comes Chyna. Triple H is momentarily distracted by Chyna and The Rock spins him around and hits The Rock Bottom! But Chyna distracts the referee so can't make the fall. Helmsley hits a low blow then goes up to the top rope and wrapping the strap around The Rocks neck. The Rock seems to pass out due to the choking but The Rock doesn't give up. He gets back up to his feet and throws Triple H off the top rope. Rocky hits a clothesline and a Samoan drop for a two count. Triple H buys some time by throwing The Rock out of the ring. Triple H then takes the strap off his wrist. He exits the ring and throws The Rock into the barricade before grabbing a steel chair. He doesn't use it though as The Rock whips him with the strap! Back in the ring The Rock hits a DDT for a two count. Chyna then gets up on the apron and Bill Gunn runs in and nails The Rock with a club! Triple H covers him but only gets a two. He then goes for a Pedigree but The Rock hits a low blow, a powerslam and The People's Elbow but Billy Gunn breaks up the count. The Rock hits Gunn with a Rock Bottom but Triple H nails The Rock with the Pedigree for the win! Triple H is going to Summerslam. This was a decent match. Probably not their best but a good match.
Rating: 7.25/10
Video package now for Stone Cold and The Undertaker.
"Stone Cold" Steve Austin (c) vs. The Undertaker – First Blood Match for WWF Title
If Undertaker wins this match then Stone Cold will never get a shot at the WWF title again. But if Austin wins then he will never have to deal with Vince McMahon again. I don't believe either will come true but we'll see. This is the fifth PPV match between these two men. Undertaker won the first at In Your House: Cold Day In Hell, Austin won the second at Summerslam and the third at In Your House: Rock Bottom. Undertaker then own the fourth at Over The Edge so this fifth one will decide the series, so to speak. Vince McMahon is out to watch the match from ringside. He's a guest commentator and out on crutches. The Undertaker is out without Paul Bearer. Both of these men won at last years Fully Loaded as they teamed together against Kane and Mankind, winning the tag team titles. Tonight only one man can join D-lo and Faarooq with two wins from two at this PPV. The two men get right into it, fighting in the entrance way before The Fink has even had time to fully introduce Austin. The two men slug it out at the top of the entrance way and Austin might be bleeding already!
Undertaker lays into Austin whilst the champion does anything to cover his face. The two battle to ringside where Undertaker throws Austin into the crowd then throws the steps at him. Austin manages to grab the steps himself but Undertaker fights him off. The two men then battle back to ringside where Undertaker hits some right hands before trying to rip off the stitches in Austins head. The two men finally get in the ring where Undertaker chokes Austin with his foot. Austin definitely looks like he's bleeding. Undertaker hits Stone Cold with some big right hands and does everything to stop the camera from catching his bleeding head. Austin gets out of the way of a boot in the corner then goes to work on Undertaker, stomping away at him in the corner. He then starts to work his leg, wrapping it around the ring post. Undertaker manages to kick Austin away, all the way over the barricade! Undertaker follows him into the crowd and lays in some right hands. I don't think Austin is bleeding yet. The two men get back to the ringside area where Earl Hebner checks both men to see if they are bleeding but there's no blood yet.
Undertaker swings a steel chair at Austin but it's a swing and a miss. Austin drop toe holds the dead man onto the ring steps but there's still no blood. Stone Cold chokes the Undertaker with cables before nailing his challenger with an electronic fan. Back in the ring and Undertaker accidentally knocks the referee over and gives him a boot for god measure. He then goes to bounce off the ropes but falls over the referee and ties himself up in the ropes. Austin grabs a chair but out runs Shane McMahon and the WWF Champion leather him with a chair. Austin then walks over to Undertaker but the dead man boots Austin before he can do anything. Undertaker takes the top turnbuckle cover off one of the ring posts but before he can hit Austins face into it, Austin hits a low blow and then a Stone Cold Stunner! Vince McMahon then attempts to nail Austin with one of his crutches but Austin hits him with a big right hand and grabs a chair. Undertaker jabs a chair into Austin first though and then throws the referee into the corner. X Pac then comes out and kicks a steel chair into Undertaker face. Austin grabs a TV camera and nails Undertaker with it. Austin then takes out Shane McMahon again and Undertaker is bleeding!
Austin and Undertaker slug it out then Undertaker scoops Austin up for a Tombstone but the referee sees that Undertaker is bleeding and calls for the bell! Austin hits him with a Stunner then hits Vince with a Stunner! Austin retains his title tonight but here comes Triple H and he stomps Austin down to the canvas. The Rock then runs out and lays into Triple H. Undertaker nails Austin with a steel chair and Austin is busted open! Austin and Undertaker slug it out and then Undertaker nails Shane! All hell as broken loose at Fully Loaded! A decent main event to a decent PPV. Austin retains his WWF title and goes on to defend against Triple H at Summerslam! He hits Vince McMahon with one last Stunner to close the show!
Rating: 7.5/10
And that was Fully Loaded 99! 9 big matches that have big implications going forward and in  a lot of ways have changed the landscape and started a new era in the WWF. Edge and Jeff Jarrett kicked us off with a really good opener. Edge is a great guy to kick off a PPV because he brings a lot of energy to the show and the women fans in particular get behind him. I like Jarrett as champion and I don't think Edge is quite there yet which makes me think Edge won the title because he was in his hometown. Anyway, he lost it tonight because of Gangrel and I think we'll get a feud between those two into Summerslam. Jarrett became the first ever 5 time Intercontinental Champion and will have a queue of men challenging him for his title. I love that Austin keeps attacking Jarrett. I'm not sure if it'll lead to anything but maybe down the road when Jarrett has moved up from the IC title there is a potential feud.
The tag team titles then changed hands when The Acolytes beat the men that took the titles away from them, The Hardy Boyz. This was a decent enough contest but the Hardyz definitely had more chemistry with Edge and Christian last month at King Of The Ring. Michael Hayes took the fall so there is bound to be repercussions there. I think it might lead to the Hardy Boyz going away from Michael Hayes but we'll have to see. There isn't a thriving tag team division right now and I'm not sure who will challenge Faarooq and Bradshaw next. Maybe Val Venis and The Godfather? D-lo Brown and Mark Henry are two men unlikely to challenge as D-lo became the new European champion. Mideon was definitely a placeholder champion and although the match between the two wasn't great it did give D-lo the European title back. He has definitely been my favourite European champion up to now because of the way he utilized the title. The division can now be re-build around D-lo and a few of the lower carders can challenge.
The Big Boss Man became the fifth man tonight to win back a title he recently lost. He beat Al Snow for the Hardcore Title after cuffing him to a gate and beating him with a nightstick. Now, my gripe with this match is the ending and how Boss Man pinned Snow without his shoulders being pinned to the floor. Boss Man as champ isn't bad but I loved Snow as champion so I honestly hope it isn't long before Al wins the belt back. There have been a lot of no disqualification matches recently (5 of the 9 matches on this show were no dq) which over saturates the novelty. I think they need to be as creative as possible in the Hardcore title matches. Next up Big Show beat Kane and there were a few different storylines going on in this one. The first is the relationship between Hardcore Holly and Big Show. Holly clearly helped Show win so there is a friendship there. Then we had Undertaker come out and attack his brother along with Big Show. Those two men double teamed Kane until X Pac came out to save him. I have no idea what the relationship is between Big Show and Undertaker but I'm sure it will unfold over time. Could it be heading towards a Big Show & Undertaker vs. X Pac and Kane match?
Ken Shamrock beat Steve Blackman in the Iron Circle next and there were some things that I liked and some things that I did not like. I'll tell you what I liked first. I like the concept of the match with wrestlers surrounding them. I liked the action and to be honest I like how Shamrock choked Blackman out. Now for what I didn't like. Which was mainly the fact that Shamrock won. I feel like they've been building Blackman up for months as this cold assassin and now, his first match back, he loses. This match was made for Blackman to win. I really don't like that Shamrock won and that's not a knock on Shamrock but this feud has legs and Blackman needed the upper hand. The result to the next match was right though, with Road Dogg and X Pac retaining the rights to the DX name. It did mean that Billy Gunn lost and maybe for now his post KOTR push is put on hold. I don't mind Chyna getting involved with the men although she's not a particularly good worker. Billy Gunn needs to get back on track sooner rather than later.
Then were the two main events. First Triple H defeated The Rock in a strap match. I don't mind that. Triple H is worthy of a main event shot and his match against either Stone Cold Steve Austin or The Undertaker is fresher than a Rock match against either of those guys. Triple H and The Rocks match tonight was alright but like I said earlier, there's way too much nodq going on right now. It took help from Chyna and Billy Gunn for Helmsley to win which I don't think was necessary. Triple H should have won this one cleanly on his own. In any case, he goes on to Summerslam to face off against Steve Austin for his WWF title. Austin retained against The Undertaker tonight in a First Blood match. Austin got  alittle help from X Pac who kicked a chair in Undertakers face, setting their feud up going forward. I think Austin will take credit for the win when he hit Undertaker with a TV camera. That takes Undertaker out of the main event picture and inserts Triple H in. A decent main event.
It seems as though there is plenty going on right now and a lot of the wrestlers find themselves with not one but two storylines right now. This is the last PPV before Summerslam so the prupose of this show was to get the titles on the right people and set up the main storylines going into the second biggest PPV of the year. It turned out to be a good show in itself and one of the best of 1999 so far.
Overall Rating: 58.8/100 (ranked joint 27th out of 98)
Match Of The Night: Steve Austin vs. The Undertaker
Worst Match Of The Night: D-lo Brown vs. Mideon / Kane vs. Big Show
Surprise Of The Night: 4 Title Changes!
Worst Booking Of The Night: Ken Shamrock beats Steve Blackman
Superstar Of The Night: Triple H
Fully Loaded 99 Will Be Rememebred For: The night The Undertaker forged his partnership with The Big Show