| Date: November 17, 2002
| Venue: Madison Square Garden | City: New York, New York
| Attendance: 17, 930 | Buyrate: 540, 000
| tweet me: @BastionBlogger
Survivor Series is known for its elimination tag team matches although there are no traditional Survivor Series matches on the card tonight, there are 3 matches based around elimination. There are only 6 matches tonight but those three elimination matches do feature 6 wrestlers in them so there is plenty of talent on show. The main event tonight will be for the World Heavyweight title and there will be 6 men vying for it in the first ever Elimination Chamber match. Triple H will be defending his gold against recent challengers Rob Van Dam and Kane as well as Chris Jericho and Booker T and also the recently signed off Shawn Michaels. A steel structure will surround the ring and two men will start the match whilst the other 4 will be locked in pods. The four pods will open one by one every five minutes and the idea is to eliminate everyone and the last man standing will be the World Heavyweight Champion.
The WWE Championship will also be defended tonight as Brock Lesnar defends against the man that has recently been traded to Smackdown, The Big Show. Big Show has made his intentions very clear and has even put The Undertaker on the shelf in the build up to this pay per view. Paul Heyman doesn't think his client can beat Brock Lesnar, tonight we will find out. Also representing Smackdown will be the Cruiserweight title match when Jamie Noble defends against Billy Kidman. It's a re-match from Vengeance and the build up has been exactly the same. Kidman has pinned Noble in the last two weeks, earning himself a Cruiserweight title match. Can Noble continue his unbeaten PPV streak?
The third match representing Smackdown will be a triple threat elimination tag team match for the WWE Tag Team Championships. Edge and Rey Mysterio beat Chris Benoit and Kurt Angle in a 2 out of 3 falls match to win the WWE Tag Team titles but General Manager Stephanie McMahon has decreed that Edge and Mysterio will defend the titles against both Chris Benoit and Kurt Angle and Eddie and Chavo Guerrero. The three teams have been very inter-twined over the past few weeks and now the "Smackdown Six" come to a head. The fifth and final championship match tonight will be Trish Stratus defending her Women's title against the psychotic Victoria in a Hardcore match. Also representing Raw will be Bubba Ray Dudley, Spike Dudley and Jeff Hardy against 3 Minute Warning and Rico in an elimination tables match.
On Heat before the event, Lance Storm and William Regal defeated Goldust and The Hurricane.
A video package kicks us off as usual, first highlighting the rivalry between Brock Lesnar and The Big Show and then Eric Bischoff and the Elimination Chamber. Jim Ross then welcomes us to Madison Square Garden, he's joined by Jerry Lawler and we get our first shot of the Elimination Chamber hanging above the ring.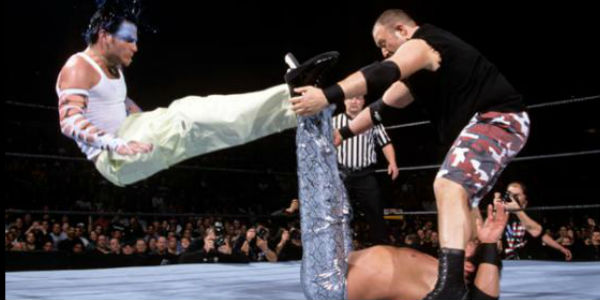 Bubba Ray Dudley, Spike Dudley & Jeff Hardy vs. 3 Minute Warning (Rosey & Jamal) & Rico – 6 Man Tables Match
3 Minute Warning and Rico go into this match undefeated in PPV as all have them have wrestled once and won. They make their Survivor Series debuts tonight as does Spike whilst Jeff Hardy and Bubba Ray Dudley have both won once at Survivor Series before and lost twice. 3 Minute Warning and Rico rush the ring and the 6 men get into it before the bell. The Dudleys and Jeff clear the ring before Bubba throws Spike out on top of Rosey and Jamal and Jeff jumps on them all for good measure. Bubba Ray and Rico then go at it. Rico has some shiny pants on. Last year at Survivor Series, The Dudley Boyz actually defeated The Hardy Boys whilst the year before they teamed up in a Survivor Series match that Jeff Hardy won. Spike and Jeff Hardy both come off the top with a Wassup drop on Rico as Bubba Ray holds him in place.
Rosey hits Spike with a flapjack before back body dropping Jeff out of the ring. Bubba Ray has set a table up in the corner and Rosey rams Spike's head into it before attempting a spear. Spike gets out of the way and Rosey goes shoulder first through the table. Rosey then takes apart Bubba Ray and Jeff. Rico sets up a table in the ring and tries to suplex Spike through it but Spike goes for the Dudley Dog which doesn't happen because Rosey and Jamal grab him and put him through the table. Spike is eliminated from the match.
This match looks the closest thing we'll get to a traditional Survivor Series match tonight. The 3 on 2 is too much for Bubba Ray Dudley and Jeff Hardy as Rico hits Bubba Ray with a roundhouse kick. Rosey tosses Jeff into the crowd and then fights out there with him. Rico and Jamal lay into Bubba Ray in the ring whilst Rosey sets up a table in the crowd. Jamal goes for a splash on Bubba Ray in the corner but Bubba Ray pulls Rico in the way before hitting a Bubba bomb on Jamal. Bubba Ray then helps out Jeff in the crowd, attacking Rosey from behind. Jeff climbs up into the crowd up on a platform that we last saw him on at Royal Rumble 2000. Bubba Ray lays Rosey across the table and Jeff Hardy dives off the platform, hitting Rosey with a Swanton Bomb through the table eliminating Rosey from the match.
It's 2 on 2 now and back in the ring Rico looks to moonsault Bubba Ray through a table but Jeff shakes the ropes causing Rico to lose his balance. Bubba Ray then goes to suplex Rico through the table but Jamal pulls the table out the way. Jeff hits whisper in the wind on Jamal and a dropkick knocking him out the ring. Jeff goes for a splash off the barricade but Jamal throws a table at him before laying him across a table on the outside and going back in the ring, climbing up top and diving off with a big splash on Jeff Hardy through the table eliminating Jeff Hardy from the match.
It's down to Bubba Ray Dudley against Rico and Jamal. Bubba Ray quickly goes to work on Rico, laying him across a table and going up top but Jamal pushes Rico off the table and looks to hit a hurricanrana on Bubba Ray from the top! Bubba thinks quick and powerbombs Jamal through the table eliminating Jamal from the match.
It's down to Bubba Ray Dudley against Rico now. Rosey shows back up and hits Bubba Ray with a belly to belly suplex. Jamal also gets in the ring but the crowd erupts as D-Von Dudley shows up dressed in his Dudley Boyz gear and he clears the ring! Bubba and D-Von then hit Rico with the 3D and this one is over! Bubba Ray Dudley wins the match and the Dudley Boyz celebrate! A fun way to kick off the show. Jamal in particular showed a lot of potential and athleticism.
Rating: 7/10
Stacy Keibler is at The World and it sounds like her voice is going. She then introduces Saliva who are at The World to play the Survivor Series theme. They show some pictures of the various rivalries coming to a head tonight.
There's a shot of Rob Van Dam backstage doing the spits and getting in the zone for the Elimination Chamber.
Jamie Noble (c) vs. Billy Kidman – Cruiserweight Championship Match
This is the second time these two men have met on pay per view. Noble previously beat Kidman at Vengeance, retaining his Cruiserweight title. Kidman has new music which has more of a rap beat compared to the generic rock that he used to have. Kidman rolls Noble up early for a one count. Kidman hits a hurricanrana for another one count. It's a very quick start to the match but Noble takes the advantage with some stomps and right hands. Noble hits a neckbreaker for a one count. Looks like somebodies blood has stained the mat. This is Noble's fourth PPV title defence having previously beaten Kidman, Tajiri and both Tajiri and Rey Mysterio in a triple threat match. Nidia is in the corner of Noble shouting advice as Noble throws Kidman out of the ring. Jamie then hits a suicide dive to the outside before throwing Kidman back in the ring.
Noble heads to the top but as he comes off with a body press, Kidman dropkicks him. It's all Kidman now as he hits a reverse elbow and a death valley driver into a neckbreaker for the first near fall of the night. Noble hits a falcon arrow but Kidman hits a facebuster. Kidman then sets up for the shooting star press but Nidia pulls Noble out of the ring. Kidman then jumps to the outside, landing out on Noble. Kidman wrestled at last years Survivor Series pay per view in the immunity battle royal that Test won. He did get into the final 5 though. Noble goes for the tiger bomb but Kidman back body drops him. Nidia gets involved but Noble accidentally knocks her off the  apron. There;s a couple of reversals that ends with Noble hitting the tiger bomb but Kidman kicks out!
Kidman hits a boot and then goes to the top but Noble is on his feet and goes up for a superplex but Kidman hits him with a facebuster from the top. Noble pops Kidman on the top and hits him with a DDT but only for a two count. Noble is undefeated on PPV with 3 wins under his belt. Kidman hits him with an enzeguri and then goes to the top where Nidia distracts him long enough for Noble to go up top with him but Kidman knocks him down to the mat before hitting him with the shooting star press! Kidman hooks the leg and gets the 3! Kidman wins the match and the Cruiserweight title! Billy celebrates in the crowd with his title.
Rating: 6.75/10
Kurt Angle is backstage telling Chris Benoit that if Kidman can win the Cruiserweight title then they can win the tag team titles tonight. Kurt says they are friends to the end and nobody can beat them. Benoit offers his hand but Kurt is wants a hug so he embraces Benoit.
Chris Jericho is seen warming up for the Elimination Chamber match.
"F-View" TV captures Victoria going crazy in her locker room after the mirror in front of her apparently says that Trish Stratus is the fairest of the all.
There's a video package for Trish Stratus and Victoria portraying Trish as the fan favourite and Victoria as the nutter.
Trish Stratus (c) vs. Victoria – Hardcore match for the WWE Women's Championship
This is a rematch from No Mercy where Trish beat Victoria to retain her Women's Championship. I think Victoria might have new music. Trish storms to the ring but Victoria gets the advantage in the early going, choking Trish with her own jacket. This is Trish's third Survivor Series in a row, she won the Women's Championship at the last event and lost in 6 person tag action the year before, Victoria chokes Trish with a broomstick until Trish fights out of it and grabs a trash can lid but Victoria nails her with the broomstick to knock her down. Victoria uses the trash can lid herself, sending Trish sprawling to the outside. There's a trash can tied to the ring post, presumably because this is a hardcore match so Victoria throws Trish face first into that.
Victoria rolls Trish back into the ring for the first near fall of the match. Trish has wrestled the second most PPV matches for a woman of all time behind Chyna at this point. Trish slingshots Victoria into a trash can face first before kicking it into her face for a near fall. Trish grabs an ironing board from under the ring (brilliant, not sexist at all) and she sets it up in the corner before Irish whipping Victoria into it for a two count. Trish then grabs a Singapore cane and beats Victoria with it. Victoria hits Trish with a trash can lid and then Trish returns the favour. Victoria hits a powerbomb and then grabs a mirror from under the ring. She's bleeding from the nose now and Trish hits her with a chick kick for a two count. Victoria nails Trish with a Singapore can and then goes for something but Trish counters it into a bulldog. Victoria hits a drop toe hold and then sprays a fire extinguisher in Trish's face. Victoria hits a snap suplex in the middle of the ring and pins Trish to get the 3! Victoria wins the match and the Women's Championship!
Rating: 6.5/10
Booker T is shown backstage shadow boxing.
Jonathan Coachman is backstage with Eric Bischoff asking him what we can expect tonight. Bischoff says history is the making and setting the groundwork for the future of this industry. Big Show then turns up and tells Bischoff that he made a big mistake trading him.
Brock Lesnar is backstage when Paul Heyman turns up cradling the WWE Championship. Heyman is nervous about Brocks match tonight. Heyman promises that he will do everything tonight to make sure that his client leaves tonight as WWE Champion.
There's a video package for Brock Lesnar and The Big Show.
Brock Lesnar (c) vs. The Big Show – WWE Championship Match
This is a first time meeting between these two men on pay per view. Big Show has won 2 matches at Survivor Series before and lost last year (albeit his team did win). He won the WWE Championship at the 1999 event, could he win his second at the 2002 event? Lesnar makes his Survivor Series debut tonight. Brock is definitely the most popular out of the two. Lesnar and Show square up before the bell, Lesnars ribs are bandaged up. "Let's go Lesnar" chants echo around the arena but it's Big Show with the early advantage. Lesnar spears Big Show to the mat and then the two men battle on the outside of the ring when Show smashes Lesnar into the ring post. Back in the ring and Brock hits a side suplex on Show and then a German suplex. Lesnar goes for an F5 but Show makes sure that doesn't happen.
Brock races into the referee in what looked like an accident. Lesnar then hits a belly to belly suplex on Show and Heyman slides Lesnar a chair. Show tries to punch the chair away but Lesnar smashes it into his face before hitting Show with the F5! A new referee runs down to the ring and makes the count but Heyman pulls the referee out of the ring and nails him with a right hand! Lesnar goes after Heyman but Big Show hits Lesnar with a chair before chokeslamming him on the chair! Big Show makes the cover and the referee makes the count! It was a very short match but Heyman screwed Lesnar out of the WWE Championship! Big Show is the new champion and he celebrates with his new manager Paul Heyman!
Rating: 5/10
Heyman and Big Show are backstage running through the corridors. They get in a limo and get the hell out of the building!
Edge & Rey Mysterio (c) vs. Kurt Angle & Chris Benoit vs. Eddie & Chavo Guerrero – WWE Tag Team Championship Match
Dawn Marie and Al Wilson are shown at ringside. Some quick Survivor Series records for you, Kurt has a 2-1 record, Benoit is up 1-0, Eddie has a 0-1, Chavo a 0-1, Edge has a 1-2 and Rey Mysterio makes his Survivor Series debut. So Kurt and Benoit are the only guys going in with a positive record. Angle gets a big pop followed by a "you suck" chant. Mysterio actually goes into this one looking for his first ever PPV victory. The Guerrero's talk a lot of trash as the bell rings and it's Mysterio and Benoit that start the match. Benoit hits a big chop to the chest and Rey hits a hurricanrana, flapjack and a legdrop. He drop toe holds Benoit into a middle turnbuckle and then tags in Edge. The champions hit a double hiptoss and then Edge takes over. Benoit tags in Angle but Edge hits him with a back body drop and forearm. Kurt quickly tags out to Chavo who gets hit with a drop toe hold.
Edge hits a dropkick on Chavo and then tags in Mysterio who hits a springboard splash for a one count. Edge tags in Mysterio who hits an arm drag on Chavo. Chavo tags out to Eddie who gets hit with a flying head scissors and a monkey flip. Eddie tags out to Kurt Angle who lays into Rey. Kurt sends Rey into the ropes but Rey gets caught in the top rope. Kurt attempts to back body drop Rey onto the top rope but Rey loses his footing and falls off the top rope. Angle hits a suplex for a two count. Kurt hits a clothesline and tags out to Benoit who hits a neckbreaker on Mysterio. Chris follows that up with a back suplex for a two count. Benoit hits a hard Irish whip and then tags out to his partner Kurt Angle. Kurt hits a back suplex for a two count. Angle cheap shots Edge and then attempts the Angle slam on Mysterio but Rey reverses it into an arm drag. Kurt is back up and hits a clothesline for a two count. Kurt tags out to Benoit who continues the damage on Rey Mysterio.
Benoit hits a snap suplex on Mysterio for a two count. There's not been much of the Guerrero's in this match. Benoit tags Angle back in who hits a snapmare and then a front face lock. Mysterio gets out of it and hits a spinning heel kick. Kurt looks to tag a Guerrero but they both drop off the apron. Instead Angle tags Benoit and Mysterio tags Edge. Edge hits a facebuster on Benoit and suddenly all hell breaks loose. Eddie and Mysterio go flying out of the ring. Edge looks to hit a spear but Kurt drop toe holds him and locks on the ankle lock! Benoit locks on a crossface but Mysterio breaks both holds. Chavo then pulls Angle out of the ring and Mysterio corkscrews out on both guys.
Benoit hits a German suplex on Edge and goes for a second but Eddie comes in off the top and sunset flips Benoit causing Benoit to German suplex Edge! Benoit suplexes Eddie out of the ring and then hits Edge with 3 German suplexes. Benoit heads to the top for his trademark headbutt but Eddie comes off the top and hits Edge with a frog splash! He hooks the leg but Benoit hits a headbutt to break it up. Angle then hits an Angle Slam on Eddie! Benoit locks on the Crippler Crossface on Edge but Chavo breaks it up by smashing him with the tag team titles. Chavo gives Angle the title and Benoit thinks Angle hit him! Mysterio dropkicks the two men into one another and then Edge hits Benoit with a spear! He hooks the leg and gets the 3 eliminating Benoit and Angle from the match!
Angle gets back in the ring and hits Edge with an Angle Slam. Benoit hits a German suplex on Mysterio and then another on Chavo. Angle hits another Angle Slam on Edge and then the two men leave the ringside area. Eddie slides into the ring and pins Edge but Edge kicks out. Eddie hits Edge with a suplex and tags in Chavo who dropkicks Edge's ribs for a two count. Chavo is looking for his first PPV win tonight. Chavo tags in Edge who hits a senton for a two count. Eddie locks a sleeper hold on Edge and tags in Chavo who hits Edge with a dropkick for a two count. Lots of dopuble teaming and heel tactics from the Guerrero's. Chavo tags Eddie back in and Eddie hits a side suplex on Edge before applying a front face lock. Lots of quick tags between Chavo and Eddie but Edge takes both men down with a flapjack.
Edge tags in Mysterio and he takes both Guerrero's down. Rey hits a backbreaker on Eddie and then Edge spears both Guerrero's into the corner. Mysterio hits a baseball dropkick on Eddie and then a hurricanrana off the top for a 2 count. Edge and Eddie botch a few Irish whips until Eddie eventually ends up in the ropes and Mysterio hits him with a 619. Mysterio then goes for the West coast pop but Chavo hits him with a title belt! Eddie locks Mysterio in the Laso from El Paso and Mysterio taps out! Eddie and Chavo win the WWE Tag Team titles! A fourth title change in a row!
Rating: 8/10
Kane is backstage getting ready for the Elimination Chamber.
Chris Nowinski's music hits and the only Harvard graduate in WWE history hits the ring. Nowinski insults the crowd and the New York Yankees. He says that you either have intelligence or you don't. And it's not something you can buy. Matt Hardy's music then hits and out comes Smackdown's Matt Hardy Version 1! Hardy says that New Yorkers aren't stupid, they're losers. Hardy says the crowd are sucking the Mattitude out of him and now he's choking worse than the Knicks. Nowinski and Hardy argue over whether the crowd are stupid or losers. Hardy decides that the people are losers and stupid, they are lupid.
Just then though the sirens go off in Madison Square Garden and out walks Big Poppa Pump Scott Steiner! Last time this man was in a WWE ring on pay per view was the 1994 Royal Rumble match. And he looked a lot different then. Steiner hits Nowinski with a clothesline and then both Hardy and Nowinski with suplexes. The crowd break out in a "Steiner" chant as he clears the ring of both men! His arms are absolutely huge. He gets on the mic to talk to his freaks, holla if you hear him! Scott Steiner is here but which brand will he sign with?
Terri is backstage and asks Shawn Michaels why he thinks he can win the World Championship tonight. As Shawn starts to answer he is interrupted by Randy Orton who gives us an update on his condition.
There's a music video hyping up the Elimination Chamber.
Coach is backstage with Triple H and Ric Flair. Triple H says he's beaten everyone put in his way over the past 3 months. Triple H says he's going to hell tonight and taking everyone with him.
Triple H (c) vs. Rob Van Dam vs. Kane vs. Booker T vs. Chris Jericho vs. Shawn Michaels – Elimination Chamber for the World Heavyweight Championship
This is the big one, the first ever Elimination Chamber. Eric Bischoff comes out first and introduces the match. Rob Van Dam and Booker T make their second Survivor Series appearance after losing in the winner takes all main event last year. Chris Jericho has lost at the last 3 Survivor Series events, Kane has a 3-2 record having previously beaten the likes of Mankind, Chris Jericho and X Pac. Triple H has lost at 3 Survivor Series events, drawn at 1 but never won at this event before. Shawn Michaels has wrestled 10 Survivor Series matches before but only won 2 and lost 8. The last time Shawn Michaels wrestled at a Survivor Series event was 5 years ago when he beat Bret Hart on the night of the Montral Screwjob. Jim Ross's stats are slightly different to mine as he counts a win at Survivor Series even if the participant was eliminated. The way I see it, if you're pinned then you lose. The first men out are Chris Jericho, Booker T, Kane and Shawn Michaels. They enter their pods which means champion Triple H and Rob Van Dam start the match.
Triple H of course beat Van Dam at Unforgiven. Van Dam hits some kicks in the early going to take the advantage but Triple H gets back into it with a knee to the face. Triple H sets up for the Pedigree but Van Dam back drops him out of the ring into the steel grate. Van Dam throws Triple H into the chains which make up the walls of the chamber. The door actually flies open, I don't know if they broke the lock there. Triple H is already busted open. Van Dam then hits a rolling thunder on the steel grating. RVD rolls Triple H back in the ring and then climbs up the walls onto the pod that holds Chris Jericho. Jericho pulls Van Dams leg through the top of the chamber but RVD fights him off. Van Dam climbs down to the top turnbuckle and then flies off at Triple H on the outside. Back in the ring and Van Dam stomps away at Triple H in the corner. It's time for a new competitor!
Chris Jericho enters the match and he goes right after Van Dam. RVD knocks him down and hits him with a standing moonsault for a near fall. Van Dam and Jericho have had their run ins on PPV with Van Dam winning every time. Their last match was at King Of The Ring 2002 in the semi final where Van Dam advanced. RVD goes for a cross body on Jericho but Jericho ducks and like Spiderman, Van Dam lands on the side of the cage before diving down on Jericho. Triple H takes Van Dam down with a clothesline. Jericho and Triple H double team Van Dam now. Triple H and Jericho have had 3 PPV matches, all of which Triple H has won. They main evented this years Wrestlemania. Triple H drops Van Dam with a high knee and Jericho follows it up with a senton. Jericho gets a near fall on Van Dam. Plenty of double teaming from Jericho and Triple H on RVD. Van Dam starts a comeback, hitting clotheslines and spinning heel kicks on both men. Triple H hits him with a DDT to take the advantage though.
Booker T gets a big pop as he enters the match. Booker takes it to both Jericho and Triple H, cleaning house and then doing the Spin-er-oonie! Booker and Rob Van Dam then go at it, they teamed up at last years Survivor Series. Booker takes Van Dam down with a kick. Booker hasn't fought any of these three men in singles matches on PPV. Van Dam hits a heel kick on Booker for a two count. Booker hits a kick of his own for a near fall. Booker hits his trademark scissors kick on Triple H but in comes Jericho to send him out of the ring. Van Dam disposes of Jericho and then goes up on top of a pod before flying off with a 5 star frog splash on Triple H! Booker T then comes off the top with a dropkick on Rob Van Dam and he pins Van Dam and gets the 3! Booker T eliminates Rob Van Dam.
There were quite a few boo's to Van Dam getting eliminated. Booker covers Triple H for a near fall. Jericho then goes for Booker, choking him with his boot and hitting him with chops and a bulldog. Jericho attempts the Lionsault but Booker gets out of the way and hits him with a spinebuster. Triple H has been down a while holding his throat. Booker pins Jericho for a near fall.
Kane is #5 to enter the chamber to a decent pop. Kane goes for Booker T, hitting him with a clothesline and then the big red machine chucks Jericho out of the ring. Kane rams Jericho into the chains and then throws him straight though one of the glass pods. Kane turns his attention to Triple H and then Booker T. Booker goes for his scissors kick on Kane but Jericho hits him with a low blow. Kane then hits Booker T with a chokeslam and Jericho hits Booker with the Lionsault before hooking the leg and eliminating Booker T from the match.
Kane lays into Jericho with big right hands and then gorilla press slam Jericho back into the ring. Kane hits some knees to the face of Jericho and then a suplex for a two count. Kane beat Chris Jericho at the 2000 Survivor Series event. Kane goes for a chokeslam on Jericho but Jericho hits him with a low blow and then a dropkick.
Shawn Michaels enters the Elimination Chamber in some horrendous brown tights and cowboy boots. Michaels takes Jericho down and then hits a flying forearm on Kane. One of Triple H, Chris Jericho, Kane and Shawn Michaels will be leaving with the World Heavyweight title tonight. Kane hits a double armed chokeslam on Jericho and then another chokeslam on Shawn Michaels. Kane then chokeslams Triple H and then Jericho again! Kane motions for a Tombstone and picks up Triple H but Triple H gets out of it and Shawn Michaels hits Kane with Sweet Chin Music! Kane sits back up! Triple H hits him with the Pedigree and Jericho hits the Lionsault. Jericho pins Kane and gets the 3, eliminating Kane from the match.
We're down to Triple H, Shawn Michaels and Chris Jericho. Jericho clotheslines Michaels out to the steel and then throws him into the chains. Jericho and Triple H double team Michaels, not giving him a chance. The crowd are right behind Michaels though. Michaels is now busted open and Jericho shouts at him to bleed. Back in the ring and Jericho hammers away at Michaels bleeding forehead. Michaels starts a comeback and hits both men with right hands, clotheslines Triple H back into the ring and then looks to piledriver Jericho on the steel grating but Jericho back body drops him. Shawn Michaels hits a flying forearm on Triple H in the ring and then nips up! But Jericho hits Michaels with a bulldog and the lionsault which earns him a two count. Jericho can't believe he kicked out. Michaels hits a boot to the face of Jericho and then a moonsault for a two count. Jericho then locks the walls of Jericho on Chris Jericho but Triple H breaks it up and DDTs Michaels. Jericho covers Michaels but Triple H pulls him off!
Jericho and Triple H go at it for the first time in this match. Triple H hits Jericho with a facebuster for a two count. So far Jericho has eliminated Kane and Booker T whilst Booker T eliminated Rob Van Dam. Triple H goes for a Pedigree on Jericho but Jericho counters it into the Walls of Jericho. Triple H crawls to the ropes but Jericho drags him into the middle of the ring where Shawn Michaels hits Sweet Chin Music on Jericho and pins him to eliminate Chris Jericho from the match.
We're down to Triple H and Shawn Michaels! The two men slug it out until Triple H hits a spinebuster for a two count. These two men went one on one at Summerslam where Shawn Michaels beat Helmsley. Triple H back body drops Michaels onto the grating. Michaels throws Triple H into the chains and then sets up for a Pedigree but Triple H counters it and slingshots Michaels straight through a glass pod. Back in the ring and Triple H hits a facebuster sending Michaels to the outside. Triple H attempts a Pedigree on the steel grating but Michaels catapults him into the chain. Shawn then clotheslines Triple H back into the ring and heads for the top of a pod when he launches himself off with an elbow drop! Michaels motions for Sweet Chin Music but Triple H catches his foot and then hits Michaels with the Pedigree! But Triple H is out of it and takes a long time to pin Michaels and so the challenger gets his shoulder up.
Both men get up to their feet and Triple H tries for another Pedigree but Shawn Michaels back body drops him and hits Sweet Chin Music! Michaels pins Triple H and gets the three! Shawn Michaels win the match, the first ever Elimination Chamber and the World Heavyweight Championship! Michaels celebrates as confetti streams form the ceiling.
Rating: 8.25/10
And that was the 16th annual Survivor Series pay per view. Only 6 matches but there was a lot of good quality. The 6 man tag that kicked off the show was a lot of fun. I was not expecting D-Von Dudley to appear and help out Bubba Ray considering his heel disposition on Smackdown. I thought 3 Minute Warning would win the match so maybe the whole thing was designed to put The Dudley Boyz back together? I guess we'll find out in the coming weeks. Following that match came 5 title changes. Jamie Noble lost his Cruiserweight title to Billy Kidman which was another surprise, Kidman hasn't had a lot of momentum as of late and I really like Jamie Noble as champion so it's a shame he lost the gold. A decent enough match between the two though.
Victoria then beat Trish Stratus in another surprising result. It was a really good match, one of the best female matches I've seen. The ending was a bit of a botch, Victoria couldn't get the fire extinguisher to work and then she hit a pretty weak looking suplex. Still, it's a new direction for the Women's division and I don't really mind seeing where it goes. Big Show then beat Brock Lesnar in just over 4 minutes. This match was way too short but it was a shocker seeing Paul Heyman turn on his client, Brock Lesnar. I guess it had to happen because Lesnar has been getting big face reactions and he can't be a babyface with Heyman in his corner. I'm not a huge fan of Big Show but I'm sure the feud will continue.
New WWE Tag Team champions were crowned as Eddie and Chavo won the elimination tag team match. Again, another shocking result because Edge and Mysterio only won the belts a couple of weeks ago. All three teams have now been champions so I think it'll be time to take the tag team division in another direction. I like Eddie and (to a lesser extend) Chavo a lot so I hope they get a long reign as champions. Edge and Mysterio can go off in different directions as can Benoit and Angle. Let's get some proper teams back. Then in the main event, Shawn Michaels defied the odds to become World Heavyweight Champion. I absolutely marked at this result as HBK is my favourite wrestler of all time. I'd continue the feud with Michaels and Triple H all the way to Wrestlemania personally. Maybe have Triple H win the Royal Rumble. I couldn't see anyone else in the match winning, it had to be Triple H or Shawn Michaels. I great match though, I can't wait to see more of this match in the future. Overall this felt like a really good pay per view.
Overall Rating: 69.16/100 (ranked 6th out of 145)
Match Of The Night: The Elimination Chamber
Worst Match Of The Night: Brock Lesnar vs. The Big Show
Surprise Of The Night: 5 title changes and the Dudley Boyz re-union
Worst Booking Of The Night: Jamie Noble loses the Cruiserweight title
Superstar Of The Night: Shawn Michaels
Survivor Series 2002 Will Be Remembered For: Shawn Michaels wins the first ever Elimination Chamber match & Paul Heyman turns on Brock Lesnar